03 Aug, 2023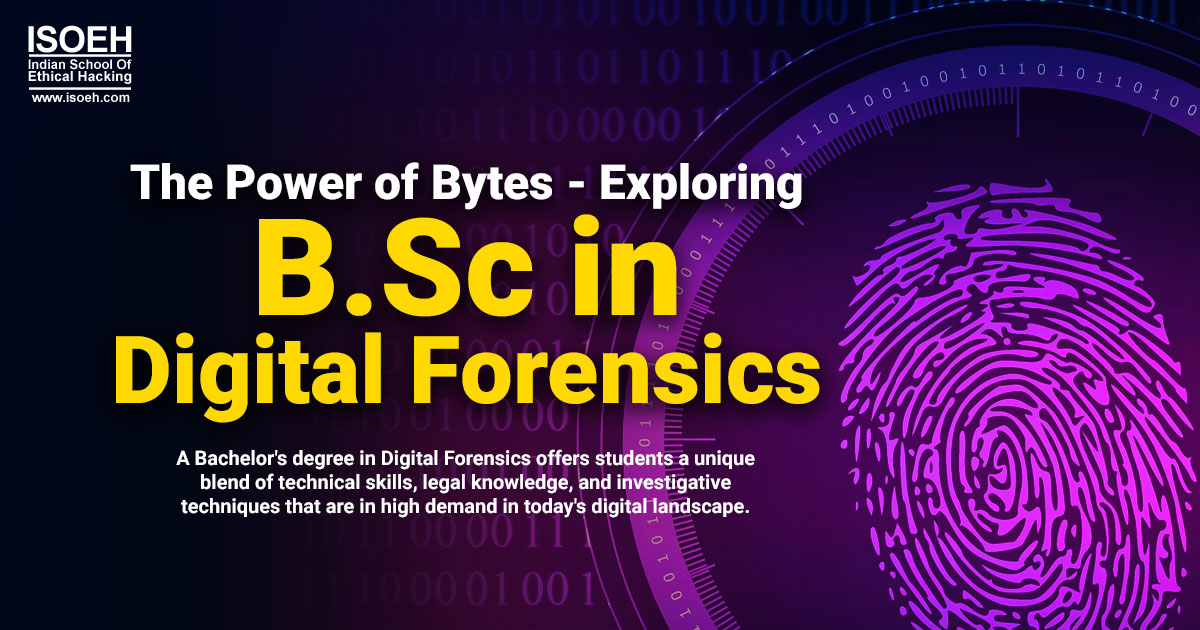 Introduction
Are you laying the foundation for a future that is cyber-safe? Technology is still developing quickly, and with it come new opportunities and difficulties. Digital forensics is one area that has grown enormously as a key component of the digital age. The need for experts in digital forensics has never been greater due to the rise of cybercrime and organisations' rising need to defend themselves from data breaches and hostile assaults. Let's take a closer look at the B.Sc. in Digital Forensics and discuss how important it is for detecting digital crimes.
Want to achieve a Degree in Digital Forensics?
A B.Sc in Digital Forensics offers students a comprehensive foundation in the principles of investigating and analysing digital evidence, preparing them for a rewarding career in the ever-growing field of cybersecurity.
By combining the disciplines of computer science, criminal justice, and cybersecurity, this degree equips students with the skills necessary to investigate cybercrimes, collect evidence, and prevent future attacks.
Numerous universities provide specialised digital forensics programs that give students both theoretical understanding and practical practice. The topics covered in courses typically range widely, including network security, computer forensics, data recovery, and incident response. Graduates will have a firm understanding of the legal and technical facets of digital forensics thanks to this multidisciplinary approach.
For example, ISOAH (Indian School of Anti Hacking, The CERT-In Empanelled Audit Firm) is Eastern India's Oldest and Largest Ethical Hacking training institute that offers a 4-Years in-depth Comprehensive graduation programme with the collaboration of MAKAUT University that allows you to earn a Govt. Degree and also in opening up the world of limitless possibilities.
What are Students' Benefits?
Earn a 4-Year Bachelor Degree from Govt. University
Last year internship at CERT-In empanelled audit firm
Get taught by industry experts-cum-faculties
Advanced lab (Sponsored by corporates) with the latest tools and technologies
LIVE Projects & 100% Practical Class In sector 5, the IT hub of Kolkata
Sessions will be conducted by INDUSTRY EXPERTS (auditors with an average of 5-24 years of experience, who are CEH, ECSA, LPT, OSCP, OSCE, ISO 27001 Lead Auditor)
Top 5 Promising Cybersecurity Careers
Digital Forensics Investigator: You will have to examine and gather digital evidence in your capacity as a digital forensics investigator to ascertain the origin and breadth of cybercrimes. Strong attention to detail, critical thinking abilities, and familiarity with forensic tools and techniques are prerequisites for this position.
Incident Responder: The first line of defence against cybersecurity incidents is the incident responder. They are in charge of spotting security lapses, responding to them, reducing the harm done, and putting precautions in place to avoid similar occurrences in the future. Quick thinking, familiarity with cybersecurity protocols, and the capacity to perform well under pressure are requirements for this position.
Cybersecurity Consultant: In this position, you will directly collaborate with organisations to evaluate their cybersecurity posture, pinpoint vulnerabilities, and create risk-mitigation plans. Security audits, incident response plans, and the implementation of secure practices are all frequently advised by cybersecurity experts.
Malware Analyst: Malware analysts are experts at dissecting dangerous software to learn how it functions, spot future risks, and create defences. Strong analytical abilities, in-depth knowledge of programming and operating systems, and the capacity to keep up with the most recent malware developments are all necessary for this position.
Forensic Data Analyst: When it comes to gathering, examining, and presenting digital evidence in court, forensic data analysts are essential. They are in charge of looking over big data sets, carrying out data recovery, and presenting conclusions in a way that may be used as evidence in court. High levels of precision and tool proficiency are required for this position.
A degree in digital forensics opens up a wide range of prospects in the world of cybersecurity. The abilities you acquire via this degree will position you for success whether you want to work for a government agency, a private firm, or even as a freelancer.
It's crucial to remember that earning a degree simply represents the beginning of a successful career in digital forensics. Standing out in this quickly changing field requires ongoing education, industry certifications, and keeping up with the most recent developments.
As per NASSCOM, India will need 5 lakhs digital Forensic professionals over the coming 5 years. We currently have only 50,000. There is an acute deficit of skilled digital Forensic professionals in the industry. The demand will rise with Digital India & Industry 4.0 drive.
Conclusion
A Bachelor's degree in Digital Forensics offers students a unique blend of technical skills, legal knowledge, and investigative techniques that are in high demand in today's digital landscape. It is a transformative journey into the cutting-edge world of cyber investigation and security. Students are given the tools to solve complex digital mysteries, protecting organisations and communities from the constantly changing risks of the digital realm, with a heavy emphasis on hands-on learning and real-world scenarios.
Graduates of this programme begin on a rewarding and exciting career path, making a significant contribution to society's safety as the demand for skilled digital investigators grows. Take advantage of this chance to set off on an exciting journey where passion, purpose, and human connection come together to pave the way for a more secure and safe digital future.