CompTIA A+ is the industry standard for launching IT careers into today's digital world.
CompTIA A+ Is the Industry Standard for Establishing a Career in IT

Support core technologies from security to networking to virtualization
and more
Course Syllabus »

Only Industry-Recognized Credential.
Performance testing proves pros can think on their feet to perform critical IT support tasks.

Trusted by Employers.
CompTIA A+ identifies the go-to person in end point management
and technical support roles.

Your IT Journey Starts Here.
CompTIA A+ appears in more tech support job listings
than any other IT credential.
Jobs »
The CompTIA A+ Core Series requires candidates to pass two exams: Core 1 (220-1101) and Core 2 (220-1102) covering the following new content, emphasizing the technologies and skills IT pros need to support a hybrid workforce:
Increased reliance on SaaS applications for remote work.
How to remotely diagnose and correct common software, hardware or connectivity problems.
Evolving core technologies from cloud virtualization and IoT device security to data management and scripting.
Multiple operating systems, when to use them and how to keep them running properly.
Reflects the changing nature of the job, including how to assess if it's best to fix something on site, or send it to a specialized provider.
Duration
40 hours - 2 classes per week
Eligibility
9 to 12 months hands-on experience in the lab or field.
Course Fees
Class Room Training
Rs.31,000/-
+ 18% GST
Online Training
Rs.41,000/-Rs.31,000/-
+ 18% GST
What You Will Get?
40 Hours
in-depth training by best faculties from IT industry
Study Materials
and 2 examination voucher
CompTIA A+ Certificate
of completion after examination and alumni status
Course Benefits:
What Skills Will You Learn?
CompTIA A+ validates certified professionals have the skills required to support today's digital world.
Hardware
Identifying, using and connecting hardware components and devices, including the broad knowledge about different devices that is now necessary to support the remote workforce.
Operating Systems
Install and support Windows OS including command line and client support, system configuration imaging and troubleshooting for Mac OS, Chrome OS, Android and Linux OS.
Software Troubleshooting
Troubleshoot PC and mobile device issues including common OS, malware and security issues.
Networking
Explain types of networks and connections including TCP/IP, WIFI and SOHO.
Troubleshooting
Troubleshoot real-world device and network issues quickly and efficiently.
Security
Identify and protect against security vulnerabilities for devices and their network connections.
Mobile Devices
Install and configure laptops and other mobile devices and support applications to ensure connectivity for end users.
Virtualization and Cloud Computing
Compare and contrast cloud computing concepts and set up client-side virtualization.
Operational Procedures
Follow best practices for safety, environmental impacts, and communication and professionalism.
Your Course Path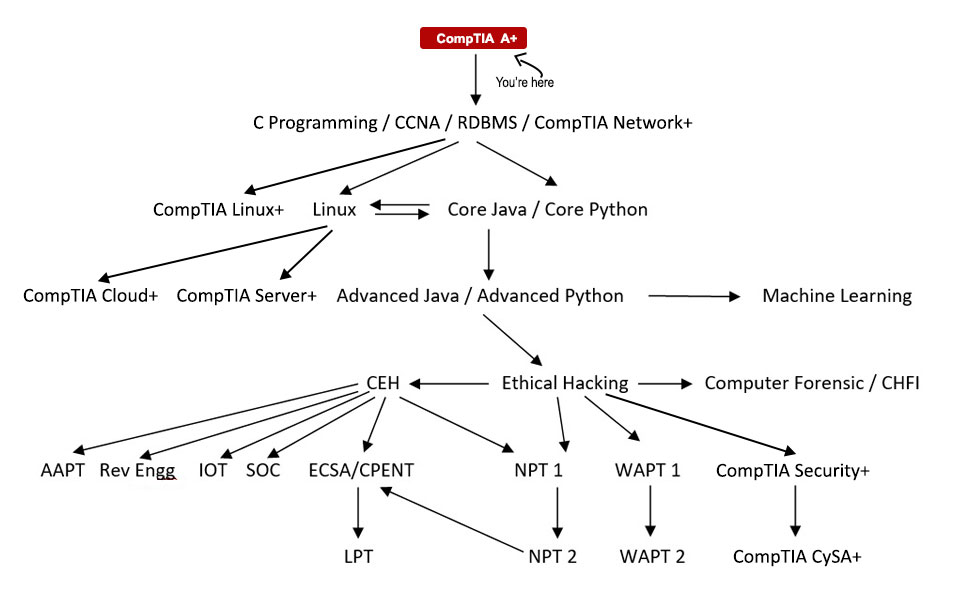 Course Details
Exam Codes: CompTIA A+ 220-1101 (Core 1) and 220-1102 (Core 2)
Launch Date: April 2022
Exam Description: CompTIA A+ 220-1101 covers mobile devices, networking technology, hardware, virtualization and cloud computing.
CompTIA A+ 220-1102 covers operating systems, security, software and operational procedures.
Number of Questions: Maximum of 90 questions per exam
Type of Questions: Multiple choice questions (single and multiple response), drag and drops and performance-based.
Length of Test: 90 Minutes
Passing Score: 220-1101: 675 (on a scale of 900)
220-1102: 700 (on a scale of 900)
Recommended Experience: 9 to 12 months hands-on experience in the lab or field.
Retirement: TBD - Usually three years after launch
Testing Provider: Pearson VUE
Lesson 1: Installing Motherboards and Connectors
2 Hours - 3 Topics
Topic 1A: Explain Cable Types and Connectors

(Day 1)

Topic 1B: Install and Configure Motherboards

(Day 1)

Topic 1C: Explain Legacy Cable Types

(Day 1)
Lesson 2: Installing System Devices
2 Hours - 4 Topics
Topic 2A: Install and Configure Power Supplies and Cooling

(Day 2)

Topic 2B: Select and Install Storage Devices

(Day 2)

Topic 2C: Install and Configure System Memory

(Day 2)

Topic 2D: Install and Configure CPUs

(Day 2)
Lesson 3: Troubleshooting PC Hardware
2 Hours - 4 Topics
Topic 3A: Apply Troubleshooting Methodology

(Day 3)

Topic 3B: Configure BIOS/UEFI

(Day 3)

Topic 3C: Troubleshoot Power and Disk Issues

(Day 3)

Topic 3D: Troubleshoot System and Display Issues

(Day 3)
Lesson 4: Comparing Local Networking Hardware
2 Hours - 4 Topics
Topic 4A: Compare Network Types

(Day 4)

Topic 4B: Compare Networking Hardware

(Day 4)

Topic 4C: Explain Network Cable Types

(Day 4)

Topic 4D: Compare Wireless Networking Types

(Day 4)
Lesson 5: Configuring Network Addressing and Internet Connections
2 Hours - 4 Topics
Topic 5A: Compare Internet Connection Types

(Day 5)

Topic 5B: Use Basic

(Day 5)

Topic 5C: Compare Protocols and PortsTCP/IP Concepts

(Day 5)

Topic 5D: Compare Network Configuration Concepts

(Day 5)
Lesson 6: Supporting Network Services
2 Hours - 3 Topics
Topic 6A: Summarize Services Provided by Networked Hosts

(Day 6)

Topic 6B: Compare Internet and Embedded Appliances

(Day 6)

Topic 6C: Troubleshoot Networks

(Day 6)
Lesson 7: Summarizing Virtualization and Cloud Concepts
2 Hours - 2 Topics
Topic 7A: Summarize Client-Side Virtualization

(Day 7)

Topic 7B: Summarize Cloud Concepts

(Day 7)
Lesson 8: Supporting Mobile Devices
2 Hours - 4 Topics
Topic 8A: Set Up Mobile Devices and Peripherals

(Day 8)

Topic 8B: Configure Mobile Device Apps

(Day 8)

Topic 8C: Install and Configure Laptop Hardware

(Day 8)

Topic 8D: Troubleshoot Mobile Device Issues

(Day 8)
Lesson 9: Supporting Print Devices
2 Hours - 4 Topics<
Topic 9A: Deploy Printer and Multifunction Devices

(Day 9)

Topic 9B: Replace Print Device Consumables

(Day 9)

Topic 9C: Troubleshoot Print Device Issues

(Day 9)
Lesson 10: Configuring Windows
2 Hours - 2 Topics
Topic 10A: Configure Windows User Settings

(Day 10)

Topic 10B: Configure Windows System Settings

(Day 10)
Lesson 11: Managing Windows
2 Hours - 3 Topics
Topic 11A: Use Management Consoles

(Day 11)

Topic 11B: Use Performance and Troubleshooting Tools

(Day 11)

Topic 11C: Use Command-line Tools

(Day 11)
Lesson 12: Identifying OS Types and Features
2 Hours - 2 Topics
Topic 12A: Explain OS Types

(Day 12)

Topic 12B: Compare Windows Editions

(Day 12)
Lesson 13: Supporting Windows
2 Hours - 3 Topics
Topic 13A: Perform OS Installations and Upgrades

(Day 13)

Topic 13B: Install and Configure Applications

(Day 13)

Topic 13C: Troubleshoot Windows OS Problems

(Day 13)
Lesson 14: Managing Windows Networking
2 Hours - 4 Topics
Topic 14A: Manage Windows Networking

(Day 14)

Topic 14B: Troubleshoot Windows Networking

(Day 14)

Topic 14C: Configure Windows Security Settings

(Day 14)

Topic 14D: Manage Windows Shares

(Day 14)
Lesson 15: Managing Linux and macOS
2 Hours - 2 Topics
Topic 15A: Identify Features of Linux

(Day 15)

Topic 15B: Identify Features of macOS

(Day 15)
Lesson 16: Configuring SOHO Network Security
2 Hours - 4 Topics
Topic 16A: Explain Attacks, Threats, and Vulnerabilities

(Day 16)

Topic 16B: Compare Wireless Security Protocols

(Day 16)

Topic 16C: Configure SOHO Router Security

(Day 16)

Topic 16D: Summarize Security Measures

(Day 16)
Lesson 17: Managing Security Settings
2 Hours - 3 Topics
Topic 17A: Configure Workstation Security

(Day 17)

Topic 17B: Configure Browser Security

(Day 17)

Topic 17C: Troubleshoot Workstation Security Issues

(Day 17)
Lesson 18: Supporting Mobile Software
2 Hours - 3 Topics
Topic 18A: Configure Mobile OS Security

(Day 18)

Topic 18B: Troubleshoot Mobile OS and App Software

(Day 18)

Topic 18C: Troubleshoot Mobile OS and App Security

(Day 18)
Lesson 19: Using Support and Scripting Tools
2 Hours - 4 Topics
Topic 19A: Use Remote Access Technologies

(Day 19)

Topic 19B: Implement Backup and Recovery

(Day 19)

Topic 19C: Explain Data Handling Best Practices

(Day 19)

Topic 19D: Identify Basics of Scripting

(Day 19)
Lesson 20: Implementing Operational Procedures
2 Hours - 3 Topics
Topic 20A: Implement Best Practice Documentation

(Day 20)

Topic 20B: Use Proper Communication Techniques

(Day 20)

Topic 20C: Use Common Safety and Environmental Procedures

(Day 20)
Hacking Tutorials
Read All Tutorials »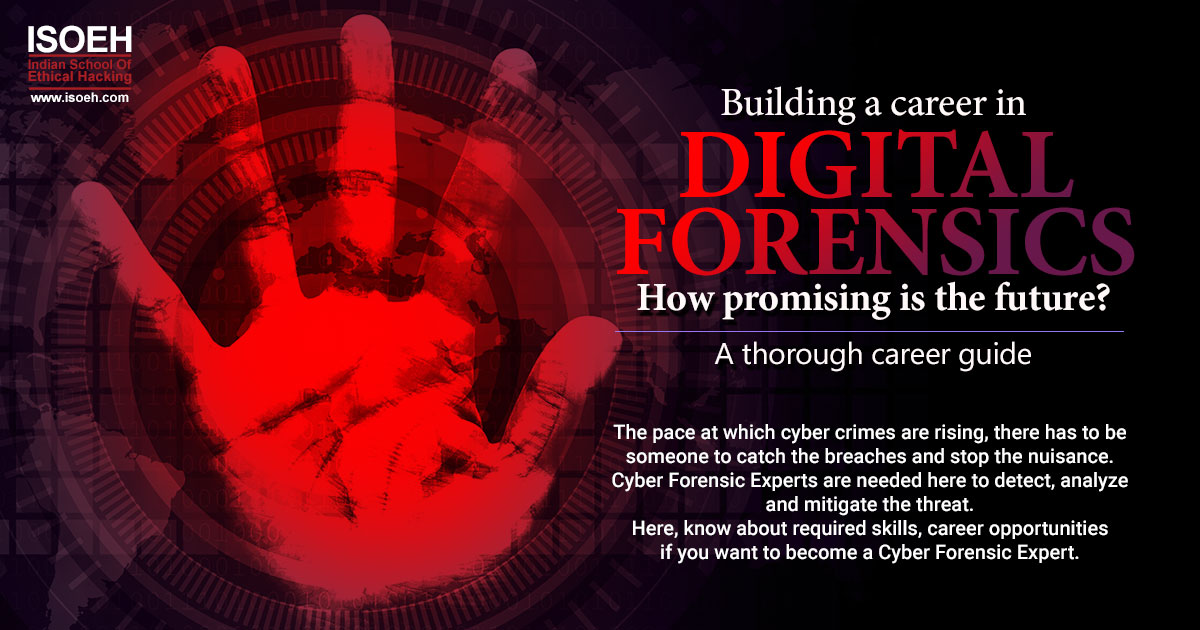 Building a career in Digital Forensic - How promising is the future? A thorough career guide
Read Details »
---
Hacking Videos
Explore All Videos »
Enroll Now
Fields marked with * are mandatory.
Know Your Faculty
Sandeep Sengupta
CISA, Certified Ethical Hacker, ISO 27001:2013 Lead Auditor, Lead Privacy auditor, GDPR Implementer
21 years of experience working in India, New Zealand & Singapore; in Information Security domain as Ethical Hacker, ISO 27001 Lead Auditor / Tutor, BS 10012 Privacy Lead Auditor, Mr. Sandeep Sengupta has conducted security audit in companies like ONGC, KPMG, PWC, Airtel, Vodafone, Accenture, Capgemini, Vedanta, PayU, Bandhan Bank, ABP, etc.
He has been invited as a speaker at FICCI, VIT (Vellore), Nasscom, CII, BCCI, ICAI, ISACA, FICCI, CeBIT, US High Commission (Kolkata), etc. He has taken part in several Television shows on ABP, ETV, NDTV, AajTak, Times Now, etc. In 2005, Sandeep founded the online community "Hackers Library"; which had 80,000+ members, making it the largest Indian online forum for cyber-security professionals at its time. Mr. Sengupta is the committee member at Nasscom (East) & CII ICT-East.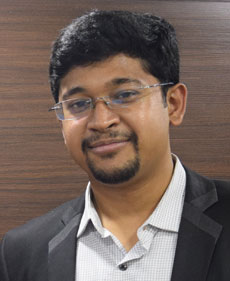 Kirit Sankar Gupta
B. Tech (IT), OSCP, CEH 10.0, CHFI 9.0, ISO Certified Lead Security Incident Manager (ISO/IEC 27035), ISO Certified Lead Forensic Examiner (CLFE), CCNA, CCNP
A Penetration Tester with 6 years of experience, Kirit has the expertise in Mobile Application Pentesting Network, IoT Penetration Testing, Source-code review, Fuzzing, Red teaming, Social Engineering, Digital Forensic and Incident Response, Dev(Sec)Ops, Malware Analysis as well as SOC analysis. He has been acknowledged for reporting critical vulnerabilities to Uber, Apple, Flipkart, and MIT. Mr. Kirit Sankar Gupta is the member of Data Security Council of India (Kolkata).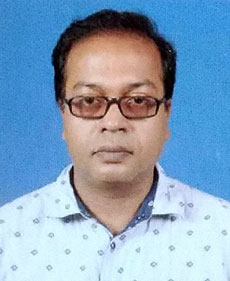 Saumitra Biswas
M Tech - Computer Science, MSc (Statistics), GATE qualified
Mr. Saumitra Biswas is M.Tech in computer science from Netaji Subhash Engineering College, GATE qualified in computer science and a MSC in statistics from Kalyani University. He has 20 years of experience. His technical interests include Machine Learning, Neural Networks, Genetic Algorithms and Object Oriented Programming. He is skilled in C, C++, C#, Dotnet, Java, Python, Matlab, Unix, MS Windows XP, Windows 7, My SQL, Oracle, MS Access, HTML, XML, CSS and PHP. He take classes on AI & ML in ISOAH, as well as act as mentors to interns & project trainees.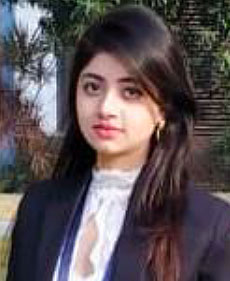 Amrita Acharya
M Tech in CSE, ISO 27001 Lead Auditor (IRCA/BSI)
After completion of her Master degree, she has worked with ISOAH as an intern for few years before joining full time as security analyst. She has been involved in internal audit, policy design, ISMS consultancy for more than 2 years. She is well versed in Kali Linux, Nmap, Metasploit, ITGC, ISO 27001 & COBIT framework. ISOAH clients she has provided active consultancy are CESC, Diadem, Lexplosion, Diamond Beverages, etc. As part of her hobby, she has been a professional model in her free time.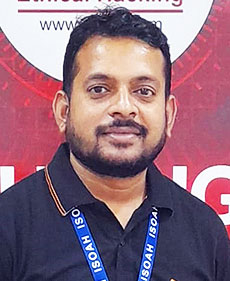 Pankaj Kumar Roy
CCNA (Certified)
Pankaj Kuamr Roy is a CCNA (Switch/Router) certified whose expertise in Cisco switch and router. He is also CCNA Global Certified Number 415114188268BKYF. Previously he worked as a Linux Administrator on ISP Dreamlink Technologies Pvt. Ltd and also 7 years' experience in Windows, Linux, and Network areas. He has experience in DevOps tools and AWS cloud Architecture. He is working as an Information Security Analyst in the Indian School of Ethical Hacking.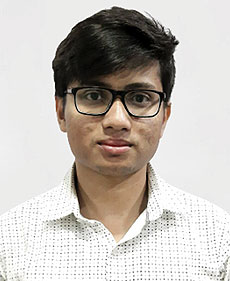 Saptarshi Kundu
B.Sc Computer Science (Calcutta University), CEH, NPT, WAPT, CCNA
He is an Information Security Analyst at ISOEH. He has in-depth knowledge in C, Java, Python, Networking (CCNA), Ethical Hacking, NPT, and WAPT. His area of interest is NPT, Python & SIEM.
Partha Pratim Chakraborty
BSc(H), CEH
He is a certified ethical hacker, with proficiency in programming like C/C++ and Python. He likes coding and problem solving. His areas of interest are in application audit, malware analysis. He is currently a working with ISOEH as security analyst.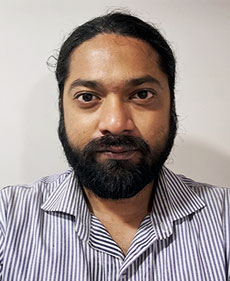 Syed Soel Hossain
BTech(ECE), EH, SOC, Bug Bounty
He is an information security analyst at ISOAH whose expertise lies in SOC, EH, Linux & Bug Bounty. He has received several Hall of fame and acknowledgements from the Government of India for finding valid bugs.
Job Prospects & Job Sources
Jobs You Can Land With CompTIA A+:
| | | |
| --- | --- | --- |
| Business Analyst | Technical Support Specialist | Data Support Technician |
| MSP Personnel | IT Server Technician | IT Specialist |
| Field Service Technician | IT Support Manager | Help Desk Technician |
The average salary of CompTIA A+ in India is Rs 3 lakhs per annually.
FAQs
What is the course content?
Motherboards, Processors, and Memory
Storage Devices and Power Supplies
Peripherals and Expansion
Display Devices
Custom Configurations
Networking Fundamentals
Introduction to TCP/IP
Installing Wireless and SOHO Networks
Understanding Laptops
Installing and Configuring Printers
Understanding Operational Procedures
Operating System Basics
Operating System Administration
Working with Windows 7
Working with Windows Vista
Working with Windows XP
Security
Mobile Devices
Troublshooting Theory, OSs and Security
Hardware and NetworkTroubleshooting
What is the course Duration?
40 hours
What is the course Prerequisites?
9 to 12 months hands-on experience in the lab or field.
What is the career path after doing this course?
A+ validates foundational knowledge and skills in computer hardware, software, networking and troubleshooting. It serves as a strong Entry-Level certification for IT professionals. After this, you can see yourself as an IT Support Specialist, Helpdesk Technician, IT Technician etc.
What is the next step after CompTIA A+?
After A+, you can upgrade yourself by doing N+, MCSA and CCNA.
Member of: