27 Oct, 2023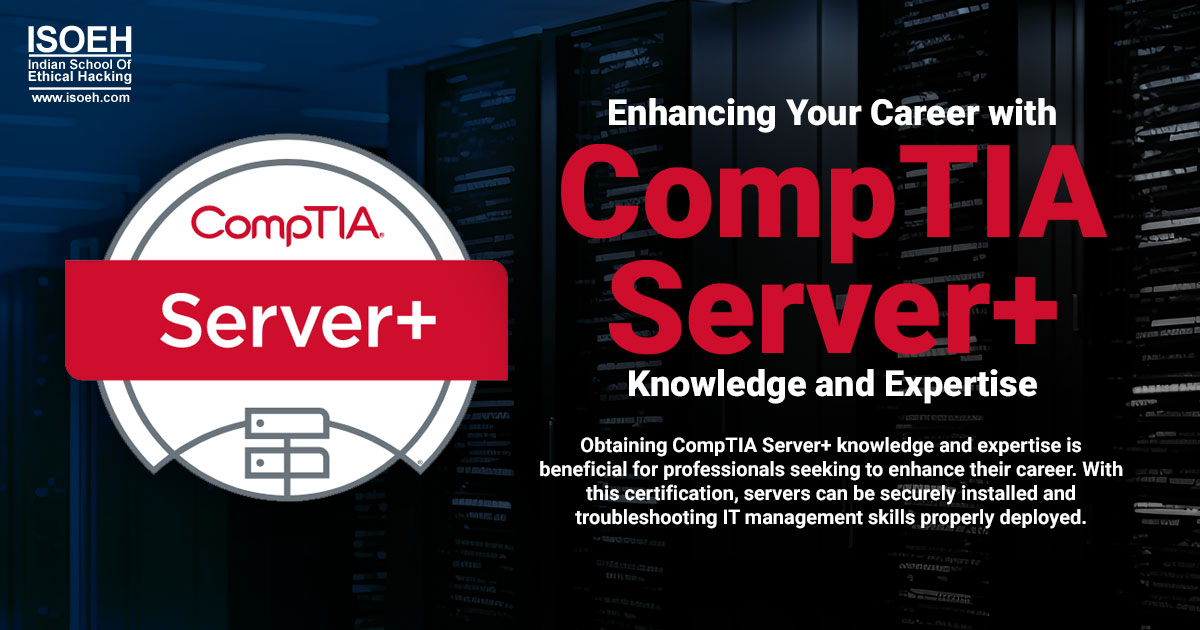 Introduction
CompTIA Server+ is an internationally recognized certification that validates an IT professional's knowledge and expertise in supporting and securing server technologies. This certification is designed to equip IT professionals with the skills necessary to securely install, configure, and maintain servers in multiple environments. Obtaining a CompTIA Server+ certification will not only demonstrate your technical skills but also give you a competitive edge over other applicants when applying for new jobs.
Having CompTIA Server+ certification on your resume shows employers that you have the knowledge to deploy server technology solutions as well as troubleshoot any hardware or software issues that may arise. It provides proof that you can set up secure networks, maintain safety protocols, and understand how physical and virtual servers work together within a larger system.
By having this type of expertise, employers can trust that you have the experience needed to effectively manage their server infrastructure. Additionally, having a CompTIA Server+ certification highlights your interest in expanding your knowledge and keeping up with the latest technological trends. The certification program requires continuing education credits which allows you to stay ahead of the curve in terms of understanding new advancements in server technology.
The CompTIA Server+ course covers topics such as understanding server administration concepts, storage systems administration, security fundamentals, virtualization technologies for servers, and network configuration and troubleshooting. Those who possess this certification have proven that they have the necessary experience for handling different types of servers across various technology environments.
COMPTIA SERVER+ PROVES YOU HAVE THE HANDS-ON SKILLS NEEDED IN DATA CENTERS, ON-PREMISES AND HYBRID ENVIRONMENTS
Stand Out with CompTIA Server+
Essential Tech for Multiple Environments
CompTIA Server+ covers essential hardware and software technologies including high availability, cloud computing and scripting.
Performance-Based Certification
The CompTIA Server+ exam includes performance-based questions that require you to demonstrate multi-step knowledge.
Choose Your Preferred Learning Method
CompTIA Server+ features flexible training options including self-paced learning, live online training, custom training and interactive labs.
What Skills Will You Learn?
Server Hardware Installation and Management - Physical hardware and storage
Server Administration - Physical hardware and storage
Security And Disaster Recovery - Physical and network data security techniques and disaster recovery and backup techniques
Troubleshooting - System hardware, software, connectivity, storage and security issues
With this knowledgebase in place, those with the credentials can confidently tackle complex tasks related to managing servers without having to rely on others in the organization for assistance. When employers are searching for qualified candidates for a position related to server administration or project management, they often times seek out those who have obtained the CompTIA Server+ certification. Having this credential can give job seekers a competitive edge over other applicants who lack it; thus, providing an additional avenue for advancement or new opportunities within their respective field.
How to Prepare for the CompTIA Server+ Exam: Recommended study materials and resources?
Preparing for the CompTIA Server+ certification exam can help IT professionals enhance their career prospects. With a CompTIA Server+ certification, professionals demonstrate their knowledge and expertise in securely installing servers, deployment of server systems, troubleshooting server issues, and managing IT infrastructures in an efficient manner.
It is important to use the appropriate study materials and resources to learn the concepts that are tested on the CompTIA Server+ exam. This section provides a number of recommended study materials and resources that can be used by IT professionals preparing for the CompTIA Server+ certification exam.
CompTIA Server+ validates the hands-on skills of IT professionals who install, manage and troubleshoot servers in data centers as well as on-premises and hybrid environments. Exam Code - SK0-005.
Number of Questions - Maximum of 90 questions
Type of Questions - Multiple choice and performance-based
Length of Test - 90 Minutes
Passing Score - 750 (on a scale of 100-900)
Conclusion
Obtaining CompTIA Server+ knowledge and expertise is beneficial for professionals seeking to enhance their career. With this certification, servers can be securely installed and troubleshooting IT management skills properly deployed. Ultimately, server professionals can gain the confidence and credibility to perform their job duties with greater efficiency while helping organizations create a secure computing environment.
The benefits of earning the CompTIA Server+ certification extend beyond having a credential that is well-respected in the industry. This certification also prepares individuals for a career in IT by building job-ready skills that will help them become successful in an ever-changing technological landscape. Specifically, they will develop fundamental knowledge of server hardware components, virtualization technologies, storage solutions, networking configurations, and security protocols.
Furthermore, they will learn how to diagnose and fix common server problems quickly and effectively. In addition to these technical skills, those who earn the CompTIA Server+ certification is also equipped with soft skills such as customer service, organizational ability, and problem-solving aptitude. As technology becomes more prevalent in the business world today, having these kinds of interpersonal skills is essential for success in any IT role.