26 Oct, 2023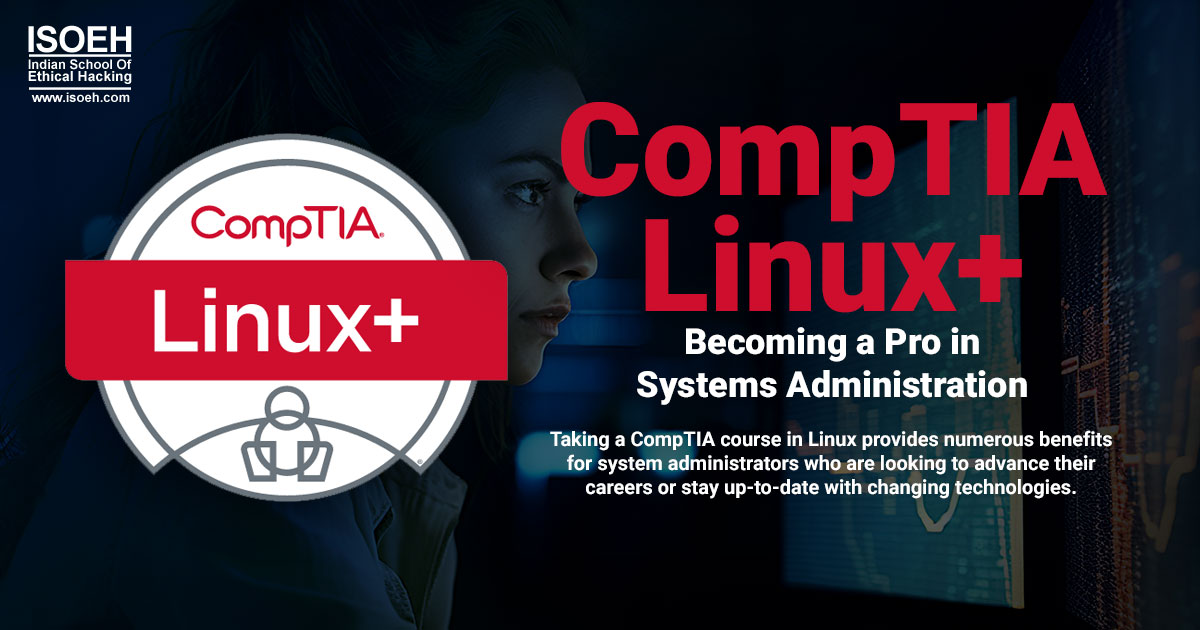 Introduction
CompTIA Linux+ validates the competencies required of an early career systems administrator supporting Linux systems. Earning a CompTIA Linux+ certification is an important milestone for IT professionals looking to specialize in systems administration.
With the global recognition of this certification, those with CompTIA Linux+ can demonstrate to employers a high level of technical knowledge and competency in managing and supporting various Linux systems. In this article, we'll provide an introduction to what a CompTIA Linux+ certification offers for tech professionals seeking to become pros in systems administration.
CompTIA Linux+ is an internationally recognized, comprehensive certification that validates the skills of system administrators. It is designed to show employers that certified individuals are familiar with open-source operating systems such as Ubuntu, CentOS, Red Hat Enterprise Linux (RHEL), SUSE Enterprise Server (SLES), Debian, and Fedora. It helps validate one's knowledge on topics such as configuring services like Apache or Nginx web servers, setting up users and groups, creating file systems and partitions on storage devices; managing software packages using package managers like Yum or Zypper; securing a system against malicious threats; troubleshooting basic network issues; scripting basic Bash commands; understanding Docker containers; and configuring storage with LVM.
"COMPTIA LINUX+ PROVES YOU HAVE THE SKILLS ADMINISTRATORS NEED TO SECURE THE ENTERPRISE, POWER THE CLOUD AND KEEP SYSTEMS RUNNING."
The Only Job-Focused Linux Certification.
Covers the latest foundational skills demanded by hiring managers.
Gain Hands-On Linux Skills.
Performance-based and multiple-choice questions prove you can think on your feet.
Build Foundational Knowledge.
Learn all major distributions of Linux, setting the foundation for vendor/distro-specific knowledge.
Preparing for the Exam
The best way to prepare for the CompTIA Linux+ exam (XK0-005) is by taking an accredited course. CompTIA Linux+ covers an evolving job role that focuses more on how Linux powers the cloud. The exam includes cutting-edge technologies that help automate and orchestrate business processes, including infrastructure such as code and containers.
Benefits of Certification
Getting certified in CompTIA Linux+ provides several benefits for tech professionals looking to break into systems administration roles or transition from other fields within IT. Not only does it validate your skillsets as being compliant with industry standards but also allows you to stand out from the competition when applying for jobs.
CompTIA certifications are highly regarded around the world since they are vendor-neutral and provide an objective measure of knowledge that employers can trust. On top of that, earning a CompTIA Linux+ certification demonstrates that you have mastered the core competencies necessary for success in this position which will help open new doors in your career.
Gain Valuable Skills
Taking a CompTIA course on Linux provides individuals with various skills necessary for success in the IT industry.
What Skills Will You Learn?
System Management
Configure and manage software, storage, processes and services
Security
Understand best practices for permissions and authentication, firewalls, and file management
Scripting, Containers and Automation
Create simple shell scripts and execute basic BASH scripts, version control using Git and orchestration processes
Troubleshooting
Analyze system properties and processes and troubleshoot user, application and hardware issues
Keep Up with Changing Technologies
The technology industry is constantly changing and evolving to meet market needs; hence it's important for IT professionals to stay up-to-date on current trends and best practices. Taking a CompTIA course on Linux helps professionals stay ahead of the curve by giving them access to valuable resources such as training materials, webinars, workshops and online tutorials which teach them about changes in technology as well as new tools and techniques for managing Linux systems.
Conclusion
In conclusion, taking a CompTIA course in Linux provides numerous benefits for system administrators who are looking to advance their careers or stay up-to-date with changing technologies. By acquiring valuable skills such as server operations, command line interfaces and scripting languages, individuals can become certified professionals and set themselves apart from other candidates when seeking job opportunities or promotions. Furthermore, this type of training keeps them prepared for any changes or advancements in technology that may occur during their career journey as an IT professional.