04 Oct, 2023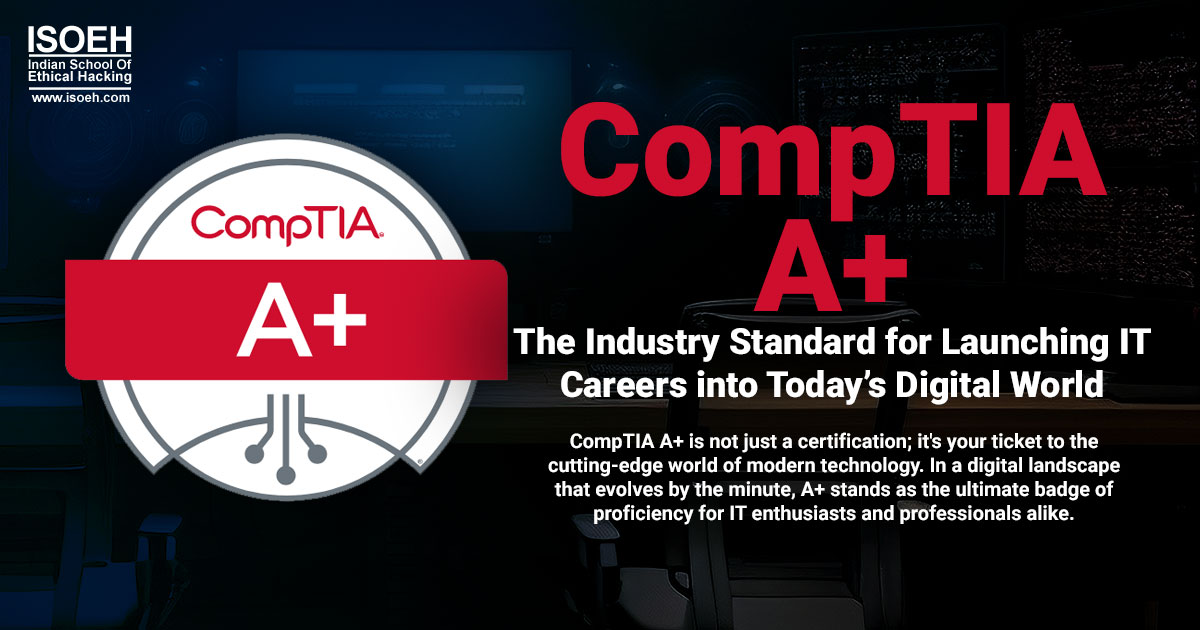 Introduction
The Information Technology (IT) industry is one of the fastest-growing and most dynamic sectors in the world. In the digital world of today, having a CompTIA A+ certification is the gold standard for launching a successful IT career. With its global recognition, comprehensive coverage, and highly sought-after credentials, CompTIA A+ is the go-to certification for aspiring IT professionals looking to break into the tech industry.
What is CompTIA A+?
CompTIA A+ is an industry-recognized certification that validates the knowledge and skills of IT professionals. It is designed to give individuals the skills and knowledge needed to install, configure, maintain, and troubleshoot computer hardware and software. It also covers topics such as operating systems, security, networking, and customer service. CompTIA A+ is a vendor-neutral certification, meaning it is accepted worldwide and is not specific to any particular vendor.
Why is CompTIA A+ Important?
CompTIA A+ is the industry standard for launching an IT career. It is the most widely recognized certification in the tech industry, and it is highly sought after by employers. Having the CompTIA A+ certification demonstrates to employers that you have the skills and knowledge necessary to be successful in the tech industry. The certification is also beneficial to those seeking career advancement.
Many employers require CompTIA A+ certification for certain positions, and having it can open the door to more advanced roles within a tech organization. It is also a great way to expand your knowledge and skills, as the certification covers a wide range of topics related to IT.
"COMPTIA A+ VALIDATES CERTIFIED PROFESSIONALS HAVE THE SKILLS REQUIRED TO SUPPORT TODAY'S DIGITAL WORLD."
What Skills Will You Learn?
Hardware
Identifying, using and connecting hardware components and devices, including the broad knowledge about different devices that is now necessary to support the remote workforce.
Operating Systems
Install and support Windows OS including command line and client support, system configuration imaging and troubleshooting for Mac OS, Chrome OS, Android and Linux OS.
Software Troubleshooting
Troubleshoot PC and mobile device issues including common OS, malware and security issues.
Networking
Explain types of networks and connections including TCP/IP, WIFI and SOHO.
Troubleshooting
Troubleshoot real-world device and network issues quickly and efficiently.
Security
Identify and protect against security vulnerabilities for devices and their network connections.
Mobile Devices
Install and configure laptops and other mobile devices and support applications to ensure connectivity for end users.
Virtualization and Cloud Computing
Compare and contrast cloud computing concepts and set up client-side virtualization.
Operational Procedures
Follow best practices for safety, environmental impacts, and communication and professionalism.
Jobs You Can Land with CompTIA A+ are - Field Service Technician, IT Support Manager, Business Analyst, Data Support Technician, Technical Support Specialist, MSP Personnel, IT Server Technician, IT Specialist, Help Desk Technician.
How Can You Obtain a CompTIA A+ Certification?
To obtain a CompTIA A+ certification, The CompTIA A+ Core Series requires candidates to pass two exams: Core 1 (220-1101) and Core 2 (220-1102) covering the following new content, emphasizing the technologies and skills of IT pros need to support a hybrid workforce:
Increased reliance on SaaS applications for remote work
How to remotely diagnose and correct common software, hardware or connectivity problems
Evolving core technologies from cloud virtualization and IoT device security to data management and scripting
Multiple operating systems, when to use them and how to keep them running properly
Reflects the changing nature of the job, including how to assess if it's best to fix something on-site, or send it to a specialized provider
Where Can You Find CompTIA A+ Training and Courses?
CompTIA offers a wide variety of training and courses for those seeking to obtain a CompTIA A+ certification. These courses are available both online and in-person, and they cover everything from basic topics to more advanced topics. CompTIA also offers global courses, so you can take the courses no matter where you are located.
In addition to CompTIA's courses, many third-party organizations that offer CompTIA A+ training and courses. These organizations typically offer more comprehensive courses, as well as more personalized instruction.
Conclusion
CompTIA A+ is not just a certification; it's your ticket to the cutting-edge world of modern technology. In a digital landscape that evolves by the minute, A+ stands as the ultimate badge of proficiency for IT enthusiasts and professionals alike. It's the gateway to a career filled with limitless possibilities.
In a world where technology is the lifeblood of businesses and individuals, mastering CompTIA A+ is like wielding a magic wand that opens doors to a lucrative career path, exciting job opportunities, and the chance to shape the future of technology.
With its comprehensive coverage and global recognition, having a CompTIA A+ certification is a great way to show employers you have the skills and knowledge necessary to succeed in the tech industry. With its wide variety of training and courses, obtaining a CompTIA A+ certification is within reach for anyone looking to break into the tech industry.