27 Oct, 2023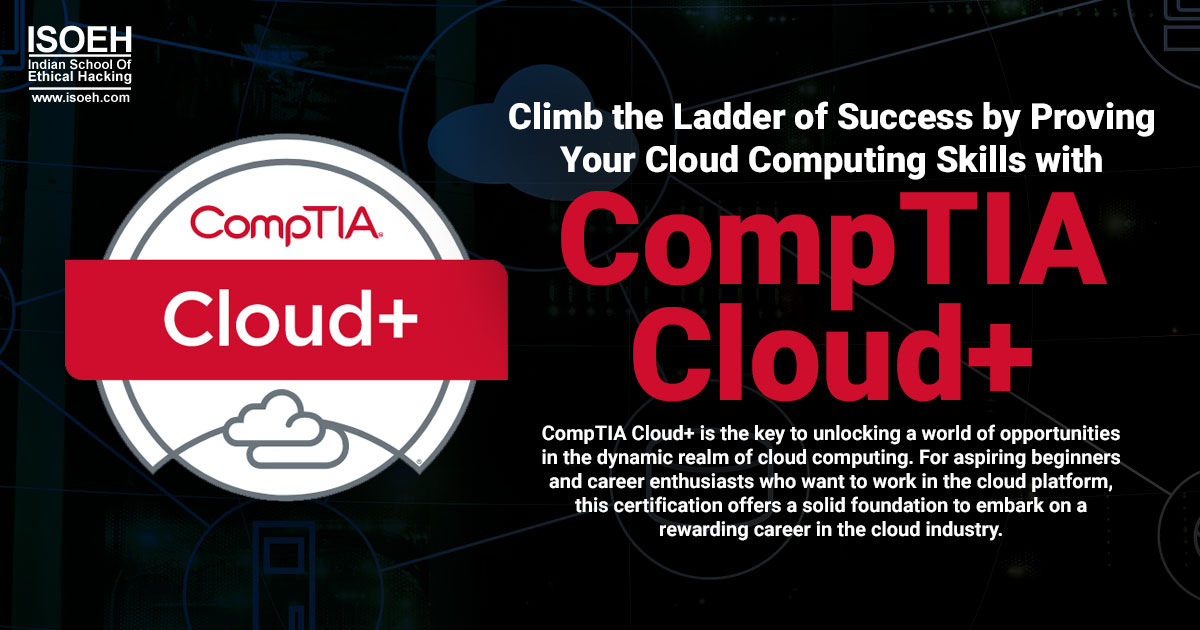 Introduction
CompTIA Cloud+ shows you have the expertise needed to deploy and automate secure cloud environments and protect mission-critical applications and data. Gaining a cloud certification can be a great asset to have on your resume. It offers several advantages to both the cloud professional, as well as employers. CompTIA Cloud+ certification is one of the most sought-after cloud certifications by businesses and IT professionals alike. It is designed for individuals who wish to demonstrate their proficiency in deploying and managing cloud technologies.
CompTIA Cloud+ provides an entry-level foundation in knowledge of the essential skills required for operating cloud infrastructures, building cloud networks, understanding how to secure and deploy applications based on cloud-related technologies, and more. Obtaining this certification demonstrates not only your industry knowledge but also your commitment to continuing education.
Therefore, if you're looking for a way to gain recognition for your expertise in the field of cloud computing, then obtaining your CompTIA Cloud+ certification can be an excellent career booster.
Here are some key benefits of having a CompTIA Cloud+ certification:
Valuable Skillset
The skillset you acquire through studying for CompTIA Cloud+ includes understanding basic concepts such as cloud storage solutions, designing private/hybrid/public clouds, understanding security policies related to the cloud environment, and more. These are valuable skills that enable you to bring innovative work solutions that leverage a range of highly sought-after capabilities provided by the public or private clouds.
Recognition From Employers
Companies need skilled individuals with up-to-date industry knowledge when it comes to hiring personnel for their IT teams. Having a CompTIA Cloud+ certification signals employers that you possess the technical expertise needed to efficiently operate within their organization's IT department. The enhanced credibility helps open doors for better job opportunities.
Marketability
The demand for globally recognized professionals is growing exponentially; therefore, you must stay ahead of the competition by validating your skill sets with a recognized third-party accreditation such as CompTIA's Cloud+. The proof of qualification allows potential employers the assurance that they are hiring someone who has obtained industry-standard credentials which further bolster their confidence when selecting you over other candidates.
Better Career Growth Prospects
Having a certified credential like CompTIA's Cloud+ indicates that you possess the relevant experience necessary for solving complex issues related to virtualized environments such as scalability and security management. It increases your chances of promotion since many companies prefer employees who possess certifications over those without them.
How CompTIA Cloud+ Helps Strengthen Your Cloud Computing Skills
If you're serious about taking your cloud computing career to higher heights, then CompTIA Cloud+ certification is the right way to go. This cloud certification establishes the core knowledge and skills needed to securely implement and maintain cloud technologies from individual users up to large enterprise networks. Being CompTIA Cloud+ certified shows organizations that you have the skills required to create a secure, reliable and efficient cloud infrastructure.
CompTIA Cloud+ covers a wide range of topics that include virtualization, infrastructure, security, resource management and business continuity in the context of clouds. As a cloud professional, you need to have an in-depth understanding of how these topics work together as they are critical for meeting industry standards when deploying or managing clouds. With CompTIA Cloud+, you can prove your knowledge in this field.
"COMPTIA CLOUD+ PROVES YOU HAVE THE SKILLS NEEDED TO BUILD A SUCCESSFUL CAREER IN CLOUD COMPUTING."
The only performance-based cloud certification.
Shows employers you have the technical skills needed to secure cloud-based infrastructure services in the context of broader IT systems.
Meets your needs regardless of your cloud environment.
Covers concepts that apply across any, or even multiple, cloud environments.
The only cloud certification approved for DoD 8570.01-M.
Shows what you can do, not just what you know, for Information Assurance Management (IAM) Level I, Cybersecurity Service Provider (CSSP) Analyst and Cybersecurity Service Provider (CSSP) Infrastructure Support roles.
Know about the Exam
Gaining a CompTIA Cloud+ certification is an excellent way to prove your cloud computing skills. CompTIA Cloud+ validates the skills needed to deploy and automate secure cloud environments that support the high availability of business systems and data. Exam Code is - CV0-003.
Number of Questions - Maximum of 90 questions
Type of Questions - Multiple choice and performance-based
Length of Test - 90 Minutes
Passing Score -750 (on a scale of 100-900)
Recommended Experience - CompTIA Network+ and Server+ and 2-3 years of experience in systems administration or networking.
Languages - English
Conclusion
CompTIA Cloud+ is the key to unlocking a world of opportunities in the dynamic realm of cloud computing. For aspiring beginners and career enthusiasts who want to work in the cloud platform, this certification offers a solid foundation to embark on a rewarding career in the cloud industry. As a globally recognized professional in cloud platforms, you'll be well-equipped to meet the evolving demands of the tech landscape. With Cloud+, you gain essential knowledge, skills, and confidence to design, implement, and manage cloud infrastructures. So, whether you're seeking to launch a career or elevate your existing one, CompTIA Cloud+ is your passport to success in the exciting and ever-expanding world of cloud technology.