11 Jan, 2019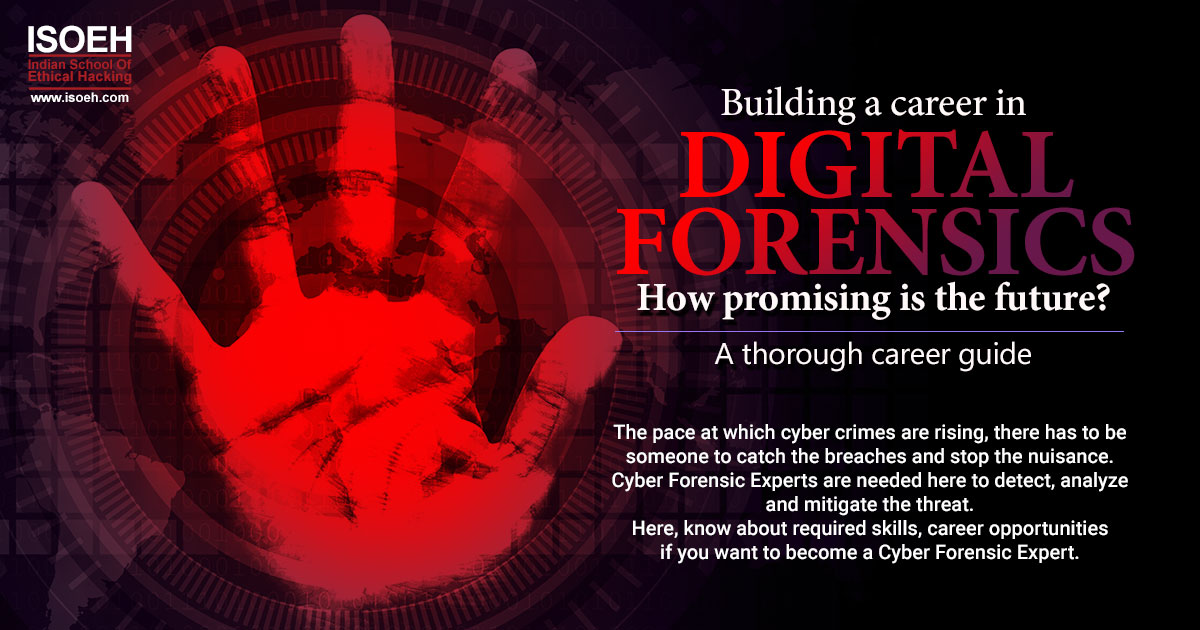 Cyber crimes like credit/debit card frauds, phone hacks, malware and ransomware attacks, email scams, phishing scams, identity thefts etc. are showing no signs of being reduced in the coming years. Now most of our personal and professional activities are conducted digitally. Businesses are moving into cloud based technology for cost advantages and lesser ownership cost of data. And this has expanded the scope of cyber threats and Information security challenges. In fact, the diffusion of IoT paradigms in industrial sectors and at homes is anticipated to stir a new wave in Information Security challenges in organizations and disrupt individual's personal security and industrial espionage.
The pace at which cyber crimes are rising, there has to be someone to catch the breaches and stop the nuisance. Cyber Forensic Experts are needed here to detect, analyze and mitigate the threat. According to a survey by Symantec, India ranks 3rd among nations facing the maximum cyber threats. The ever-increasing frequency of being a victim of cyber fraud is fueling the demand for highly skilled Digital Forensics professionals more than ever.
Role of Digital Forensic Investigators:
Cyber Forensics or Digital Forensics involves the extraction and analysis of digital evidences such as electronic document, laptops, storage mediums like USB, hard drive etc. Cyber Forensics experts are cyber soldiers who can protect and limit the attacks. There has been an explosion of digital devices and with that digital crime increased exponentially. Computer Forensic Investigators are experts at reconstructing and analyzing digital information to aid in investigations and solve digital crimes. The roles of a Digital Forensic Investigator include:
In case of a crime, it is very important how the evidences are collected and maintained as this has become quite a precise process in law enforcement. Detective agencies and Government bodies take help from the IT professionals to gain serious evidences in their investigations for various crimes like - cyber espionage, hacking, bank fraud etc.
Investigators now using computer forensics to access encrypted data daily to find evidences and establish in a court of law.
The tasks of the investigators include recovering deleted files, deleted passwords and checking for security breaches in cyber crime.
With the help of Forensic Investigators cold case files can be reopened. Collecting information from old devices, gathering and organization of data might bring forward the details that investigators might have missed in the initial investigations. The technical innovations are helping the way we look at criminal investigation.
Digital forensic experts often need to work closely with police and detective departments to track hacking incidents and also writing and reviewing investigation reports.
Eligibility criteria & skills required for a career in Digital Forensics:
To make a career in Digital Forensics, one needs to have sound knowledge of hardware and software. Intricate knowledge of computer operating systems like BIOS, MacOS, Windows and Linux is a must. Graduates in Computer Science, Information Technology or Computer Applications can pursue Digital Forensics courses in India. A Cyber Forensics professional needs to pursue a post-graduation in Cyber Forensics or a certification in Information or Cyber Security.
It is always good to have a CEH v10.0 (Certified Ethical Hacker) course done before joining CHFI (Computer Hacking Forensic Investigator) for a better understanding of the subject. Besides the educational qualifications, it is very important to have,
Analytical and precise observation skills to excel in your career. The ability to understand patterns and make correlations is a crucial skill in the investigation process.
As the job role demands careful collection and gatherings of data, one has to be very much organized at record-keeping. Documentation plays a crucial part in the investigation and for that one has to be extremely organized.
Digital Forensic is all about solving cyber crimes. So, it is necessary to have the understanding of cyber security and how the technology works in case of an attack. It is impossible to guard against data breaches without knowing the techniques being used to target systems. Many talented forensic examiners gather experience working with a cyber security team before coming in this field.
Having strong writing and speaking skills is extremely important for effective communication with the team you are working with and other governing authorities or clients. To make a proper report of the investigation, one must have strong communication skill to express the scenario better.
The eagerness to learn always adds some extra points when it comes to grasp anything. Self-analyzation and the urge for continuous improvement is a much desired trait.
Job opportunities in Cyber Forensics:
With the rising number of cyber crimes, there is high demand for Computer Forensics graduates in Law Enforcement Agencies in India and abroad. Employment opportunities for such professionals are witnessing a surge but there is still a lack of skilled resource in this field.
Computer Forensics/Digital Forensics professionals are hired to strengthen the information security structure or monitor cyber frauds within an organization. Some typical examples of jobs in cyber forensics are Computer Forensics Investigator, Computer Forensics Technician, Digital Forensics Specialist, Computer Forensics Analyst, Computer Forensics Specialist etc. Trained Cyber Forensic experts are also invited to impart education and provide training in Government and private colleges.
According to US BLS (Bureau of Labor Statistics), the related occupation of information security analysts is expected to grow by 18% between 2014 and 2024.
Enroll for CHFI v10 »