27 Jun, 2023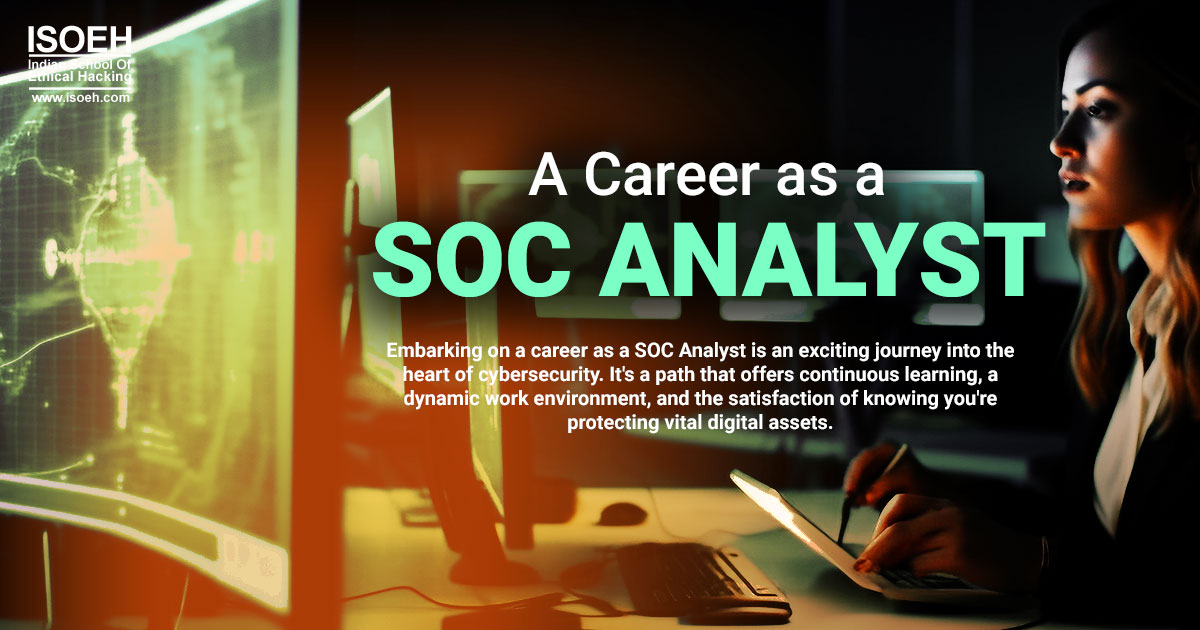 Introduction
Imagine protecting the world's data from the shadows like a digital superhero! That is a Security Operations Centre (SOC) Analyst's daily routine! They are such heroes that protect our digital universe in a society where cyber threats are as prevalent as homework assignments.
They operate as the detectives of the online world, continuously keeping an eye out for odd behaviour and potential dangers. They develop long-term security measures in addition to addressing urgent risks thanks to their technological expertise and strategic thought.
But there are other aspects to combatting cybercriminals. You'll get the chance to work with cutting-edge technology and be at the forefront of the rapidly developing field of cybersecurity as a SOC Analyst.
With high demand and even higher income, it's a job that's both lucrative and interesting. So, being a SOC Analyst could be your next great adventure if you're willing to trade in your textbooks for security tools and your classroom for a cutting-edge operations centre.
Eligibility Criteria & Job Requirements
In order to succeed as a SOC (Security Operations Centre) Analyst, you must possess the following educational requirements and acquire the following skills:
Educational Qualification: The typical educational requirement is a bachelor's degree in computer science, cybersecurity, information technology, or a closely connected profession. Candidates holding a master's degree in a related discipline may be preferred by some organisations.
Certifications: It may be advantageous to obtain certifications such as the Certified Information Systems Security Professional (CISSP), Certified Information Security Manager (CISM), Certified Information Systems Auditor (CISA), GIAC, CASP, and Certified in Risk and Information Systems Control (CRISC). In this industry, the Certified SOC Analyst (CSA) qualification is very highly regarded.
What to Learn?
Cybersecurity Fundamentals: Understanding the basics of cybersecurity, including threat landscape, security architecture, and risk management.
Network Security: Knowledge of network protocols, firewalls, VPNs, and intrusion detection systems.
Incident Response: Learn how to identify, respond to, and recover from security incidents.
Security Tools: Familiarize yourself with tools like SIEM (Security Information and Event Management) systems, IDS/IPS, and threat intelligence platforms.
Regulations and Compliance: Understanding of relevant laws and regulations like GDPR, HIPAA, etc.
Job Prospects
SOC analysts are in high demand, and that demand is only increasing as firms place a higher priority on cybersecurity. You can advance to positions like SOC Manager, Security Architect, or even CISO with experience. In India, a SOC analyst can expect to make between 6 and 10L in CTC annually.
The Most Wanted Skills You Should Have:
Network Defence: Ability to monitor, discover, and analyze potential threats that can disturb network security.
Ethical Hacking: Knowledge of identifying potential threats, reporting vulnerabilities, and understanding penetration testing.
Incident Response: Ability to manage the effects of breaches, reduce their impact, and suggest changes in security controls to prevent future security breaches.
Computer Forensics: Familiarity with computer forensics to prevent cybercrime, collect, analyze, and report security data, and find and analyze evidence to prevent future security breaches.
Reverse Engineering: Ability to understand and read the performance of a given software program to patch a bug.
Communication Skills: Ability to communicate effectively with both technical and non-technical colleagues, as well as with clients and stakeholders.
Analytical Skills: Strong problem-solving abilities to identify security risks and develop solutions.
Experience: Entry-level positions may require at least one to two years of experience in information security or a related field. For more advanced roles, several years of experience in a SOC environment may be required.
Roles and Responsibilities
Supply security logs and threat analysis for security devices
Examine and address flaws and vulnerabilities in hardware and software
Look into, record, and report security issues and new security trends.
When necessary, cooperate with other analysts and departments to coordinate system and network security
Develop, implement, and upkeep security policies and procedures, such as safeguarding digital data and files from unauthorised access
Keep track of data and security access
Conduct vulnerability testing, risk analyses, and security evaluations
Carry out internal and external security audits
Be aware of dangers, incidents, and alerts to assist reduce the possibility that they will occur
Control intrusion detection systems on networks
Examine all security incidents to identify the underlying causes
Offer suggestions for protective measures and set up authorised equipment
Conclusion
Embarking on a career as a SOC Analyst is an exciting journey into the heart of cybersecurity. It's a path that offers continuous learning, a dynamic work environment, and the satisfaction of knowing you're protecting vital digital assets.
So, are you ready to take the leap and become a cybersecurity hero?
Remember, every expert was once a beginner.
Start your journey today, and who knows? You might be the next cybersecurity superstar!
Let's get started on your journey to becoming a SOC Analyst!