29 Sep, 2021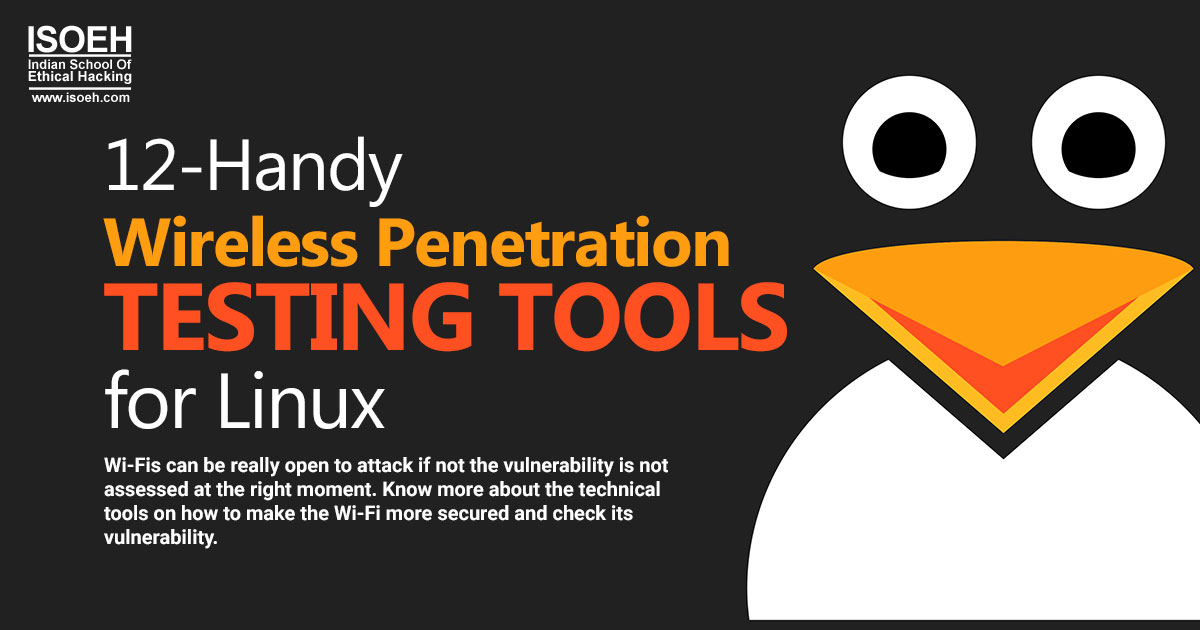 Security framework of cyber security analysis highly depends on digging deeper into the details of the Wi-Fi Penetration tools. Blackhat hackers may use various different mechanisms to reach out to you and get all the information compromised. It would be a wiser decision to assess system vulnerabilities to save the system from infiltration.
In order to save the system, organizations often look for different penetration testing tools to discover the vulnerabilities of their network system.
Some effective and dynamic penetration testing network tools are as follows:
1. Wifite
Wifite is a Python script designed to simplify wireless security auditing. It runs existing wireless hacking tools for you, eliminating the need to memorize and correctly use the different tools with their various options.
Wifite2 is a complete rewrite of the original Wifite tool. It is designed to work on the Kali Linux and ParrotSec Linux distros. Before running Wifite, it is recommended to install their optional tools as they are essential for running some of the supported attacks.
Download Wifite2: https://github.com/derv82/wifite2
2. Kismet
Kismet is a wireless network sniffer that works for Wi-Fi, Bluetooth, software-defined Radio (SDR) and other wireless protocols. It passively collects packets being broadcast in its vicinity and analyzes them to detect even hidden Wi-Fi networks.
Kismet is supported on all operating systems (using WSL on Windows) and is actively supported. The last 2020 release significantly re-architected the system to improve performance and add new features.
Download Kismet: http://www.kismetwireless.net/
3. inSSIDer
inSSIDer is a popular Wi-Fi scanner for Microsoft Windows and OS X operating systems. The inSSIDer wi-fi scanner can do various tasks, including finding open Wi-Fi access points, tracking signal strength and saving logs with GPS records.
inSSIDer works on a freemium model. Basic functionality is available for free, but certain features require a paid membership.
Download inSSIDer: https://www.metageek.com/products/inssider/
4. AirJack
AirJack is a Wi-Fi 802.11 packet injection tool. This wireless cracking tool is very useful in injecting forged packets and taking a network down via a denial of service attack. This tool can also be used for a man-in-the-middle attack on the network.
Download AirJack: http://sourceforge.net/projects/airjack/
5. Airgeddon
Airgeddon is designed to be an all-in-one tool for security analysis of wireless networks. To accomplish this, it integrates several existing tools and provides a single command-line interface for all of them. This helps to reduce the complexity of performing Wi-Fi security audits because Airgeddon's CLI walks you through the process and handles interactions with all of the underlying tools.
Download Airgeddon: https://github.com/v1s1t0r1sh3r3/airgeddon
6. OmniPeek
OmniPeek is another nice packet sniffer and network analyzer tool. This tool is commercial and supports only Windows operating systems.
OmniPeek is included on this list despite being a commercial tool due to the extensive feature set. This tool is intended to be an all-in-one Wi-Fi network management solution and includes packet capture, protocol decoding, network diagnostics and troubleshooting and even playback and analysis of voice and video traffic for diagnostic purposes.
Download OmniPeek: https://www.liveaction.com/products/omnipeek-network-protocol-analyzer/
7. CommView for WiFi
CommView for WiFi is another popular wireless monitor and packet analyzer tool. It comes with an easy-to-understand GUI. It works fine with 802.11 a/b/g/n/ac networks. It captures every packet and displays useful information as a list. You can get useful information like access points, stations, signal strength, network connections and protocol distribution. Captured packets can be decrypted by user-defined WEP or WPA keys.
This tool is basically for Wi-Fi network admins, security professionals, home users who want to monitor their Wi-Fi traffic and programmers working on software for wireless networks.
Download CommView: http://www.tamos.com/products/commwifi/
8. CloudCracker
CloudCracker is an online password cracking tool for cracking WPA-protected Wi-Fi networks. This tool can also be used to crack different password hashes. Just upload the handshake file, enter the network name, and start the tool. This tool has a huge dictionary of around 300 million words to perform attacks.
Try Cloudcracker: https://crack.sh/
9.Cain & Abel
Cain and Abel is one of the top wireless penetration testing tools for cracking WEP wifi passwords, particularly for the Windows platform.
It's popular because of its ability to crack wifi passwords using various techniques like network packet sniffing, dictionary attacks, brute force attacks and cryptanalysis.This tool can also recover network security keys by analyzing network protocols.
Apart from cracking passwords, you can also use these wifi hacking tools to record VoIP conversations, get cache data as well as to get hold of routing protocols for the purpose of ethical hacking.It is an updated tool and is available for all the different versions of the Windows operating system.
10. Hashcat
Hashcat is the world's speedy password cracker. Based on the In-kernel rule engine, flexibility is the ultimate giveaway in most popular operating systems. Operating systems like windows, macOS, Linux allow hefty use of the Hashcat. Hashcat's password candidate brain functionality continues to be one of the best tools for penetration testing. It generally comes with a built-in benchmark system and an internal thermal watchdog. It also supports hex-salt, hex-charset, automatic performance tuning, interactive pause/resume, distributed cracking, multi-device, and many other features.
11. CoWPAtty
This is one of the most important tools which comes with an Auditor CD that makes it very easy to use for hacking WPA-PSK Networks. list.The tool is comparatively easy to use but works slowly, which is a significant drawback. It runs on a word list containing the passwords used in attacks. As a hacker, one cannot hack the network, until and unless the password is available within the password word. CoWPAtty works on the principal automated offline dictionary attacks.
12. WiFiPhisher
Wi-FiPhisher is an excellent tool for cracking passwords and creating fake points. This tool is generally used by the penetration testers to develop fake points for Red team engagement and security testing. Accessing clients is quite quicker as this tool enables to achieve a man-in-the-middle position. This tool is helpful in customizing web phishing attacks, performing automated phishing attacks based on the preferences and requirements. It is freely available and often pre-loaded in Kali.
Each and every tool stated above is best in its own configuration for hacking Wi-Fis and monitoring network traffic. Decisions should be made on the choice and requirements of the user and immediate needs.