11 Oct, 2019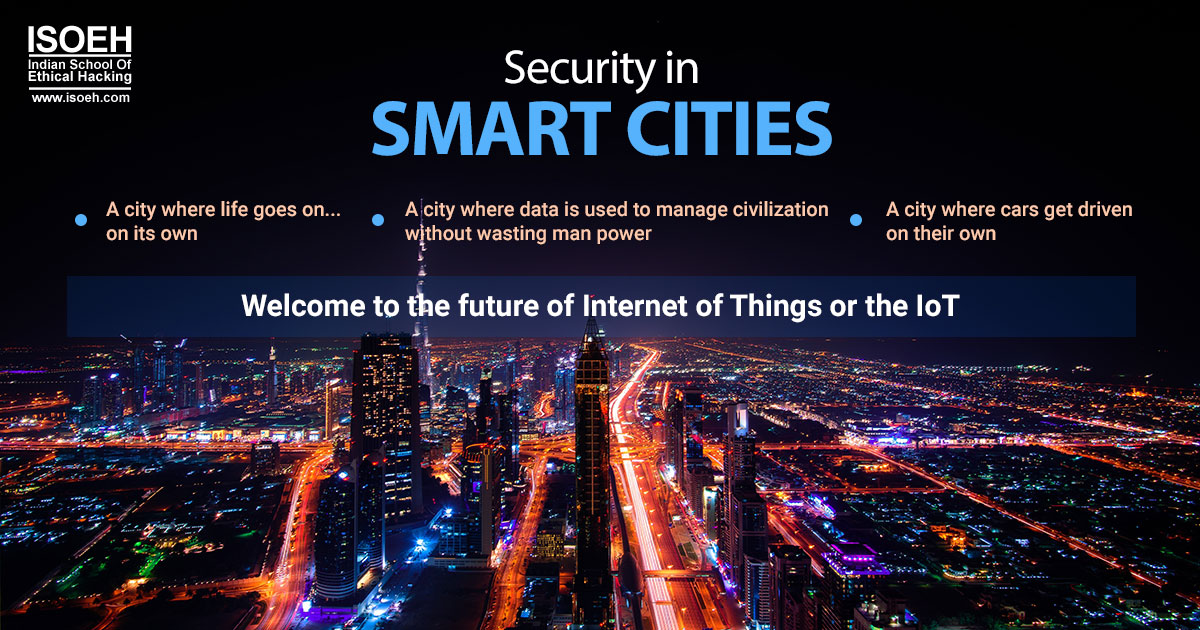 Now this is stuff for sci-fi fictions.
A city where life goes on… on its own.
A city where data is used to manage civilization without wasting man power.
A city where cars get driven on their own.
Welcome to the future of Internet of Things or the IoT.
According to the tech dictionary the Internet of Things is a network of related computing devices equipped with unique identifiers which can transfer data over a network without necessitating human intervention.
The smart city is the ultimate extension of this latest technological innovation where the responsibilities of a civil society is executed using this smart network. Here transportation, power generation, water supply, waste management, crime detection etc is managed and monitored without manual labour.
The umpteen advantages of a smart city notwithstanding, there are certain possible perils of the same too which includes endangered network security which needs to be addressed.
Let's check them out.
Infrastructure
Smart cities employ sensor technology to gather data regarding various aspects of metropolitan living including traffic news to unsocial activities. Such a system of censors is often high maintenance requiring investment and infrastructure in considerable magnitude. Further traditional infrastructure of connectivity like underground wiring etc are often difficult to be replaced with high speed wireless internet. Arranging for investment approvals for smart city sensor infrastructure is tedious and time taking. City planners can solve this infrastructural blockage by considering the challenges at early stage of metro planning thus paving the way for easily installable hardware.
Hacking
Smart cities often run high risk of mass disruption. The amount of informational traffic that is exchanged over a smart city sensor network is often vulnerable to hackers, who can intrude into the networking system and cause the city to stand still. Thus one of the prerequisites of building a smart city is to invest in a powerful, full proof and cyber secure sensor grid. Cybercrimes and related disruptive activities which can wreak havoc in public life are thus being precaution against by top IT companies with improved encryption techniques and better security equipped applications.
Privacy concerns
One of the major concerns of a smart citizen is individual privacy. A resident of a smart city may feel insecure being under the surveillance of constant camera. Further the enormous amount of data that is collected by the city sensors have to be prudently utilized in order to bring in the best results. In order to win the confidence of the public, transparent and educative curriculums must be initiated by the government to educate the consumers about the new city.
Community engagement
Involving the inhabitants of a smart city in knowing the sophisticated technology being implemented in their lives is a prerequisite of smart city. Members of the user community must be educated about the pros and cons of the system in order to enable them take active part in the maintenance, security and optimization of the new sensor web.
Further latest technology is often made the most of by the younger generation or those who have enough resource and power to afford it socially. But for a smart city to survive it is important to include all age and income groups in the innovation to bring about a wholesome benefit. That can be achieved with holistic social initiatives.
Though smart cities are yet to consume the Indian topography, we at the Indian School of Anti Hacking have prepared ourselves to fight the cyber security concern with our international anti hacking audit programs. We are also contributing towards cyber security education by imparting our customized curriculum on ethical hacking at our training wing the Indian School of Ethical Hacking.
If you wish to know more about security concerns for smart city & new world dependent on IOT, please read further https://www.isoeh.com/exclusive-blog-details-lets-get-ready-for-a-whole-new-world-with-IOT-the-internet-of-things.html
Do check our Machine Learning skill development courses at https://www.isoeh.com/machine-learning-using-python.html