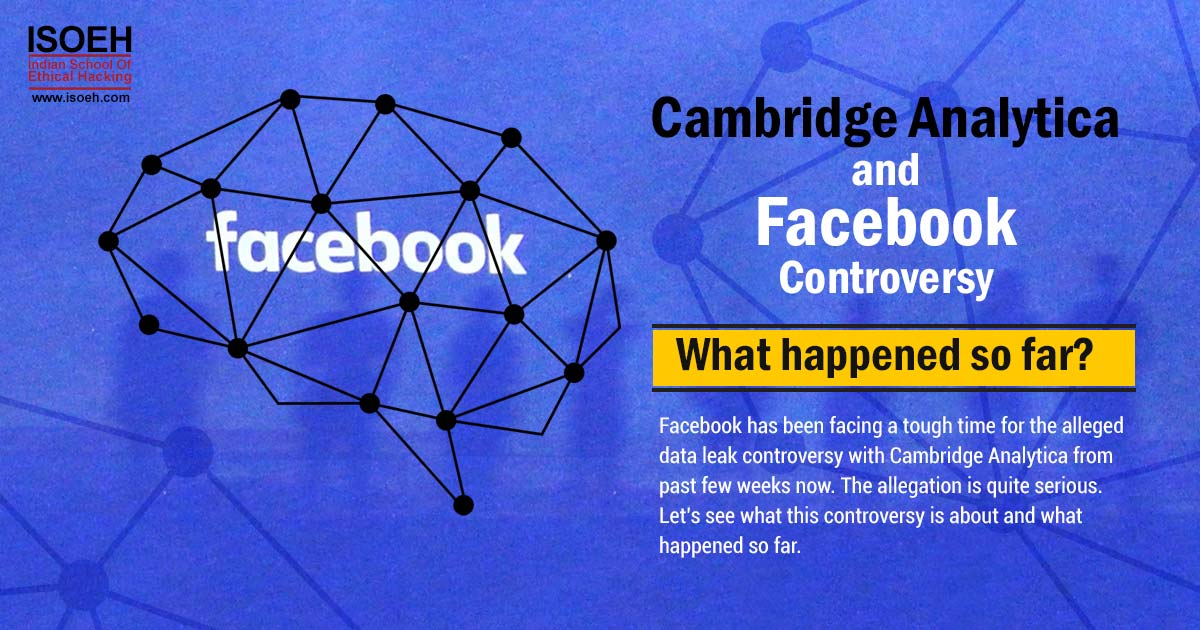 16 Apr, 2018
The Facebook controversy seems to be a never ending one. Facebook has been facing a tough time for the alleged data leak controversy with Cambridge Analytica from past few weeks now. The allegation is quite serious. Let's see what this controversy is about and what happened so far.
What is Cambridge Analytica?
UK-based data firm Cambridge Analytica acquired millions of Facebook users' personal information to build software that could target potential swing voters in political campaigns, including US President Donald Trump's 2016 election bid. The British company used social media data to help clients influence voters or consumers by targeting messages based on people's hopes and fears.
How can data from Facebook potentially help in a political campaign?
We don't think much before posting something on Facebook or participate in some personality quiz. But through these behaviors, unknowingly we are providing a lot of data to Facebook. Based on our interaction with Facebook over time, the platform has enough data about our likes and dislikes. It knows the kind of people we follow, the types of news sources we are interested in and the range of actions and reactions these posts elicit from us. All these data points in combination are good enough to know our political affiliation, or a lack of it.
In early 2014, a quiz on Facebook called "thisisyourdigitallife" invited users to find out their personality type. It was developed by A Cambridge University professor Aleksandr Kogan. The app was used by over 300,000 users on Facebook but the data of some 50 million users was harvested without their explicit consent via their friend networks. Kogan managed to access the profile data of other Facebook users who were friends of those who had used the app. Employees of Cambridge Analytica, including the suspended CEO Alexander Nix, were also filmed boasting of using manufactured sex scandals, fake news and dirty tricks to swing election around the world.
What happened next?
It was December 2015 when the data leak came into limelight for the first time. The Guardian reported that Cambridge Analytica was helping Ted Cruz's presidential campaign in the US with the user profiles obtained from Facebook via the app. Facebook claimed that when it found Kogan's company violating their policies, they had banned the app and asked both Cambridge Analytica and Kogan to delete all the data that was improperly acquired. In a statement, Facebook said it had been assured that the data had been deleted.
Link with Presidential Election:
Ahead of the US presidential election, Trump's campaign team began investing heavily on Facebook ads. The move involved the data gained from Cambridge Analytica. During an undercover sting operation, the company's managing director told that the firm was responsible for the "Defeat Crooked Hillary" video campaign on Facebook.
Cambridge Analytica and Facebook data leak exposed in March 2018:
The explosive revelation came out in mid-March when New York Times and Observer in the UK reported that 50 million Facebook profiles were harvested to help Trump's Presidential campaign and Pro-Brexit in a major data scandal. Christopher Wylie, the whistleblower and a co-founder of the political data analytics firm, claimed the data sold to Cambridge Analytica was then used to develop "psychographic" profiles of people and deliver pro-Trump material to them online. Cambridge Analytica has since denied any of Kogan's data was used in connection to the Trump campaign. Wylie revealed that the company successfully 'exploited Facebook' to target and mislead users. The observer reported that at the time of the incident, Facebook should have informed users and takes some steps to recover and secure the private information of more than 50 million individuals.
Zuckerberg broke his silence:
Though Facebook stated that it had brought in independent auditors to examine the Cambridge Analytica claims, the lawmakers urged Zuckerberg to testify before congress. Once the reports broke about Facebook data leaks and how it was misused to manipulate the results of election, both UK and US Governments started asking tough questions. It was March 21st when Zuckerberg finally broke his silence in a long Facebook post. "We have a responsibility to protect your data, and if we can't then we don't deserve to serve you", he said. He announced a series of steps to fix the problem, including audit of all apps which had access to large amounts of user information. He also announced that Facebook would no longer allow app developers to access its users' data after three months of inactivity and it would reduce the amount of information people are required to hand over to third parties.
Time to testify:
Zuckerberg took out full-page ads in a number of British and American newspapers to apologize for a "breach of trust". On 10th April, Zuckerberg appeared before a joint hearing of the Senate Judiciary and Commerce committees. Over the two days, there were nearly 10 hours of hearings, during which almost 100 lawmakers grilled Mr. Zuckerberg. "Your user agreement sucks", one of the Senators stated. Senate hearing contained tough questions and they often chided him for not answering questions to their satisfaction. They also asked Mr. Zuckerberg some personal questions which he refused to answer and there were somewhat weird and rambling moments throughout the combined 12 hours of testimony. The conversation clearly made Zuckerberg uncomfortable and he went on to say "It was my mistake. And I'm sorry."