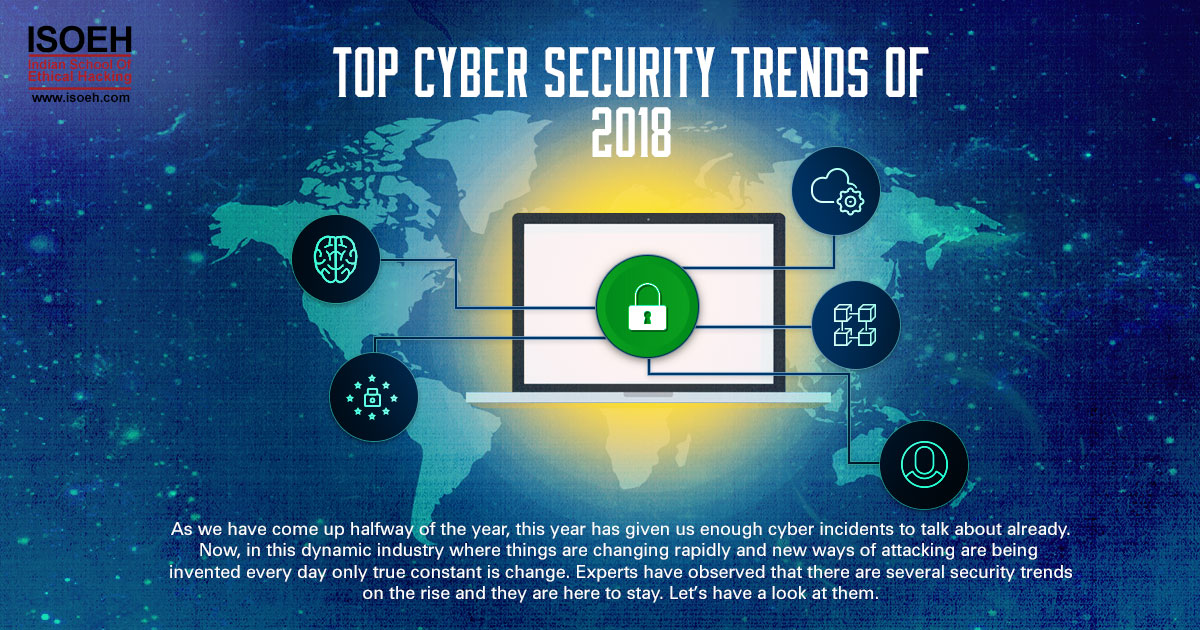 28 Jun, 2018
As we have come up halfway of the year, this year has given us enough cyber incidents to talk about already. We are living in an age of war. In 2017, security breaches hit the headlines on a regular basis. 2018 is no exception. We are witnessing significant disruption in cyber security industry since its beginning. Cyber war is happening at a larger scale and volume than ever. As soon as vulnerability is discovered, the white hat hackers strive to find a fix while the black hats try to take advantage of it for monetary gain or some fun. Cyber Security has become a major talking point in the mainstream media and Government is worried about how tackle the situation.
Now, in this dynamic industry where things are changing rapidly and new ways of attacking are being invented every day only true constant is change. Experts have observed that there are several security trends on the rise and they are here to stay. Let's have a look at them:
1. Emergence of Artificial Intelligence & Machine Learning:
Artificial Intelligence and machine learning are two technologies that are creating maximum buzz in tech industry right now. With more data available online, industries are in need of more ways to protect it. The growing and evolving cyber security risks are affecting business globally and can be stemmed by the integration of AI into security systems. With the growing computing power, data collection and storage capabilities, the application of ML and AI are being applied more broadly across industries. For cyber security industry, AI and ML could be used to make complicated models and to use data to predict the future. As the battle with cyber criminals getting intense, machine learning models that can predict and identify attacks could be a boon for security professional. However, there is also a risk that AI and ML might be exploited by the hackers.
2. New GDPR Regulations:
With the introduction of European Union's new General Data Protection Regulation, it is hoped that it will bring change in the way of how companies collect, store and protect data. When the whole world is concerned about protecting its online privacy and securing personal information, GDPR is supposed to give more power to the consumer on their personal data. On the first day of its enforcement, GDPR slapped $8.8 billion fines to Facebook & Google. So, companies that are non-compliant would face havoc fines and public shaming, both of which affect their share prices. Though investing a hefty amount on GDPR compliance might seem expensive right now but this new regulation is actually an opportunity to embrace a better process to ensure data security.
3. Advancement of IoT:
IoT connected devices have become mainstream part of our lives both inside and outside of our workplace. However, for careless operators an IoT connected device could lead to breaches bigger and more invasive than we've ever seen. IoT doesn't rely on human intervention to function. With the IoT sensors collect, communicate, analyze and act on information, offering new ways for technology, media and telecommunications businesses to create value – be it creating new businesses and revenue streams or delivering more efficient experience to consumers. With the advancement of IoT, the cyber risks are also increasing. Now, more sensitive data is being shared among many more participants and consequently the risks are exponentially greater. The internet-connected devices lack basic security features or they aren't properly configured and rely upon default passwords that can give attackers easy access. We need to properly secure the IoT or it can potentially be a bigger threat in future.
4. Role of Blockchain:
Blockchain has significant potential to allow organizations to boost cyber-security around user authentication and identity and access management. A blockchain is basically a decentralized, digitized, public ledger of all cryptocurrency transactions and uses what is known as the Distributed Ledger Technology. The Blockchain ledger can detect suspicious online behavior and isolate the connection giving the user restricted access until the transaction have been sanctioned by system administrators or the IT security team. Every transaction added to a private or public blockchain is time-stamped and signed digitally. This means that companies can trace back to a particular time period for every transaction and locate the corresponding party on the blockchain through their public address. The audit capability of blockchain offers companies with a level of security and transparency over every iteration. From the perspective of cybersecurity, this offers entities with an additional level of reassurance that the data hasn't been tampered with and is authentic. Blockchain technology is here to stay and it will help us protect as companies, individuals, and governments.
5. Shortage of skills:
As cyber-security is becoming the primary concern for consumers as well as the organizations, the companies must reach out to the cyber security specialists to understand the best practices of security and update their antiquated systems. It is impossible to eradicate data breaches completely but every organization has the power to lessen the blow by handling the aftermath correctly. In spite of huge demand of cyber security professionals, there has always been a dearth of proper skills. Even with handsome salary, there are thousands of vacant positions. Companies often engage external cyber security services or outsource experts to fill the skill gap.
Finally, it's not about only identifying the problem but to address it. The cyber security world will remain a battlefield. Make sure you are aware and updated with all the latest happenings and ready to take on any challenge.