13 Aug, 2021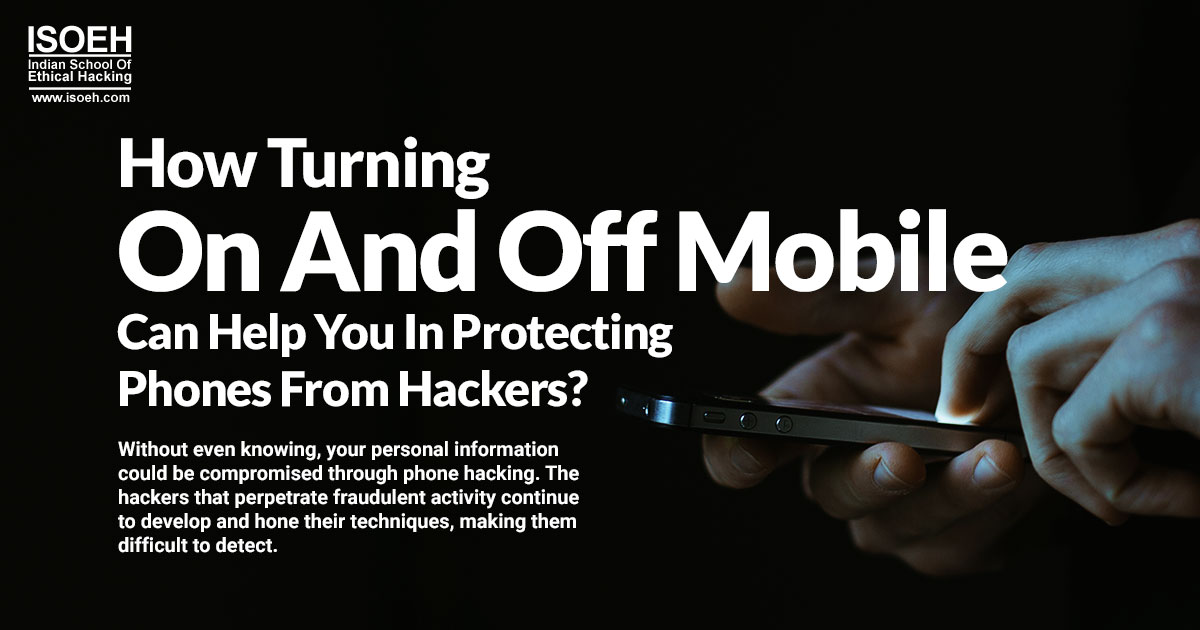 Without even knowing, your personal information could be compromised through phone hacking. The hackers that perpetrate fraudulent activity continue to develop and hone their techniques, making them difficult to detect. The average user may be attacked in a multitude of ways, many of which would go unnoticed. To be safe, you should always keep yourself updated on the latest hacking methods.
We now have all our private personal information stored on our smartphones, making our phones a key storage device for our daily lives. We cannot make it vulnerable to hackers. Banking, email and social media are all interconnected with your phone. Your phone has effectively been compromised when this happens, making all of your apps potential entry points for hackers.
What is phone hacking?
Phone hacking involves any means that give someone access to your phone, regardless of whether it's wired or wireless. It can range from sophisticated hacks, such as penetrations of highly secured networks, to low-level snooping on unprotected network connections.
You can also experience physical theft of your phone, and if that doesn't work, you can have your phone forcibly hacked into by means like brute force. The dangers of phone hacking occur no matter what type of phone you have. We propose that all users understand how to recognize a hacked smartphone to help ensure that no one is the victim of phone hacking.
How rebooting your phone can help you in protecting phones from hackers?
Last year, the NSA published a "best practices" guidance for mobile device security that advises weekly phone reboots to prevent hacking. A Maine independent says that he resets his phone regularly, about once a week.
Due to constant fear of hacking, lack of use, and a large amount of personal data. "I think of phones as our digital soul," said security expert and former NSA researcher Patrick Wardle.
We don't know how many people have their phones hacked each year. Unrest erupted in France, India, Hungary, and elsewhere after a global media consortium discovered scores of journalists, human rights activists, and politicians on a leaked list of potential targets of an Israeli hacker-for-hire organization.
Rebooting a phone is now recommended due to the increase of so-called "zero-click" attacks that work without user input instead of persuading consumers to open anything secretly infected.
According to Bill Marczak, senior researcher at the University of Toronto's Citizen Lab, there has been a shift from having targets click on questionable links.
Once inside a device or network, hackers typically hunt for ways to stay there by installing malicious software to the root file system. But phone makers like Apple and Google have excellent protection to block viruses from core operating systems, Ziring says. "It's difficult for an adversary to burrow into that layer," he said. That encourages hackers to use "in-memory payloads," which are more challenging to detect and track. These hacks can't survive a reboot, but many individuals don't bother.
The number of organizations offering mobile device hacking services to governments and law enforcement agencies has increased. For example, the Israeli NSO group has been accused of hacking into the phones of human rights activists, journalists, and even Catholic clergy.
According to The Washington Post, NSO Group's spyware technology Pegasus was used in 37 successful or attempted phone hackings of business executives, human rights advocates, and others. Facebook has sued the corporation in the US for allegedly targeting 1,400 users of WhatsApp's encrypted messaging service with a zero-click vulnerability.
NoSpy has stated that it sells its spyware to "vetted government agencies" alone. No comment from the company. The company's spyware's persistence used to be a selling factor. According to documents obtained by Vice News, its US-based affiliate pitched government enforcement authorities a phone-hacking solution that could survive a factory reset.
It appears that NSO Group began exploiting zero-click attacks that do not require persistence about 2019. It took a few rings for the malware to be deployed in the WhatsApp case, he claimed. In 2020, Marczak and Citizen Lab discovered another NSO Group zero-click breach targeting Al Jazeera journalists. In one situation, the hackers exploited iMessage.
Rebooting your phone won't stop determined hackers, according to Marczak. They could send another zero-click if you reboot. The NSA recognizes that resetting a phone only works occasionally. The agency's mobile device advisory recommends not carrying it to ensure hackers aren't secretly recording you with your phone's camera or microphone.
Final words
So, you need to be sure that your data is secure. Opt for organizations with governments, law enforcement agencies, and corporate clients worldwide like ISOEH. At Indian School Of Ethical Hacking, the training is delivered by professional ethical hackers that have been involved in the IT security field for more than a decade. We are ISO / IEC 27001: 2013 Lead Auditors, CCNP, CEH (Certified Ethical Hacker), CISSP, CISA, and other certifications and credentials.
While working in the information technology security field for many years, we have observed scarcity of well-trained professionals. Our school is an endeavor to provide in-depth IT security knowledge to both new graduates and experienced professionals in information technology.
Follow us on Facebook, Twitter and Instagram!