01 Nov, 2019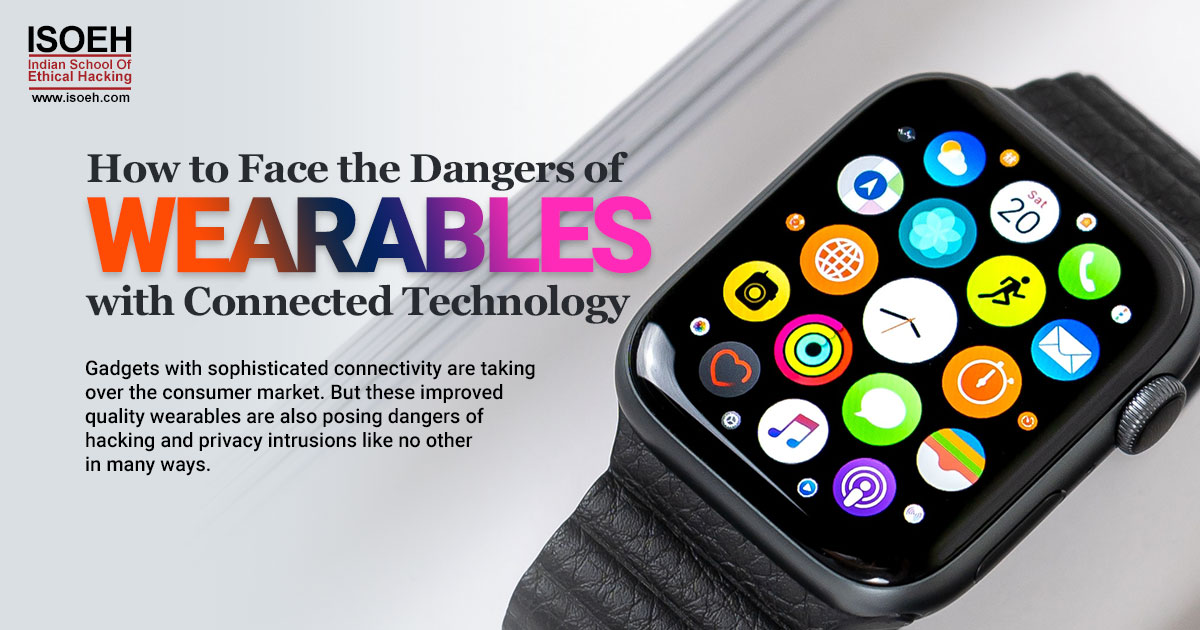 Gadgets with sophisticated connectivity are taking over the consumer market. But these improved quality wearables are also posing dangers of hacking and privacy intrusions like no other in many ways.
What about owning a watch that keeps the perfect time and also notifies you every time you get that lovely message from your lover on whats app?
A dream that only a Hollywood star can afford, right?
Not really. It is something that is soon invading your local shopping mall.
That's connected wearables which mean glamour and connectivity all in one package.
Almost all of us dream of sporting such items of high fashion which are also technologically smart enough to keep us connected to the world every time we wish to. But there is certain serious security and other issues that we need to take care of before investing in one.
Easy data access
Most connected wearables store data on local device unprotected without encryption, any PIN or pass word protection, biometric security or user authentication. That endangers the privacy of the data which may be misused if layed hands on by the hackers.
Easy file capturing
Gadgets with high connectivity often have superior audio visual recording attributes which can be maliciously used by fraudsters to capture private information and visuals very carefully without the knowledge of the helpless victim. Small items with effective connectivity like a smart watch can be used with all the wrong intentions by criminals and sting operators alike.
Insecure wireless connectivity
The wearable devices are often connecting to our smartphones or tablets wirelessly using Bluetooth, NFC and Wi-Fi etc. Such wireless connections are not secure enough to protect against a determined brute-force attack. The remedy is to be able to achieve visibility on how many connected devices there are.
Lack of encryption
Some of the serious issues with absence of the earlier mentioned encryption is with data in transit when being synced and with data being stored on manufacturer's or service provider's cloud servers. Some third-party apps don't pay attention to basic security standards and send or store information that's not encrypted making it ultimately accessible for all and sundry.
No regulation or compliance
As most of the security issues with wearables have to be dealt with by the manufacturers, the question of they being self regulated or bound by federal laws is the biggest question. In both cases companies with data breach case violating the compliance or regulatory requirements for their specific industry on them cannot play a blame game with the wearable in question and will be held fully responsible.
Vulnerabilities
Many wearables have their individual operating system and applications. As they become more popular they also become soft targets for hacking. Keeping the software on the desktops, laptops, smartphones and tablets fully patched and updated to avoid obvious vulnerabilities also apply to wearables. However there is a deficiency in proper insight and law policy to take care of this issue.
Mobile platforms usually aid sharing data between apps and devices. As smartphones and wearables work differently, there can be umpteen possibilities of new security threats. Corporate need to revise their polices in order to combat the security issue as banning features does not hold well for long.
We at the Indian School of Ethical Hacking specialize in educating our students with the latest systems of fighting undue cyber intrusion called hacking. We make sure latest technology is used and enjoyed by one and all without security worries to make the world a smart and secure global village.
Related article: www.isoeh.com/exclusive-blog-details-lets-get-ready-for-a-whole-new-world-with-IOT-the-internet-of-things.html