07 Nov, 2019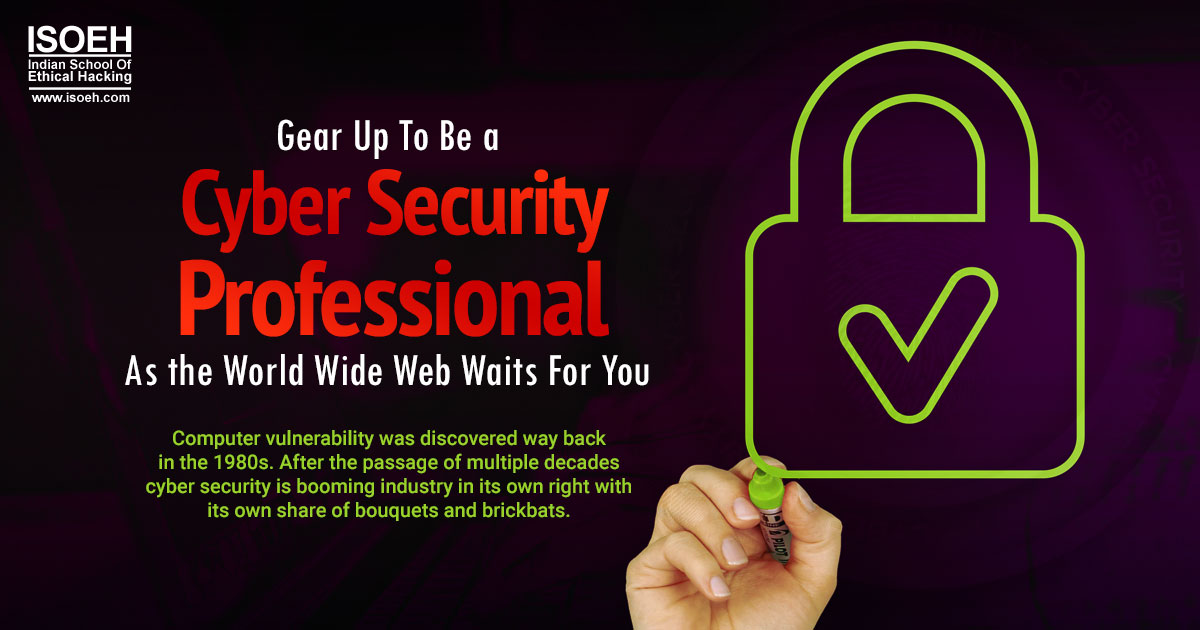 3rd of November was the World Anti Malware Day.
What exactly is that?
Well, that takes us back by a good 36 years, in the early half of the nostalgic eighties.
3rd of November 1983 saw Fred Cohen, a college sophomore, create a proof-of-content computer program that could spread to all users of the system and control its data and privileges. Cohen's Phd advisor named it 'computer virus'. Later Cohen wrote a research paper in 1984 that was the first research paper to use the term computer virus.
Thus originated the basis for work on computer system vulnerabilities.
It has been four decades since then. The germ of a possibility has grown into a full blown reality. Cyber security is a menace today which confronts the netizens of the world to severe consequences. As per reports, global economic loss accrued by cyber security threats amounts upto nothing lesser than the worth of an entire oil, farming or gas extraction industry. Hence the demand for cyber security professionals is increasing by leaps and bounds every year leaving much to be met in the information technology industry.
While there is no doubt about the void in the cyber security industry, not all countries are able to meet the man power requirement. In India itself, as per NASCOM the requirement for 77,000 IT security experts are met in less than half the magnitude, only 15,000 per year.
Let us check out some of the important highlights of a highly essential, much promising but less man powered area of human activity.
Shortage of skills
A wide variety of choices and opportunities that are there for hackers to take advantage from can only be countered by an equal or higher number of ethical hackers combating their efforts and successfully so. But due to a gap in demand and supply chain of the industry due to lack of popular awareness, lack of places of training etc the required number of ethical hackers can hardly be met.
The National Initiative for Cyber Security Education mentioned in one of its recent conferences that US alone is seeing a vacancy of 2,00,000 cyber security positions across its corporate community, a number which is growing day by day. The finding says that we are yet to face the huge international cyber threat in its totality.
The growing need for cyber security specialists has been recognized by in the present year as a part of the European Cyber Security Month. It has also been recognized that proper cyber security skills are rarely achieved.
Steps being taken
The silver lining on the dark clouds of the cyber sky is that corporates in India as well as abroad are increasingly growing aware of the cyber security threats and perils of an unprecautioned networking database.
However the question that arises is where is the right place to get the right training to be able to fulfill the requirements of an ace corporate cyber security officer?
Corporates are looking out of the box for meeting their security needs as the cyber world is an ever changing paradox of dynamic vulnerabilities. Hence the top employment trends in this field is preferring the alternative or non-traditional options of cyber security education. The younger generation is steadily gaining interest in the field hence the gap between the need for security professionals and supply for the same is being steadily erased out. With the market for IT security jobs becoming more and more competitive, the aspiring candidates are seeking path breaking ways to demonstrate their ethical hacking skills and experience like summer internships, security seminars, competitions and games etc.
Security, financial fulfillment, innovation, challenge, growth and development, whatever be the gratification factor being looked out for by a new age job aspirant, ethical hacking and cyber security offers it all in full force.
Also read exclusive-blog-details-how-much-does-a-certified-ethical-hacker-earn-in-india.html to know about prospects of ethical hacking in India.
The Indian School of Ethical Hacking offers intensive and exclusive skill development training for cyber security aspirants. Visit www.isoeh.com to know more.