16 Oct, 2019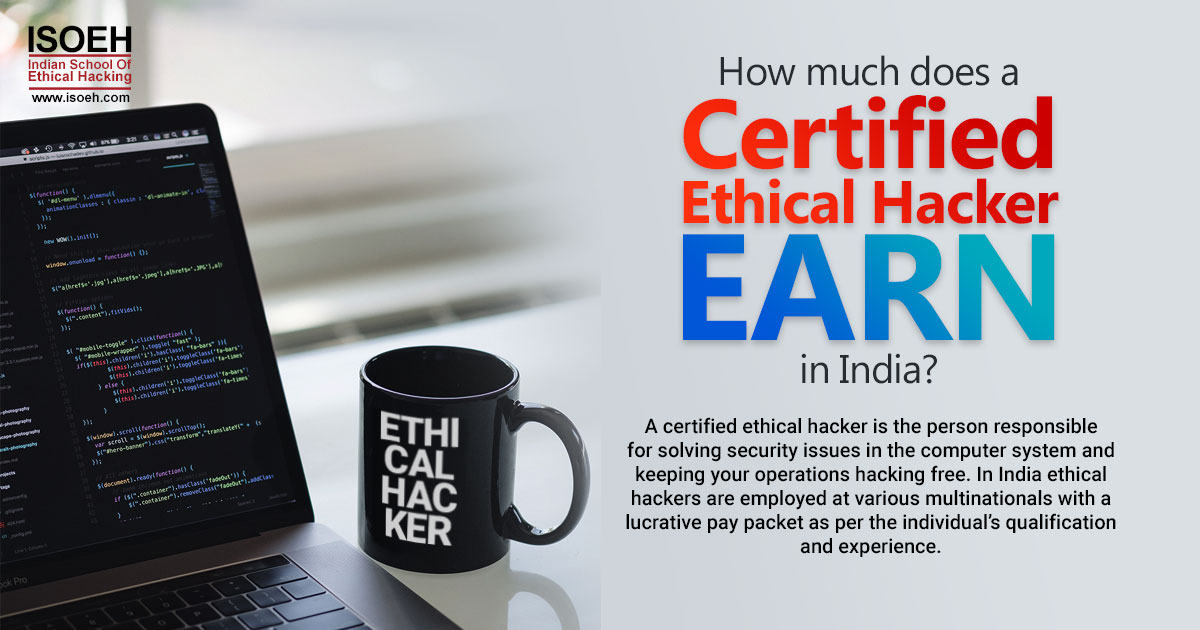 A certified ethical hacker is the person responsible for solving security issues in the computer system and keeping your operations hacking free. In India ethical hackers are employed at various multinationals with a lucrative pay packet as per the individual's qualification and experience.
Who is a certified ethical hacker?
An ethical hacker is an individual who is professionally trained to track the system vulnerabilities and take preventive measures against the same, using the same skills of a sinister hacker, but in a benevolent manner to ensure a safe cyber experience for his client.
The necessary skills for being a certified ethical hacker is obtained by appearing in a CEH multiple choice examination after being trained for the same at any Accredited Training Center (ATC) or the International Council of Electronic Commerce Consultant's (EC-Council) learning website iClass.
The present version of the CEH is V10 which uses the EC-Council's exam code 312-50. The EC-Council and various ATCs (Accredited Training Center) administer the CEH examination.
Ethical hackersfind employment at organizations to scrutinize computer systems with the purpose of finding and solving data safety and security issues.
Why should you be a certified ethical hacker?
The following are the reasons for choosing ethical hacking as a lucrative career option.
Upgrading knowledge and skills: CEH certification enhances one's theoretical knowledge as well as technical skills in the cyber security domain, thus paving the path for tremendous professional advancement globally.
Safe guard the organizational records: With improved cyber security skills a CEH professional is able to ensure better security of organizational data stored online. He is also able to face the ever increasing technical complications to combat internet hacking.
Become a thought leader: Not only are you able to safe guard your own organization from being intruded into but also be a stalwart in cyber security in your won right by sharing your innovative ideas in the field of anti hacking.
Acknowledgement: The CEH is the most recognized and recommended cyber security course across the globe. Not only does it impart immense knowledge about anti hacking but also meets the international standards of industry cyber security all over the world.
Recruitment: The placement services are abundant, international and ever-promising. The need for cyber security is ever increasing in both private as well as government undertakings.
Compensation: A CEH consultant is entitled $15,000(INR1067625) to $ 45,000(INR 3202875) per assignment. A professional may expect about $72,000 (INR 5124600)which may increase upto $100,000(INR 7117500).
Work opportunity of an ethical hacker
As according to a study by NASSCOM India requires 77,000 ethical hackers every year out of which the job market can only provide 15000. The demand being way more than the supply Ethical Hacking is one of the most sought after and promising professions at the moment.
That brings to us to the eligibility criteria for being an ethical hacker. The minimum qualification for being eligible for any ethical hacking course curriculum is a bachelor's degree in computer science. Apart from that an ever curious and persuasive mind is an important soft skill that is required of an ethical hacker. He is required to think like a criminal mind of a harmful hacker whenever faced with a cyber security challenge.
Financially also this profession is paying and secure enough. In India on an average a certified ethical hacker earns an average salary of Rs 3,67,249 per year which increases with experience cumulatively upto more than 15 lakh per year. According to Payscale.com the current average salary of a CEH professional is $ 90,000 or INR 64,06,560 per year. With the right number of years of experience the number touches an even better benchmark.
CEH has held a record for more than 10 years in being the top choice of few of the highest paying multinationals in the matter of corporate cyber security. Owing to the disparity in the demand and supply graphs of the CEH domain, there are many more companies waiting in the wings to welcome anti hacking talent from India alone.
The following are the designations that one can enjoy after becoming a certified ethical hacker.
Security Expert
Security Analyst
Security Officer
Auditor
Security Professional
Site Administrator
Security Auditor
Vulnerability Tester
Penetration Tester
Systems Administrator
Hacking Tool Analyst
Ethical Hacker
Security Consultant
Information Security Analyst
Some of the top companies which recruit CEH professionals are
Wipro Technologies Ltd
Tata Consultancy Services Limited
Paladion Networks
EY (Ernst & Young)
InfoSys Limited
IBM India Private Limited
Wipro
Some of the common service sectors that employ CEH professionals are
Medicine
Hospitality
Fashion
Entertainment
Defence
Education
Banking
Insurance
Engineering
Let's check out a cross section of the CEH industrial data bank.
Salary Range as per Designation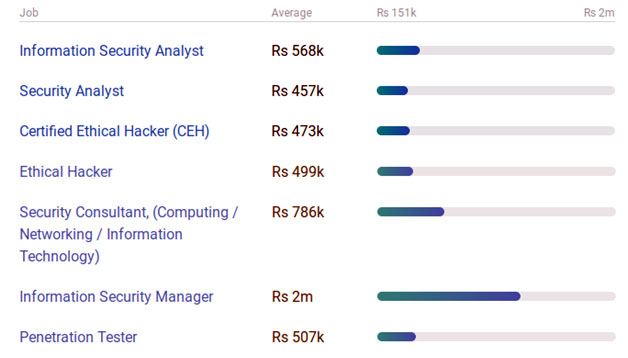 Gender Breakdown

Job Satisfaction

Years of Experience

Popular companies for Certified Ethical Hacker (CEH) Certifications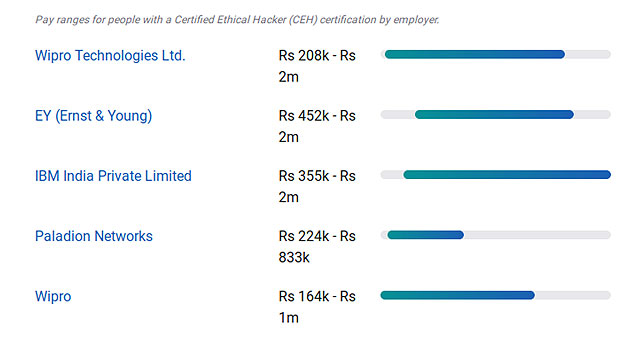 Here is another industry break down of the salary scale of an ethical hacker based on his experience, position and organizations.
| Designation | Salary in Rs. |
| --- | --- |
| Security Analyst | 3.7 lakhs |
| Information Security Analyst | 4.3 lakhs |
| Certified Ethical Hacker (CEH) | 3.5 lakhs |
| Security Consultant (Computing / Networking / Information Technology) | 5.5 lakhs |
| Information Security Manager | 12 lakhs |
| Experience | Salary in Rs. |
| --- | --- |
| Less than 1 year | 3 lakhs |
| 1-4 years | 3.8 lakhs |
| 5-9 years | 7.7 lakhs |
| 10-19 years | 5.5 lakhs |
| 20 years and more | 14.4 lakhs |
| Employers | Salary in Rs. |
| --- | --- |
| Tata Consultancy Services Limited | 1.5 to 9 lakhs |
| Wipro Technologies Limited | 2.5 to 14.5 lakhs |
| International Business Machines (IBM) Corp. | 3 to 6 lakhs |
| EY (Ernst & Young) | 2.4 to 6 lakhs |
| HCL Technologies Ltd. | 2 to 7 lakhs |
In order to learn ethical hacking and build an illustrious career which ensures extensive professional exposure, ultimate job satisfaction and substantial financial security do visit Certified Ethical Hacker - CEH.