The twitter accounts of Indian Medical Association (IMA), Indian Council of World Affairs (ICFWA) and Mann Deshi Mahila Bank were hacked on sunday night, with them renamed as one the greatest personality Elon Musk. This was basically done to lure the followers with fake and fraud cryptocurrency traps and calling them to invest more in bogus deals named after Musk.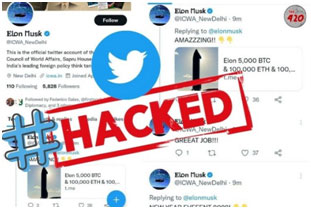 The tweets from these accounts came up for promotion of forgery cryptocurrencies. Noticeably the name of Elon Musk on the verified twitter accounts of IMA, ICFWA and Mann Deshi Mahila Bank were added using the special characters and not the actual texts.
The swapped accounts were made more real by the malicious actors with posting of different posts and comments as the name of the Elon Musk. They also commented on the tweets of verified accounts of Elon Musk to make the act look more concrete and tangible.
According to the Ministry of Information and Technology's Cyber Security Department CERT-IN this could be done by just gaining the id and the password of the accounts that could be very common for cases like this. On investigating into the matter the authorities proclaim that it might take a few times to revert these accounts back into their original state, while they are also looking into the case deeply for finding definite suspects.
This incident does remind us of the hacking of PM Narendra Modi's twitter account on claiming false ideas for the trading of bitcoin just a few days back. It is reckoned that the fraudsters are upon something significantly immense of which this is a mere start.