23 Mar, 2021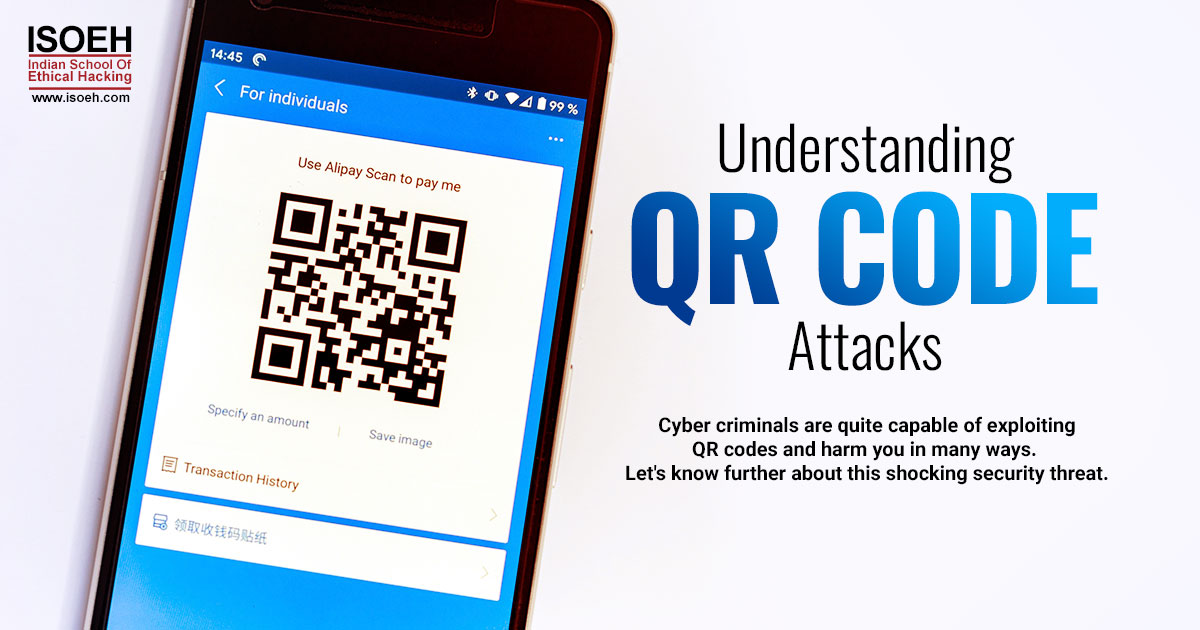 In this digital age, QR codes (Quick Responses) are gaining extreme popularity due to its easy-to-use and quick scan services. Indeed, QR codes are very reliable to use. These codes are used to access any website link in quick time. Even saving any information which is text is possible with only a quick scan.
In addition, with the use of QR codes, we can simply access any information without typing; QR codes stored data. QR codes save a lot of time as we can gather the information in one scan.
Moreover, in the modern age, it has become a handy tool for marketing campaigns; there are a lot of benefits of QR code.
A miscreant mind turns benefits into doubts!
Similarly, QR codes can be used to attack our personal information.
Yes, it's possible. As the QR codes contain website links, it may accommodate malware website addresses. It's not an easy task to detect links present in the QR codes beforehand. To do that, we will have to scan every single one which we encounter.
Recently there was a survey conducted by MobileIron where they found that approximately 63% of people who responded to QR codes were unaware of its malicious nature.
Let's learn about QR code attacks:
QR codes are not limited to scanning website addresses. They can also be used for initiating actions that lead the individual to pay. It includes phone calls, payments, etc.
We've mentioned below how QR codes are being used to steal money, information and install something fishy on a device.
Installing a Software
Many of us sometimes find that our phones are not functioning correctly. It can happen due to some malicious software. This software is installed into the user's smartphone without their knowledge. We cannot detect its existence because it won't appear as an app. It will stay hidden. Sometimes, we can see weird advertisements popping on our screens; this can be due to malicious QR Codes.
Phishing
It is a widespread malpractice. Illegal activists use QR codes to lead users to malicious URLs. These URLs look precisely like the original websites.
Due to the small screen size, users can't see the complete URL of the website. If they aren't able to distinguish, they'll end up getting into the trap. Scammers can also access your bank accounts if we're not careful.
Malicious messages and Emails
Scammers and attackers gather phone numbers from QR codes. And then, they try to sell something as being a genuine person. They can also try to play as bank professionals, and if we provide them with enough information, they can easily make us bankrupt.
Your Location
Interestingly, QR codes are also used to find the location on your device. It can be used in various ways. Also, attackers can make use of your private location in many ways.
Conclusion
QR codes can harm us in several ways if not taken proper care of. But that doesn't mean they're entirely useless. They are a highly effective solution for connecting brands to their customers. If we approach it with a little caution, we can easily avoid any damage from QR Codes.
ISOEH (Indian School of Ethical Hacking) is a segment of ISOAH Data Securities Pvt. Ltd. We offer fantastic opportunities for fresh engineers and senior professionals to have in-depth knowledge of IT security. We are a team of penetration testers and Ethical Hackers associated with the IT industry for the last ten years.
We assist you in making a successful career in ethical hacking!