10 Dec, 2018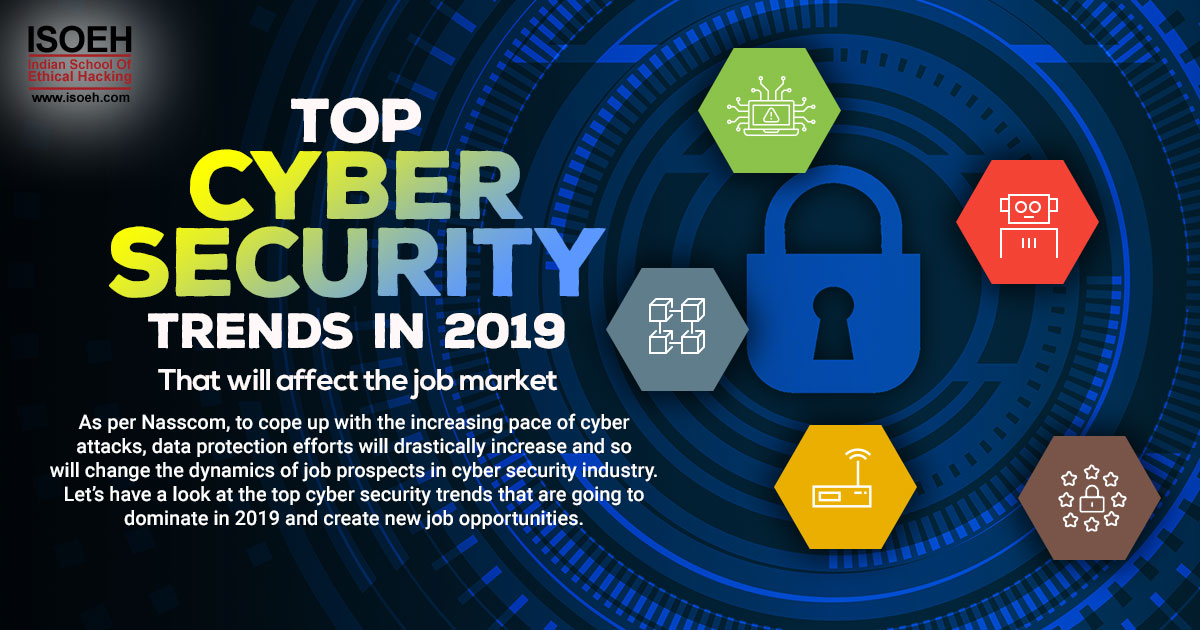 Change is the only constant for technology. As technology continues to evolve, the role of tech-savvy IT professionals cannot remain the same. Therefore, constant strive for skill development will be necessary to shine in the job market. The rising tide of cyber crimes and data theft has caused major concern for organizations in every industry – healthcare, retail, medical, financial services and what not.
As per Nasscom, to cope up with the increasing pace of cyber attacks, data protection efforts will drastically increase and so will change the dynamics of job prospects in cyber security industry. It is expected to create USD 35 billion revenue opportunity and employment opportunities for about a million professionals by 2025 for India.
Let's have a look at the top cyber security trends that are going to dominate in 2019 and create new job opportunities. It's time to adapt for the new jobs emerging in the coming year.
1. AI will strengthen cyber security solution:
According to ESG research, 12% of enterprise organizations have already deployed AI-based security analytics extensively, and 27% have deployed AI-based security analytics on a limited basis. AI proves to be more reliable when it comes to incident detection, incident response, prioritizing the right decisions and automating remediation tasks. Organizations are adopting AI based cyber security solutions to communicate risk to the business by sorting through innumerable software vulnerabilities, configuration errors and threat intelligence to prioritize high-risk situations that need immediate attention. AI-based cyber security technology also helps to gain a better understanding of situational awareness in case there is a breach. It is often misunderstood that AI will replace human beings in the workplace but the fact is AI would just make things easier and there will be a requirement for skilled Data Scientists and experts to make AI work.
2. Integrated Security Solution is the future:
We deal with various devices and systems. But we don't want to deal with the complexity it comes with. In the fast-paced digital world, we want all the devices to be able to work well together and share information effectively. Organizations often have this misconception that each threat requires different layers of protection and the threat can slip through the net. Cyber security needs an integrated approach which will involve leveraging multilayered security solutions and integrating them into one cohesive system.
Monitoring a wide range of threats and their sources can be difficult. Businesses should implement simple tools – like a dashboard which will be the sole platform through which IT teams can monitor the entire security scenario without any confusion and complex processes. Depending on a company's needs, an integrated IT system might include intrusion prevention, web proxy and anti-malware, web application firewalls, VPN, antivirus, data encryption, vulnerability scanning, email security, DNS protection, and more. Individual security aspects should be able to complement each other and work as an integrated solution to manage the situation better.
3. Poorly secured IoT devices will be targeted:
In the coming years, IoT attacks will move beyond massive botnet powered DDoS attacks to far more sophisticated attacks. Wi-fi connectivity is common to most of the latest devices and that means they can be connected through the internet with each other. Hence, IoT enabled home appliances, cars, and other gadgets are all connected and exchanging data over the internet. IoT devices that bridge the digital and physical worlds will be the soft targets for hackers. The attack on home-based IoT devices and devices that control critical infrastructures like power distribution or communication networks - will be targeted which will have very harmful consequences.
For that, organizations will definitely hire skilled IoT professionals to be part of their tech team to address several issues in terms of operations and performances. Skills in IoT security, cloud computing knowledge, data analytics, automation, understanding of embedded systems, device knowledge will not only ensure a promising career in IoT but also set you apart from the crowd as there is still a shortage of skills in this field.
4. Impact GDPR compliance:
The General Data Protection Regulation (GDPR) that came into effect on 25th May 2018 has already created a stir when it comes to data protection regulation and data privacy. GDPR offers a framework for data protection which includes lots of do's and don'ts for organizations in terms of collecting, keeping, storing and using data. There are amplified responsibilities and obligations for organizations including elevated rights for data subjects, larger territorial scope, and stringent consent laws. GDPR applies to all businesses and organizations established in the EU regardless of whether the data processing takes place in EU or not. If a company tries to be compliant, it has to confront a tough penalty structure.
The new compliance requirements will inevitably create demand for skills and knowledge. Implementation of GDPR will also require complex business processes and practices and there will be scope for Data Protection Officers, Data Controllers, Security Architects, Data & Analytics Managers etc.
LEAD IMPLEMENTER TRAINING FOR GENERAL DATA PRIVACY REGULATIONS (GDPR)
5. The rise of Blockchain in security:
Despite the recent dive in the market price of cryptocurrencies, the jobs in this field are continuously rising. The reason might be, Blockchain offers security that is useful in many other ways. The underlying technology behind blockchain is now gaining more acceptance and adoption that is creating more jobs. The heightened security, for which Blockchain is used to mine cryptocurrencies – can play a significant role in securing confidential information. Blockchain can also be used to improve global supply chain, protect assets etc.
Freelancer.com, a reputable online crowdfunding site, shows the demand for cryptocurrency and blockchain related jobs grew by 82% in the last quarter. Blockchain engineering is also the second-most in-demand skill after robotics and automation. PayPal is one of the very first that adopted the payment of cryptocurrency on its platform.
As threats and risks in the cyber security field continue to pile up, we need to be ready to accept all the challenges that come along. As technology is evolving, we need to be ready for more dangerous attacks. These are few trends that are going to rule in 2019 but all these fields have a shortage of skilled professionals. If you wish to stand apart from the crowd then this is the time. Get trained, gather knowledge and emerge as a valued professional in the field of cyber security.