19 May, 2022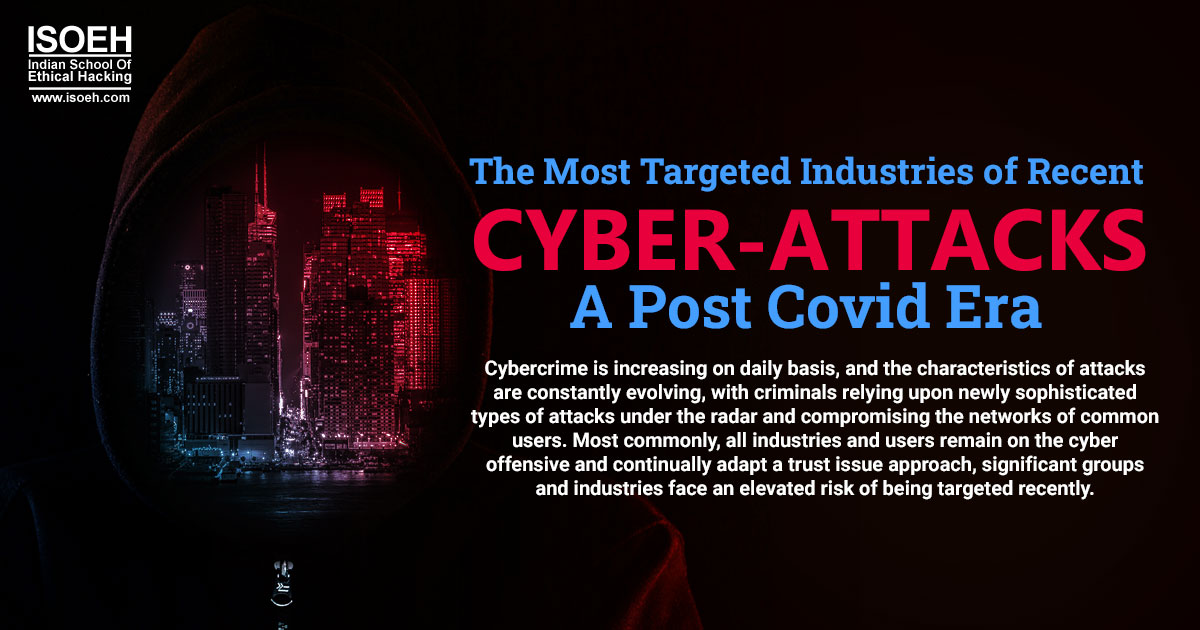 Cybercrime is increasing on daily basis, and the characteristics of attacks are constantly evolving, with criminals relying upon newly sophisticated types of attacks under the radar and compromising the networks of common users. However, another important element of cyber-attacks is the actual victims under threat, whether political institutions, top industries, or an identified demographic of individuals. Most commonly, all industries and users remain on the cyber offensive and continually adapt a trust issue approach, significant groups and industries face an elevated risk of being targeted recently. In such kinds of targeted attacks, victims may be selected on the basis of special vulnerable and easily penetrable situations, the shifting objectives of cyber-criminals, or the demand for a victim's information.
The top five industries that are at risk of cyber-attack are:
1. Energy Suppliers/Industries:
With the ongoing global energy crisis and the simultaneous rising in fuel bills, they are pretty much busy procuring energy resources from different other organizations, which results in threatening the financial viability of providers and prompting huge concern amongst consumers. Hackers wait for such situations when people are distracted and take full advantage of such situations. As a result, breach attempts on energy providers are an obvious phenomenon in such situations. As per global research, the UK energy sector is at present a top target for cyber-attacks, and in 2022 we can expect a major energy supplier completely taken offline by a ransomware attack. Since our national infrastructure is critically connected, cyber threats can a big weapon to break the operational technology environments more successfully than ever before which will result in a significant impact on our day-to-day lives.
2. CEOs of Global Industries:
As the technology is advancing different types of fake and sophisticated technology are evolving that are being used by cyber-criminals which are advanced in nature and far more complicated than phishing to carry out far more advanced attacks on top industries. Such attacks have already been launched to gain in popularity, with threat tools using AI to clone business leaders' voices to loot huge amounts of money. In the coming years, we will see more fake AI-based tools that hackers will use to impersonate CEOs of global enterprises, CEOs will significantly be the gateway to infiltrate larger organizations.
3. Mid-Size Companies/Industries:
The most attractive areas for cyber-criminals are financial incentives and they keep a keen watch on the media and government while finding the easiest way to make money. So, they plan to target lower profile, mid-size companies in a variety of industries becoming an easy, more realistic target for ransomware attacks and moreover, they are out of the radar of national headlines. That means the traditional white-collar industries are no longer the main targets instead forefront industries such as the manufacturing and agriculture sectors are most likely to be at risk, particularly given that those industries have traditionally not updated with security compliance.
4. New or Dissatisfied Employees:
There is a prediction of a direct correlation between staff turnover and cyber incidents amidst the great resignation era during Covid 19. This is not only because new joiners are less familiar with security protocols, but there is also the issue of dissatisfied workers. Even if they are not vengeful, they may be increasingly negligent in following employee guidelines, carelessly exposing the company to cybercriminals. With the new hybrid model of office format with partial work from home mode, organizations will need to double down on cybersecurity training and onboarding for all new recruits and existing employees.
5. The Health Care Industry:
Cyber Fraudsters are always interested in emergency services as getting information is always easier. This got boosted by the recent pandemic situation so the rate of cybercrimes in health care sectors has risen by many folds. Therefore, in dealing with the worldwide health pandemic, healthcare service providers have to deal with another pandemic: cyber-attacks or digital crimes. There were cases of attempts to loot COVID-19 vaccine technology, clinical trials data sets, and public vaccination records, as well as the disruption of vaccine-distribution supply chains, that have already shaken the healthcare industry and national governments. As the pandemic continues, this enlarging source of medical data will continue to be a prudent source to exploit, with potentially ravaging out-turn.