02 Mar, 2022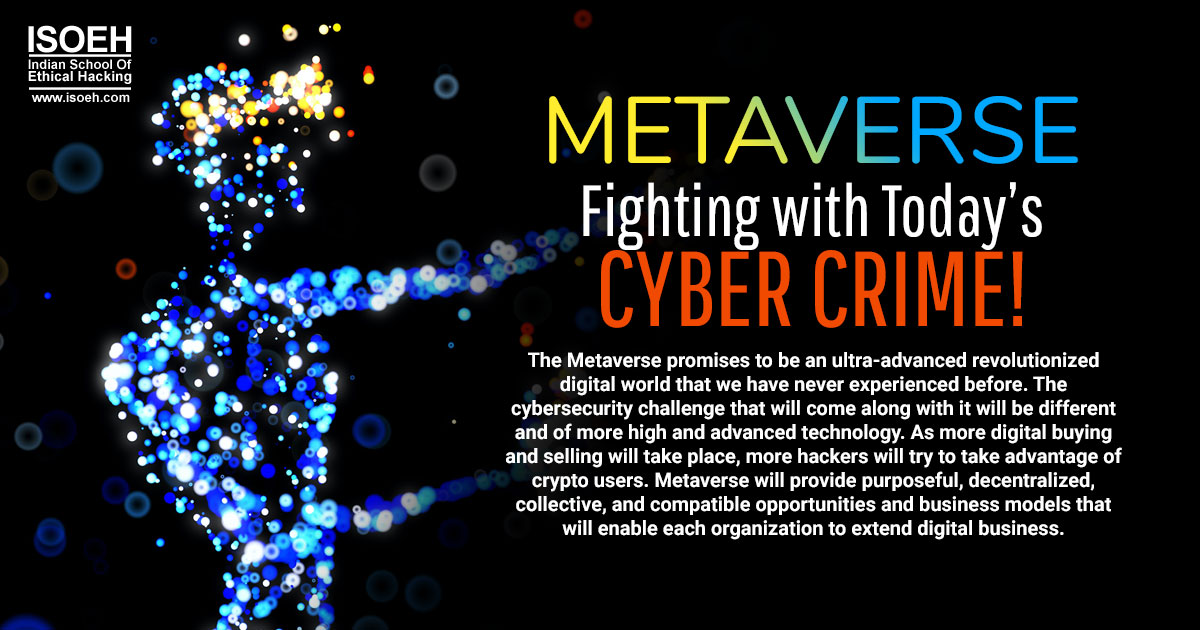 A metaverse is a network of 3D virtual worlds integrated with social connections.It is a collection of virtual open space, formed by the merging of virtually enhanced physical and digital reality. Activities that take place in secluded environments (buying digital land and constructing virtual homes, participating in a virtual social experience, etc.) will eventually take place in the Metaverse. Metaverse helps people to replicate their physical activities in the virtual world. A Metaverse represents a combination of innovation, as it requires multiple technologies and trends to function smoothly. The technological contribution includes augmented reality (AR), flexible work styles, head-mounted displays (HMDs), an AR cloud, the Internet of Things (IoT), 5G, artificial intelligence (AI), and spatial technologies.
Applications of Metaverse:
Metaverse is creating a lot of hype around all the industry. All technology-driven company that claims to be Metaverse companies, or creating Metaverses to magnify or increase the digital and physical realities of people. Activities that take place in fragmented environments will take place in one single Metaverse. Such as:
Virtual Classrooms.
Buying digital arts, NFTs, and collectibles.
Participating in a virtual social gathering.
Shopping in virtual malls.
Purchasing digital lands and constructing digital homes.
Creating a proper outfit for online avatars.
Metaverse will provide purposeful, decentralized, collective, and compatible opportunities and business models that will enable each organization to extend digital business.
Market Map of Metaverse: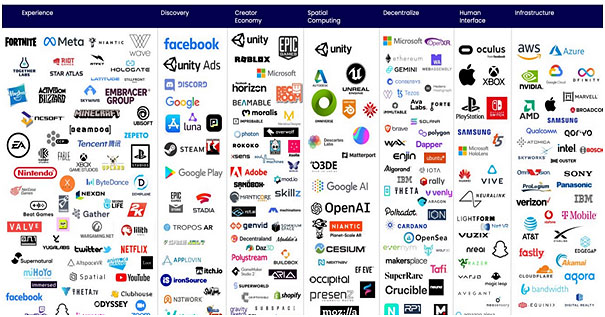 Source:https://medium.com/building-the-metaverse/market-map-of-the-metaverse-8ae0cde89696
The metaverse market can be divided into seven layers according to the above picture. Each of these layers represents:
Experience
Discovery
The Creator Economy
Spatial Computing
Decentralization
Human Interface
Infrastructure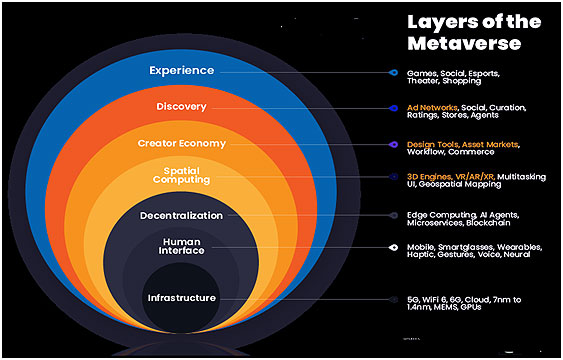 Source:https://medium.com/building-the-metaverse/market-map-of-the-metaverse-8ae0cde89696
Elements of Metaverse:
Digital Assets and NFTs (Non-Fungible Tokens)
Digital Currency
Marketplace/Digital Commerce
Infrastructure
Device Dependence
Gaming
Social and Entertainment events
Online Shopping
Workplace
Social Media
Digital Humans
Natural Language Processing
AI (Artificial Intelligence) and AR (Augmented Reality)
Opportunities across multiple industries including:
The Metaverse will provide a framework and create an infrastructure that helps industries like higher education, medical, military, and other types of trades to deliver immense quality services.
Social Media can move to metaverse where all the users can interact through three-dimensional avatars.
Virtual events can get more integrated with this metaverse universe.
Shopping experience can get more simplified with a range of more complicated products.
Businesses can achieve better engagements by collaboration and increasing connections among their employees.
Cryptocurrency and NFT interaction in the Metaverse:
Blockchain technology provides unchangeable confirmation of ownership that underpins the virtual worlds.Users can have complete control over their digital assets in the Metaverse world. For example, if you buy any digital asset in form of land the Metaverse would provide you with the proof of purchase confirmation in the form of NFTs, which in turn would be guaranteed by the blockchain. NFTs are also important in the Metaverse as they create exclusive environments and enhance the digital community and their social experiences.Premium NFTs are used to enter the digital world's richest and most affluent communities, as well as exclusive perks, staking rewards, and other high-end collectibles.
Metaverse's money is in the form of cryptocurrency, and each Metaverse has its own set of coins. They're used for paying everything, including NFTs, virtual assets, avatar accessories, and more. Cryptocurrencies serve as a bridge between the physical and virtual worlds. They allow us to calculate the value of digital assets their returns over time. The liquidity of crypto on exchanges around the world also allows investors to realize profits by selling coins and NFTs directly to buyers through the Metaverse platform.
Fighting Cyber Crimes:
The Metaverse promises to be an ultra-advanced revolutionized digital world that we have never experienced before. The cybersecurity challenge that will come along with it will be different and of more high and advanced technology. The sudden significant increase in apps and data will lure cyber fraudsters by a significant amount. Also, the type of cybercrimes will increase too. As more digital buying and selling will take place, more hackers will try to take advantage of crypto users. If the metaverse security falls short then many industries will compromise their data.
Some of the major security concerns for metaverse and Web 3.0 is as follows:
Phishing:
50% of users are under the age of 13 years old which is a special concern for security issues. Brand phishing involves hackers pretending to be partners or representatives of a brand and sending carefully crafted fake emails.The main motive is to convince victims of the authenticity of the email so that they click on malicious links or attachments included in it. This opens the path to penetrating their accounts and system and stealing their personal information or banking credentials. As the popularity of metaverse increases more kinds of brand phishing will increase day by day.
NFT Scams:
The central functions of Metaverse economies are NFTs and scams related to NFTs have increased everywhere since the Global NFT sales surges up to about $4 billion according to recent research. One of the most common NFT scams is Discord hacks, in which fake minting links are posted on the announcements channel of a Discord server (which is a decentralized, online network of chat room servers). The message portrays a deal that seems too good to be real, for example claiming a sold-out collection that is releasing additional NFTs as a surprise.
Malicious smart contracts:
Anyone who has the knowledge can create a blockchain, which as a result will lead to the danger of hackers creating intentionally vulnerable smart contracts. The purpose is to attract victims to enter into smart contracts that can be easily exploited. Thecreators of blockchain would exploit the market by taking control of a large share of the blockchain's coin supply, thereby artificially inflating the coin's market demand and supply.As a result, the scammers would put up their holdings for sale before the market can respond.Transactions on a blockchain can't be undone so a small bug can even cause a serious problem. The only solution to this situation is to build a new blockchain for users to switch over to.
Vulnerable AR and VR glasses:
The primary use of VR or AR glasses in any functional metaverse is also likely going to be a significant restrain to user privacy and security. These devices collect large amounts of user data (including biometric information), as a result, the metaverse is likely going to increase the modern demand for user data. AR devices collect a lot more information on who the user is and what they are doing in any kind of social network or another platform of technology. This indicates that if hackers get access to the device, the potential loss of privacy would be far more extensive. The potential unreliability of content also makes it possible for hackers to fetch a user's perception of reality by creating fake signs or displays that trap them to perform actions that benefit the hackers.
VRs accumulate highly private information regarding the user, such as biometric data (such as retina scans), fingerprint data, face mappings, and voiceprints. Neither VR nor AR tracking data can't be hidden because the movements of individuals are completely different. This generates a serious problem if VR devices are hacked. As with AR devices, hackers can input features into VR platforms that trap users into giving away their crucial information—thereby creating scope for ransomware attacks.