28 Sep, 2022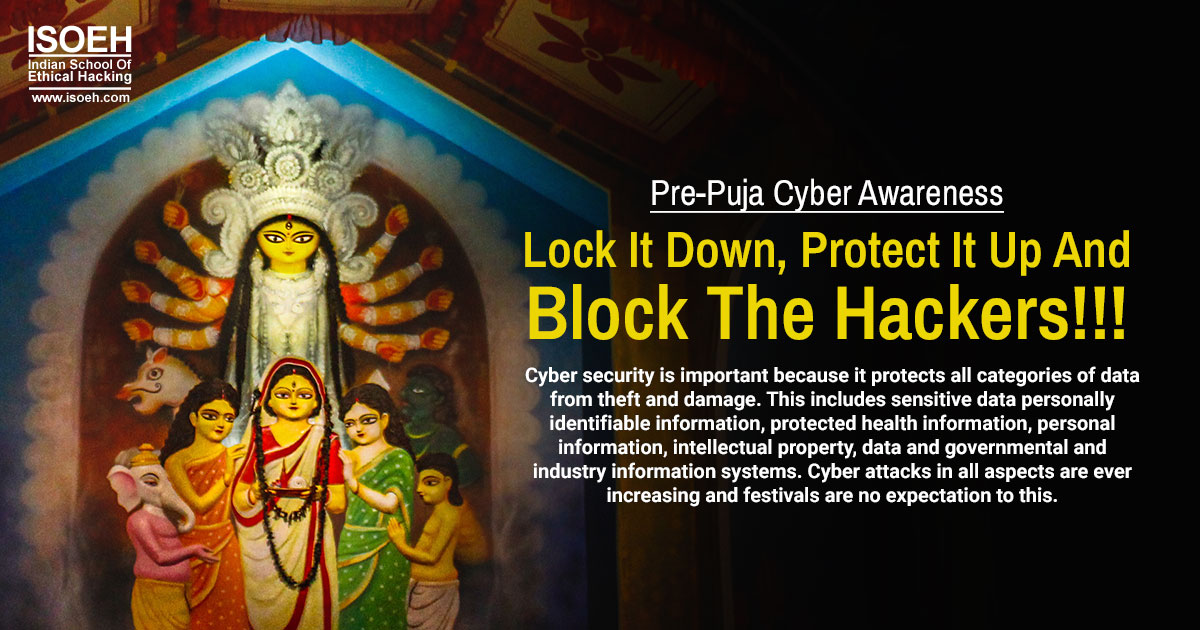 Cyber security is important because it protects all categories of data from theft and damage. This includes sensitive data personally identifiable information, protected health information, personal information, intellectual property, data and governmental and industry information systems. Cyber attacks in all aspects are ever increasing and festivals are no expectation to this.
With a range of festivals throughout the festive months, this is truly a time of celebration and joy as people come together. Durga Puja, Diwali or Christmas, people everywhere are in a merry mood, spending time with their families and friends. These festive times also mean that it is a great time for shopping. People shop for new things and with the advent of e-commerce; they log online to find the best deals and discounts. Unfortunately, holidays seasons are often the breeding grounds for cyber criminals who readily leverage security glitches and lack of attention towards cyber security to initiate various scams. Some of the common ways in which users can get scammed by cyber criminals in these festive teams is through malware disguised as something safe. So hence, an e-card you receive from a gift may seem like a sweet gesture, but be careful, there may be malicious code disguised inside it. Or criminals can try and lure unsuspecting individuals of free gifts and discount coupons, which they know people are searching for during the holiday season. These lured people will click on suspicious links or fill out forms providing personally identifiable information to cyber criminals who will sell it off to advertisers.
Vigilance is always one quality with which everyone should use the Internet but in the holiday season, it is advised to be even more careful.
Change your Password(s):
A simple rule but even more relevant during these times. Even if you haven't changed your password all this time make a note and change it before indulging in festive shopping. Maintain different passwords for different accounts.
Don't Shop on Public WiFi:
You never have known who could be watching your activity on a public WiFi. These make it very easy for hackers to specialized software to collect all the activity that happens on these networks.
Keep Devices Updated:
People are in a rush during this season and often overlook important tasks. This means important software which includes anti-malware, anti-virus solutions may not be updated at stretch. A smart customer will stay ahead of the curve and ensure they download the necessary updates always when required.
Don't Be Tricked When Shopping Online Check your bank account and statement:
Be careful while shopping this season. Check the URL of the website you are on so that it is secure. Do research an e-commerce site you haven't heard of to ensure you don't lose your money.
Always keep checking your bank account and statement to ensure that there are no suspicious transactions.
Stay cyber aware and stay safe. Wish you a happy holiday season.