21 Feb, 2019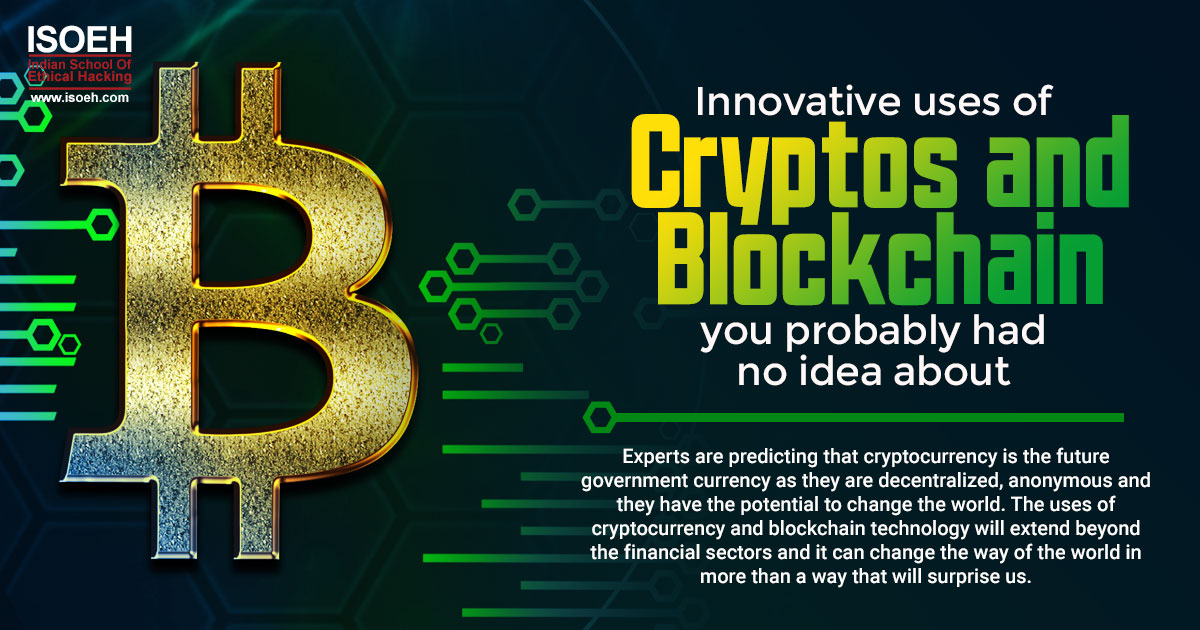 In the past few years, we have witnessed the dramatic rise of the cryptocurrency and blockchain technology. The price of bitcoin shot up to nearly $20,000 in 2017 and the technology emerged as the new buzzword. By 2030, most governments around the world will create or adopt some form of virtual currency.
We have heard enough about Cryptocurrency, Bitcoin, Bitcoin Cash, Ethereum, Monero etc. Blockchain and Cryptocurrency - the two terms are often overlapping each other; where one is the technology and other is its application.
With the advancement of digitalization, financial service providers are looking forward to offering customers the same services to which they are accustomed in a more effective, secure and cost-effective way. Blockchain was invented as a way to digitally and anonymously send payments between two parties without the intervention of any third party to verify the transaction. And Cryptocurrencies are digital money, digital tools of exchange that use blockchain technology to facilitate secure and anonymous transactions.
Experts are predicting that cryptocurrency is the future government currency as they are decentralized, anonymous and they have the potential to change the world. The uses of cryptocurrency and blockchain technology will extend beyond the financial sectors and it can change the way of the world in more than a way that will surprise us.
1. Transparent Transactions:
Blockchain technology makes it possible to track every transaction with complete transparency and so cryptocurrency can be used to encourage ethical business practices. MasterCard planned to implement Blockchain technology initially in the realm of business-to-business (B2B) transactions to address challenges involving speed, transparency, and costs associated with cross-border payments. Through blockchain technology companies can create an irrevocable digital ledger of transactions. The absence of any third parties to authorize the transactions to make this highly secure and impenetrable for hackers and the transaction details are shared only among the participants involved.
2. Low-cost money transfer:
The cost of traditional money transfer depends on a number of factors – expensive transaction fees, geographical boundaries, uncompetitive exchange rates etc. According to a study, the average cost of a single bank transaction for private clients can be up to 5.5% of the transfer amount. Use of Cryptocurrency can speed up the process and reduce costs through digital tokens. Ripple, a California based company that sells a cryptocurrency called XRP, has created a $300-million fund that will pay companies to use XRP for transferring money across international borders. Several leading money transfer companies, including Western Union and MoneyGram, announced they are working on pilot programmes using XRP. Cryptocurrencies have also provided traditional money transfer companies with an opportunity to diversify their incomes.
3. Fuelling engagement in advertisements:
In this era of approaching more specific targeted advertising, companies are utilizing technology to increase engagements in advertisements. Digital ads like traditional banner ads are very common now. An advertisement just above an irrelevant article simply does not serve the purpose.
The technology utilizes a proprietary form of cryptocurrency, Engagement Token, to fuel engagement where both publishers and audience members can earn tokens by commenting and publishing original content, and advertisers buy tokens to select their ad placements among relevant articles. The Engagement Experts at SoildOpinion, have introduced pay-per-article where advertisers can buy tokens to select their ad placements among relevant articles. The 'Engagement Tokens' are their own digital currency that tracks engagement and the viral spread of information which help advertisers to create a scope of profits by creating places to spend it effectively.
4. Going green with Blockchain:
Blockchain technology can solve the biggest environmental issues we are facing today. Blockchain can be used in supply chain management to track products from origin to store shelf and help prevent waste, inefficiency, fraud and unethical practices by making supply chain transparent. Brooklyn Microgrid is run by technology that enables residents and businesses to become self sufficient for their energy while giving them access to a trading platform where they can sell excess electricity to other buyers in the group through a phone app, to residents who don't have direct access -- which means using less carbon-based power and more solar-based energy. A peer to peer blockchain based energy system would reduce the need to transmit electricity over long distances, which can result in losses along the way. It would also help reduce the need for energy storage because such trading can move electricity locally from where it's being produced in excess to where it's needed.
5. Fund raising with Cryptocurrency:
Start ups now prefer cryptocurrency to raise funds to realize their ideas, services, and products over traditional fund raising method. The technology involved in Cryptocurrency is secure, transparent and easy to track and it is revolutionizing the entire fund raising process.
6. Blockchain for society welfare:
Using $5 million from a grant awarded by the Mayor's Challenge programme and sponsored by Bloomberg Philanthropies, Austin in Texas is currently piloting a new blockchain platform to consolidate and verify the identity and other vital records of each homeless person. Austin is currently home to some 2,000 homeless people with several thousand more residents in various stages of access to unreliable housing. The blockchain-powered records will verify identities and store records of previously received aid, as well as details of physical and mental care. Blockchain technology is also playing a crucial role in limiting food waste. IBM launched a blockchain-based food traceability platform with retailers, wholesalers, and suppliers. The IBM Food Trust platform helps companies track the path of food products through the entire supply chain and across borders. It verifies products that have been digitally certified as organic or fair trade and gives growers the ability to upload and manage their product information.
Thus Blockchain can help to address particular problems, improve workflows, and reduce costs, which are the ultimate goals of any IoT project.
Also read:
https://www.isoeh.com/exclusive-blog-details-cyber-criminals-are-turning-into-cryptominers.html