14 May, 2021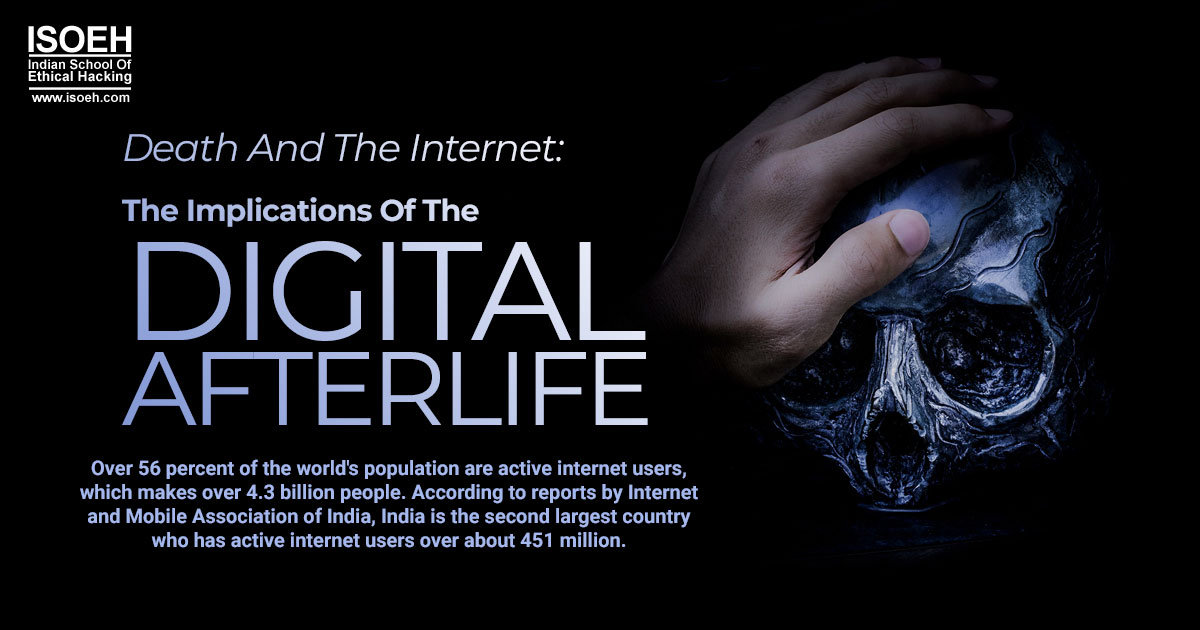 Over 56 percent of the world's population are active internet users, which makes over 4.3 billion people. According to reports by Internet and Mobile Association of India, India is the second largest country who has active internet users over about 451 million. Virtual interaction becomes directly proportional to the admiration of cyberspace and the stipulated hours that comes with the admiration of this space distances us from our family and friends. People most likely have a tendency to remain in a state of oblivion regarding death and separation out on social media. According to 2018 Facebook user's statistics, cyberspace could possibly become a virtual graveyard in the near future because the number of dead users will surpass the number of active users. It is astonishing as well as scary how the material possessions of a person will be less than the virtual possessions. All of this person's existence will be captured in the virtual space giving a chance to reanimate the dead. Even after not being physically present that person will just be a Facebook post or a Google search away.
During the pre-web period people used to print photos on bulletin boards to remember the person or gather around to honour his life. But post the internet era digital ghosts exist where social media accounts can be linked with trusted individuals as in case of facebook legacy to manage and post from the same. Therefore, death has changed through the course of the growth of the Internet. There are other platforms that can mimic tweeting habits, for example, 'if I die' is one such platform that allows people to pre record texts or videos to generate posts after being deceased. Since the internet is the quickest form of communication, news of death travels like the wind so much as to create more traffic on deaths of celebrities like Michael Jackson.
A digital asset can be defined as an asset existing under binary format and gives the right to access to the successor or the future holder. Comprehensively, it is a digitally stored content contained by a legal person. Digital assets might vary on the basis of different sources of medium of storage: personal, financial, technical and professional. Different mediums of storage have different sets of values and importance, like, personal assets can belong to multimedia storage like pictures and videos that can be contained using social media, mails, mobile phones and various other digital devices. Similarly, financial assets might be linked with the financial content of the user, such as different internet banking mediums: net banking, crypto currencies, bitcoins, online gambling, online transactions, online insurance, mutual funds and many other prospects. Professional content on the other hand refers to the domain names, web content, visual contents, social media handles, online sites and blogs associated with the person. Lastly, technical assets refer to the passwords and limited content contained to the computer networks, digital services, software projects that were associated with the person. The most important thing to note is that the asset that is contained in the digital platform belongs to the user and not the platform where it belongs. The accessibility and the transfer of assets in the future are mentioned under the terms and conditions of the storage medium, therefore, it can cease whoever possesses the asset and might be able to deny the executor's access to the asset.
Inheritance refers to the right of the owner's successor to his or her personal or digital property. In different countries there are different ways of inheritance, through testimony or through laws of inheritance if there has been no particular testimony made. The concept of 'Will' prevails when it comes to the transfer of holding the assets of the ancestors. 'Will' is a drafted document that states the inheritance of an owner's property into the hands of a future holder. The future holder, however, can have access to both ancestral and self earned properties. Things become more complex because in several countries including India, there's no specific testimony regarding the holding of digital assets through inheritance. The law of digital inheritance however is applied by various social media platforms including: Facebook, Instagram, Twitter, and Google. For example, Facebook might give the 'legacy contact' right to the previous owner's account in order to make a pinned post about their funeral or change profile picture or cover picture but they still won't have full access to the owner's messages and several other activities. Google on the other hand gives an alert to a person's emergency contact when there has been inactivity for a long time. Twitter however only lets the legacy contact to deactivate the previous owner's account.
In US states the law to inheritance of digital assets applies to an agent or attorney, a legal representative, a court appointed guardian or a trustee under the given date of the effective act. The act recognizes two kinds of people, the custodian and the fiduciary. Where the custodian carries or maintains the digital asset and the fiduciary is the personal representative of the owner. In the UK, however there's no definite definition of digital asset, it contains the email address, social media handles and the pictures that were contained online. Majority of people in spite of staying online most of the time remain unknown about password management. In India, the Information Technology Act, 2000 works for all sorts of information, data, and assets. However, it has its shortcomings; the applicability is limited to testimonies and wills. There are no specific mentions for digital legacy or assets. However, the legal heirs with their right to assets can also claim the digital asset of a person after providing necessary proofs. However, they can be restricted by the service provider if there is violation of certain terms and conditions.
One of the toughest challenges of social media is the event of non-closure of accounts, which exposes them to the danger of identity theft. Alone in the USA more than 2.5 million accounts are subject to identity theft. Most of the times these thefts are carried out by close family and friends but also stranger attacks are not uncommon. It is true that the dead does not come back to claim identity but the family members and heirs do suffer. It is seen that these kinds of attacks often cracked credit card details or purchased something online through the victim's name. Most jurisdictions protect the legal heirs in cases of crimes committed as such but the sheer amount of mental trauma pain and harassment they go through is pathetic.
India is one of the signatories to the WIPO Copyright Treaty, or to the WIPO Performances and Phonograms Treaty. However, as a neighbourhood of its 2012 amendment of copyright laws, it has implemented digital rights management protection Section 65A of Copyright Act, 1957, imposed criminal sanctions on circumvention of "effective technological protection measures." Section 65B criminalized manipulation of digital rights management information. India's adoption of criminal sanctions ensures compliance with the very best standards of the WIPO Internet treaties. Another grey area of copyright issue is the ownership and transfer of crypto currencies, like Bitcoin, which stay available even after the death of the user. Bitcoin can be only accessed through a unique key which is generally secretive only to the user. If he does not tell it to somebody else before his death, the coins worth quite a fortune these days can remain locked forever.
One must prepare himself to secure his digital belongings in case of demise. First step is to know what one has online. Making a thorough audit can help with the same. Digital Asset management is easy with advisors. They can help secure the passwords accounts or crypto currencies and static content like messages photos and videos as well. Second step is to decide what he wants to be done with his digital assets after his death. Whether to destroy, save, display or transfer or anything else is his choice and DAM advisors can manage the task on his behalf. When deciding on digital asset management one must consider a few key points. Firstly he can integrate his content if he already has an online asset management tool. Secondly he must go for secure options. While no management is one hundred percent secured he should carefully choose a trustworthy system with less lapses and breaches. Finally it is important to get something that is easy to use, comes with assistance and a general convenient interface. It is a big task for large companies to get all persons aboard on digital asset management. But when done correctly with user role access such that the access is limited to the person and his allotted task and overall importance can work wonders and can secure the entire company and avoid copyright infringements. In countries like the UK and USA, there are legacy service providers who provide the security and management of digital assets of a person to the correct heirs. These accounts enable different features like the user can store their story as a memory, share messages with their loved ones and secure their digital will in one last safe space. Service providers like 'Aftervault' provide features like vaults where users can safely store their financial digital assets like life insurance, other documents, photos and social media handles.
The most challenging thing for people in cyberspace is to maintain the content they have created on the digital platforms, while some contains sentimental value whereas others might contain financial values to people. With the advancement in technology the necessity to create a will or testamentary disposition to hold these contents legally after the owner's death becomes important with each passing day. This is because with time the amount of data or asset a person holds on a digital platform tremendously increases. However, there is always a possibility that the will or testimony might not transfer the assets to the legal heirs as the terms of condition of the platform should also be taken into account. Digital Asset Management Strategy takes a view that effective legislative efforts from all across the countries along with a worldwide treaty or convention or an agreement will aid the dispositions in the long run.