02 Dec, 2022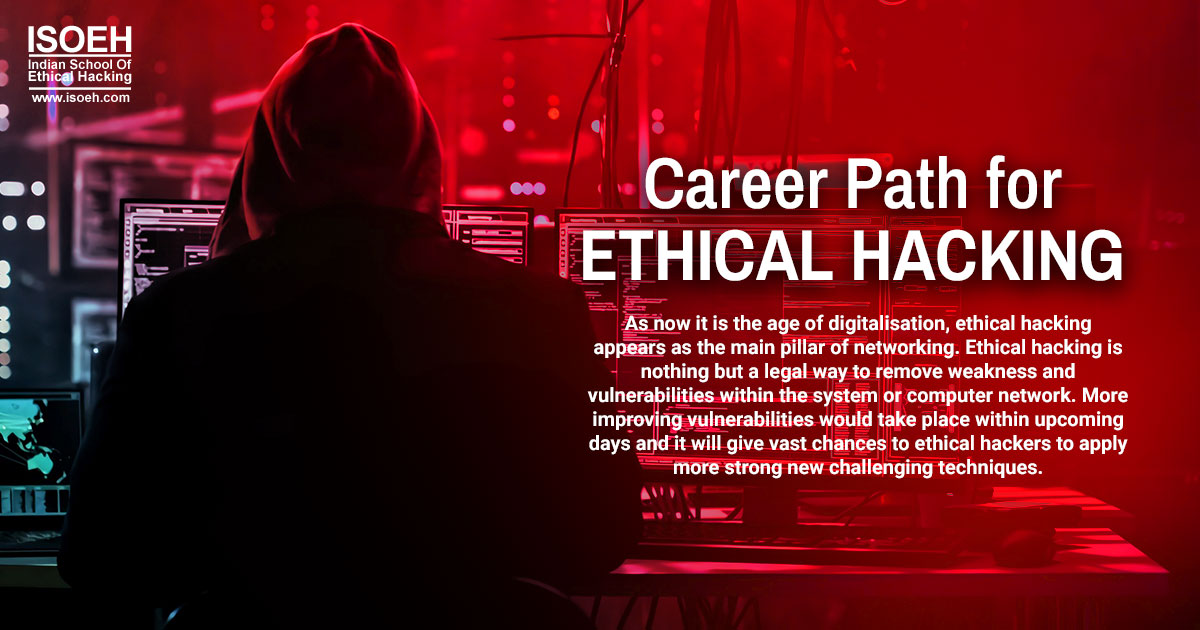 Before initiating the discussion on the career path for ethical hacking, it should be negotiated first what does ethical hacking means. Ethical hacking is an approved infringing act into a system for locating menaces and compulsions which might be detected by a hacker for stopping prospective data breaches by closing all loopholes. The main objective of ethical hacking is to overlay the system with 360-degree cyber security by resolving the vulnerabilities discovered. The goal of an ethical hacker is to make secure a system by a penetration test. In this way highlighting the flowing problems through a device, it becomes protected.
Concepts:
The three main concepts of ethical hacking are – Scanning, Enumeration, and Exploitation.
Scanning
Scanning means checking whether the host is live or not. In the case of the internal network, we can ping it, if the ping is blocked then we can do an Arp scan. We can also use hping3 which is a crafting utility to check whether the host is live or not.
Enumeration
Enumeration is used for getting access and more detail about the victim's network as well as the targeted device. Like device details, operating system info, open ports and services, network information, domain details, user details, etc. Enumeration belongs to a category that is NET-BIOS, NTP, SNMP, LDAP, and DNS.
Exploitation
Exploitation means utilizing vulnerabilities in a targeted network or device to get entry into a targeted zone.
There are several types of ethical hacking. Like Black Box testing, White Box testing, Gray Box testing.
Black Box Testing
Black Box testing is such a type of testing from outside the particular perimeter before getting in it via brute force approach where a hacker has no prior knowledge of the network infrastructure or about the targeted system. Therefore, it takes the longest time and hard labor for extracting information. It is contemplated as one of the most terrific hacking methods in which loopholes are observed and utilized by the malicious hacker so that they can take control simply.
White Box Testing
White Box testing is such a type of testing where a hacker has complete knowledge about the targeted machine and network infrastructure. This type of testing is done by developers, and ethical hackers and they work with IT companies without violating any IT laws. They also confirm that nobody can hack their audited system or network.
Gray Box Testing
Gray Box Testing is a mix of Black Box and White Box testing. Here in this test, the tester does not have full knowledge about the victim machine and network. So, testers need to apply consequent reasoning skills, algorithms, and technical language and even they sometimes create computer viruses to steal confidential data. It depends on usability tests, performance tests, and security tests.
Beating Crime Psychology:
Do you know when your machine is connected to the internet, therewith it becomes less secure? A programmer needs to think like the opponent hacker. Keeping an eagle's eye, he should make questions to identify bugs and uncover vulnerabilities so that no one can hack them.If you want to be an ethical hacker you must be completely aware of the system hacking techniques, footprinting, hacktivism, terminology, reconnaissance, tracing DNS server, SQL injection, honeypot farm working, ARP tools like Dsniff, Ettercap,ARP poisoning, cryptography, plain text, cipher text, symmetric key, asymmetric key, securing a wireless network, PKI or Public Key Infrastructure system, IT laws and penetration testing. You should know details about computer virus. Why do people create computer viruses? An ethical hacker should know the DoS, DDoS, MIM, Hijacking, cloning, sniffing, exploit kit, Botnet, Cracker, and identity theft. One ethical hacker must be tamed in algorithms. You should know the best to defend the device as well as the network.
Pre-Requisites:
To be an ethical hacker, one must know the programming languages like C Programming, Core Java, JavaScript, Python, PHP, and others programming languages. Career in ethical hacking after 12th? You can choose a certificate, a diploma, or B. Tech course or may BCA if you are not from science background or opt for some online courses.
Skills:
Technical:
One should expert in the technical field.
Has rigorous knowledge of several operating systems like Linux, Kali, Ubuntu, Parrot, and Windows.
Comprehensively know the network infrastructure, protocols, headers, network layers, and models.
Meticulous apprehension in cyber security region and revolutionary attacks, database engineering, cryptography, and reverse engineering.
Non-Technical:
Basic knowledge about hardware.
Basic computer skills.
Having the propensity to learn new technologies quickly.
Strong ethos.
Adequate knowledge in problem-solving and critical thinking skills.
Accomplished to organization's security policies.
Understanding IT standards and acts.
Market Study:
Several sectors are looking for 0-20 years of experienced employees. What jobs can you get with ethical hacking? It is discovered that companies from different states in India are probing fresher cyber security analysts, cyber security engineers, faculty in cyber forensics and information security, cyber security trainee, security analyst, junior security engineer, and information security analysts. Huge scope in work from office jobs in this field. Salary packages are around 25 lacs in India. Outside of India, salaries are around $4000-$5000 per month for freshers. Average CEH salary in Kolkata is around 50 lakhs. There are more job chances in foreign countries. An ethical hacker having above 5 years' experience, can make 10-12 lakhs. In agreement with CISO, annual salary of a good ethical hacker is Rs.57,0000.
Scope in The Blink of an Eye:
Huge questions come to us from a large number of audience whether there is any scope in this field or not. We must say that yes you can achieve it. Ethical Hacking is a crucial component of risk assessment, auditing, and counter fraud. An organization must know first what it is looking for before hiring an external pen tester. It assists in focusing on the goals to earn and save time. The testing team dedicates to troubleshooting the actual problem in resolving the issues. It depends on the companies to take endorsed actions by the auditor team and impose security policies over the system and network. India needs an upgraded cyber security strategy. But why? As we are in the stage of industrial revolution 4 (Technology, AI, IoT, Machine Learning), we realize more demand for ethical hackers. Comparing 2010 with 2022, it is observed that the quantity of networking devices is increased gradually. Besides this, cyber-attacks are also increasing. Without any hesitation, we can say that there will be more progress in a digital world and besides that there will be more vulnerabilities and there will be a large number of malicious hackers. So, there will be more scopes in the future. According to NASSCOM, this field is anticipated to escort in $35 billion in revenues and it is about to create a million jobs within 2025. Even there is an option to open your own start-up business. You can earn more; you can get more scopes if you prove to yourself that you can do uprising work in this field. You are the ultimate guide to take yourself to your aim if you follow a correct roadmap in the ethical hacking sphere.
Hindrance in Hacking Highway:
We found that still there are misconceptions about an ethical hacker. Somebody thought whether pen testers are secure or not. May an ethical hacker could do untrustworthy works and it may harm companies. They may take access to a company's confidential data.
Conclusion:
As now it is the age of digitalisation, ethical hacking appears as the main pillar of networking. Ethical hacking is nothing but a legal way to remove weakness and vulnerabilities within the system or computer network. More improving vulnerabilities would take place within upcoming days and it will give vast chances to ethical hackers to apply more strong new challenging techniques.