24 Dec, 2019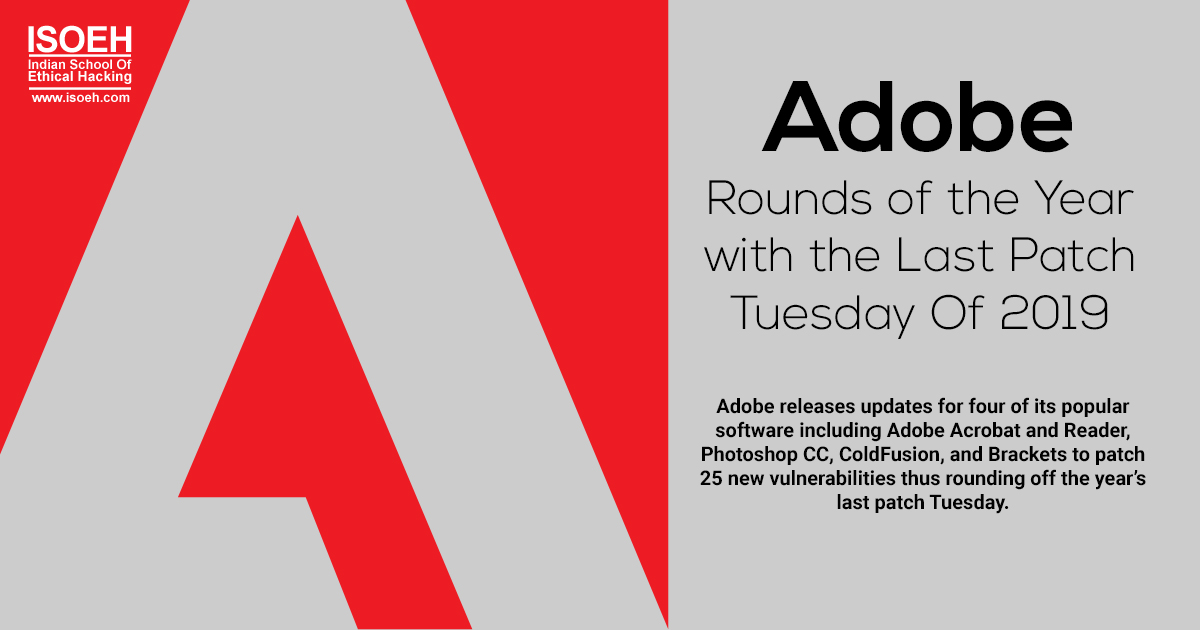 Adobe releases updates for four of its popular software including Adobe Acrobat and Reader, Photoshop CC, ColdFusion, and Brackets to patch 25 new vulnerabilities thus rounding off the year's last patch Tuesday.
The last Patch Tuesday of 2019 has just been released by Adobe.
It has announced updates for four of its most popularly used software, Adobe Acrobat and Reader, Photoshop CC, ColdFusion, and Brackets to provide patches for 25 new security vulnerabilities. Seventeen of these vulnerabilities are rated as crucial cyber threats carrying high priority patches. That means they are more likely to wreck havoc in the virtual world though are not out in the wild yet. When unleashed successfully all the critical vulnerabilities in Adobe Acrobat and Reader software will enable arbitrary code execution attacks, allowing attackers to compromise targeted systems entirely.
The software update for Adobe Acrobat and Reader for Windows and mac OS operating systems is intended at a total of 21 security vulnerabilities, 14 of which are critical, and rest are also in high severity bracket.
Adobe Photoshop CC for Windows and mac OS has addressed patches for two critical arbitrary code execution vulnerabilities brought to the forefront of the software magnet by Honggang Ren of Fortinet's FortiGuard Labs.
The last two vulnerabilities which the company patched this month are related to Brackets, a source code editor and ColdFusion, a commercial rapid web application development platform by Adobe. The one for Brackets handles a critical code execution flaw, which was discovered by Tavis Ormandy of Google Project Zero. Adobe ColdFusion update is about a security patch for critical privilege escalation bug, which occurs due to insecure inherited permissions of the default installation directory.
The patch updates as declared by Adobe are all intended at severe security threats which must be installed immediately in all systems using Adobe for avoiding critical cyber security issue. The way to install is as follows "Help → Check for Updates" in your Adobe software.
ISOEH has been educating the cyber security aspirants the latest trends of ethical hacking to achieve a new and hacker free India. Click here to know more.