15 Jul, 2020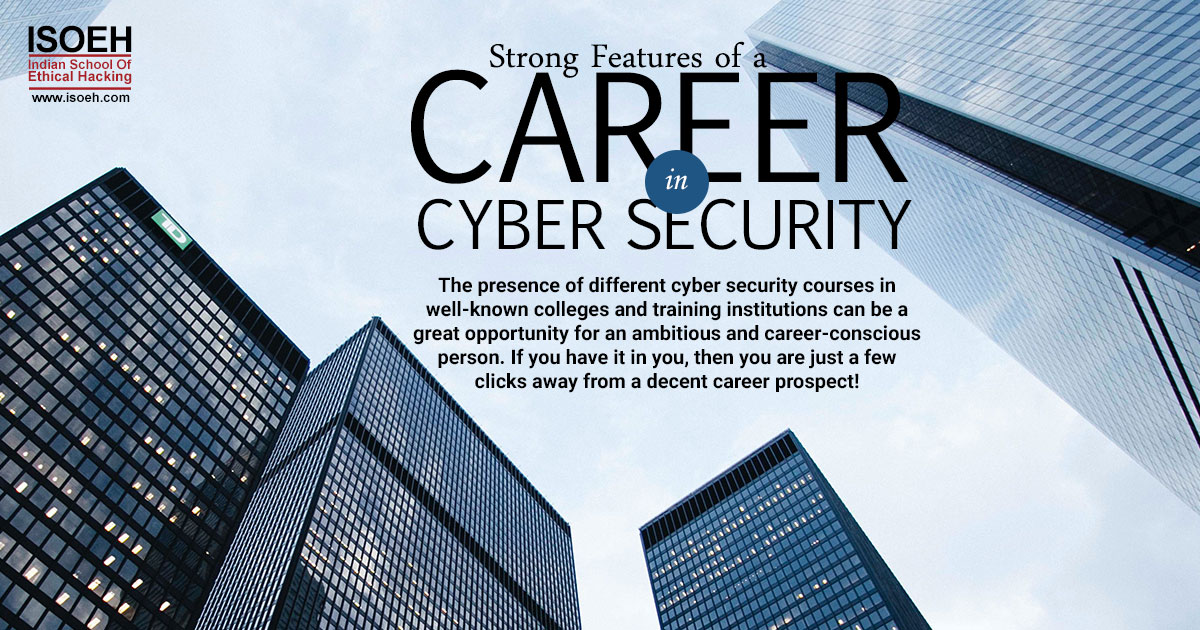 Maintaining personal or private data is a basic requirement that every individual does with the utmost care. Not just an individual, the businesses also try their best to protect their private data. On many occasions, this data even includes confidential facts and figures. Amid all these efforts for protecting the data, the incidents of hacking and data theft have been taking place almost every day. Not just individuals, but even the MNCs are not getting spared.
However, things are changing faster with the companies appointing cyber security specialists who are capable of restricting this. The increasing demand for these specialists has enhanced the demand for skilled professionals as well. The enthusiasts are showing a remarkable interest in a career of cyber security specialists. Not to forget that the career is certainly very promising as it has some strong features. If you are also planning a career in this domain, then knowing these features would help you further:
The demand for cyber security professionals is likely to go up by more than ten times. As per an estimate, the organizations would look for 500 thousand skilled professionals in the next five years. At present, the number of available specialists is mere 50 thousand. So, you can easily understand the upcoming thrust in this domain in the next few years.
The profession is very yielding in terms of work responsibilities and remunerations. The organizations plan to appoint trained professionals in different categories that may allow a huge growth process for the appointed professionals. You know it well that growth always brings higher remuneration as well.
The scope of managing the challenges is very high in this profession. Every professional would love the challenges that may come on his way. Solving these challenges would enhance their skills and help them grow up as mature cyber security professionals. Remember, the growth process is natural, and versatile people may find unlimited scopes of enhancing the job securities. In the opinion of successful cyber security professionals, the scope of growth is really infinite and it depends on the individuals to convert these scopes into positive growth possibilities.
As a working professional, every cyber security professional gets the best chance of working with new tools, software, and technologies that enhance their knowledge and provide them the best chance to grow up as versatile professionals. Probably, it is a great opportunity that makes the career a very productive one.
Professional cyber security professionals can discover new job opportunities in the ever-expanding domain of information technology. The IT services need expert cyber security professionals to carry out multiple responsibilities. Obviously, these job opportunities with bigger organizations, even with the MNCs, can provide them superior chances to evolve, both professionally and financially.
The presence of different cyber security courses in well-known colleges and training institutions can be a great opportunity for an ambitious and career-conscious person. If you have it in you, then you are just a few clicks away from a decent career prospect!