16 Mar, 2020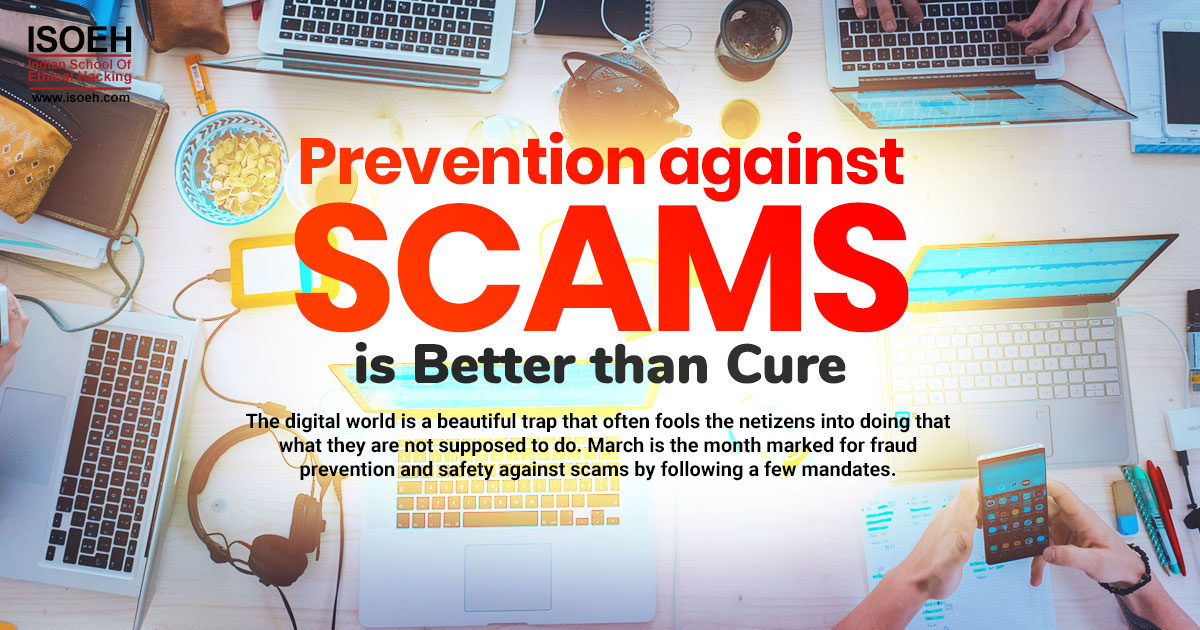 The digital world is a beautiful trap that often fools the netizens into doing that what they are not supposed to do. March is the month marked for fraud prevention and safety against scams by following a few mandates.
Hackers and fraudsters are everywhere.
With respect to their omnipresence, scamstars of the virtual village has strong competition with GOD!!!
The world of internet is replete with offers and ideas which often mislead users into giving away their confidential information and getting cheated in return. In order to make a mark against this vicious virtual cycle March has been marked as the online Fraud Prevention Month and a series of online anti-corruption activities started in Canada.
Internet experts have shared their ideas on how to stop scams and prevent innocent netizens from falling prey to virtual scam schemes.
Here are some of the tips as excerpted from the words of a cross section of professionals.
It is advisable to not wait to be a victim. We the citizens of the modern world are too busy to think about anything unless it is affecting us directly. Hence the ignorance in taking preventive measures. Internet frauds do not happen every day. But when they happen they wreak havoc across a lot of domains costing priceless hours of work, enormous amount of money and man power. Hence it is advisable to wake up and smell the coffee before it is too late for home users as well as business organizations alike. A prevention plan to ward off the traps and tricks of hackers is an essential back up for all internet users.
Some of the steps to protect yourself against email or phone phishing

Cross check the emailed link or URL for its authenticity before clicking on it
Refrain from submitting details on a website which does not look right
Instead of clicking on links to landing pages, type the URL manually
Don't click on suspicious links or attachments

The following are the precautions for banking frauds and identity thefts

Check the need and intention of the query when asked for personal information on or off line
Keep to a certain limit while sharing personal details on social media
Create alerts for yourself when anyone intrudes into your credit files
Consider keeping your credit files locked when not in use
Take similar care for children as well
Cross check bank statements regularly
Check e mails from banks etc regularly
Ensure mobile protection with unique pin codes and passwords
Accounts must similarly secured by pin codes and passwords
Use of multifactor authentication is important
Security software should be up-to-date
Tax filing and registering for online social security is also advised

Proper employee training is very important to enable the working stuff to ward off hacking attacks and phishing attempts themselves daily on as well offline. The Verizon 2019 Data Breach Investigations Report shows a lowering of clicking a phishing test email by employees from 4% to 3% annually which proves organizational awareness helps.
As the modus operandi of fraudsters are becoming more and more sophisticated, the methods of combating them also, both private and federal, are becoming smarter every day. The whole things start with not being complacent and hence unconsciously vulnerable.
Read on for more stories on hacking.