17 Jul, 2020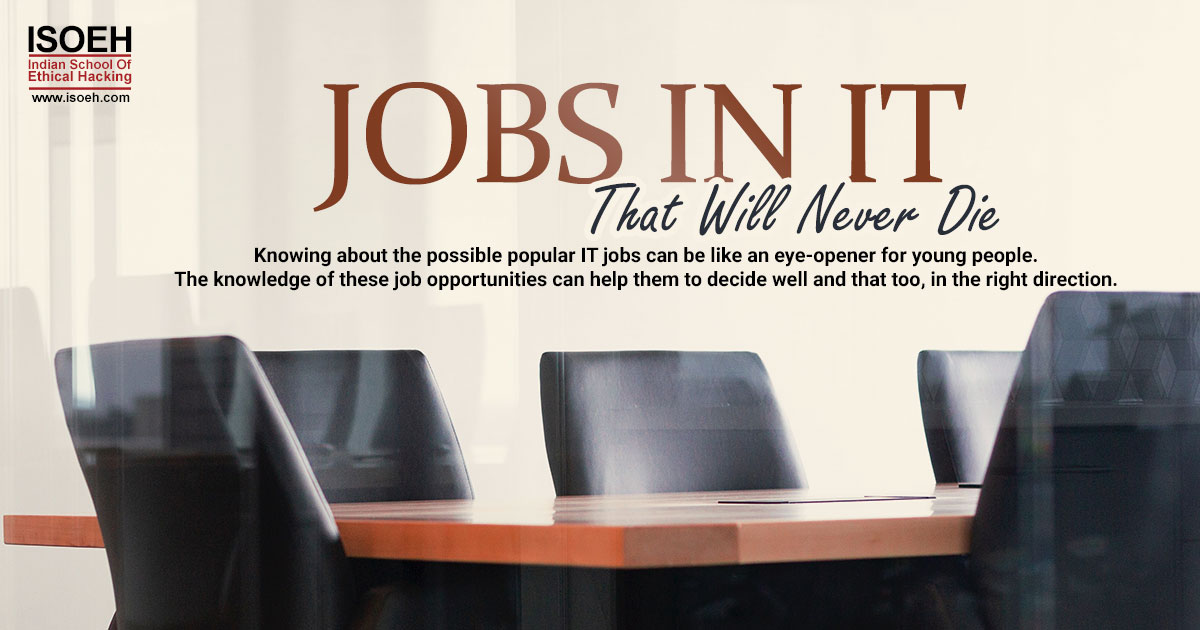 Finding a dream job is always not easy, as dreaming cannot fetch you jobs. You may think about any type of career opportunity, but you may successfully achieve it only if you plan well, set the target, and then give your best. However, you must spend some time before you plan or set your target to find out the job opportunities that would remain in demand forever, especially if you are planning a career in information technology.
This post would help you here. It focuses on bringing you the best information about the most in-demand jobs in this domain. You should decide your pick only after pondering over these jobs closely. Have a look at the options below and then decide the right pick:
Digital Marketers:
Since most businesses look for the global popularity of their business, therefore the job related to digital marketing would hardly die. In the process, the opportunities for SEO and SEM would continue to remain in demand. However, you can always expect that nature and features of digital marketing would keep on changing, and that would make the responsibilities of the digital Marketers rather challenging.
IT Support Engineers:
If you are planning a career in the IT sector, then think deeply and decide in favor of making this your choice. It is simply because the job opportunities for the IT Support Engineers would never cease. They would continue to get their share until the last IT establishment is shut down, and virtually that would never happen.
Cyber Security Professionals:
This is yet another IT job prospect that would never come to an end. Instead, there are strong chances for rapid growth in the demand for skilled cyber security professionals in bigger institutions, banks, IT companies, and various other domains. As per an estimate, the industry would look for more than 500 thousand skilled cyber security experts in the next five years. So, you may always be positive to get your share here as well.
Data Scientists:
These skilled professionals are all set to leave a big impact on the industry. These professionals are extremely handy for their advice on data handling in the best possible manner. As per an estimate, the demand for skilled data scientists is likely to increase by more than 29% this year!
Internet Of Things (IoT) Professionals:
Though a new job opportunity surfaced just a few years ago, the world of IT industries needs a large number of skilled IoT professionals who can serve their employers by showing them the right ways to use the Internet, while it connects to a numberless count of devices.
Mobile Application Developers:
The opportunities for mobile application developers are nothing less than a hot cake. You can always keep your options open while planning for a fertile career opportunity. These professionals are capable of creating mobile applications for Androids, iOS, Windows, and Blackberry devices. As the demand for mobile applications is increasing rather fast, the chances of high demand for mobile application developers are very positive. Remember, the career opportunity may bring a better growth rate as well.
IT Project Manager:
People working in this capacity are the masters of their specified technology/domain. They play a major role in the larger IT companies as they lead multiple teams of tech experts that are engaged in separate projects. Obviously, the position demands great potential and impeccable leadership capabilities.
Business Analysts:
When it comes to getting the best business outcomes, the companies often depend on business analysts. They are specialized professionals who have in-depth knowledge of matters related to a particular business. Their knowledge and problem-solving capacities make them successful in their career. Remember, such a position would remain in demand forever.