22 Jan, 2021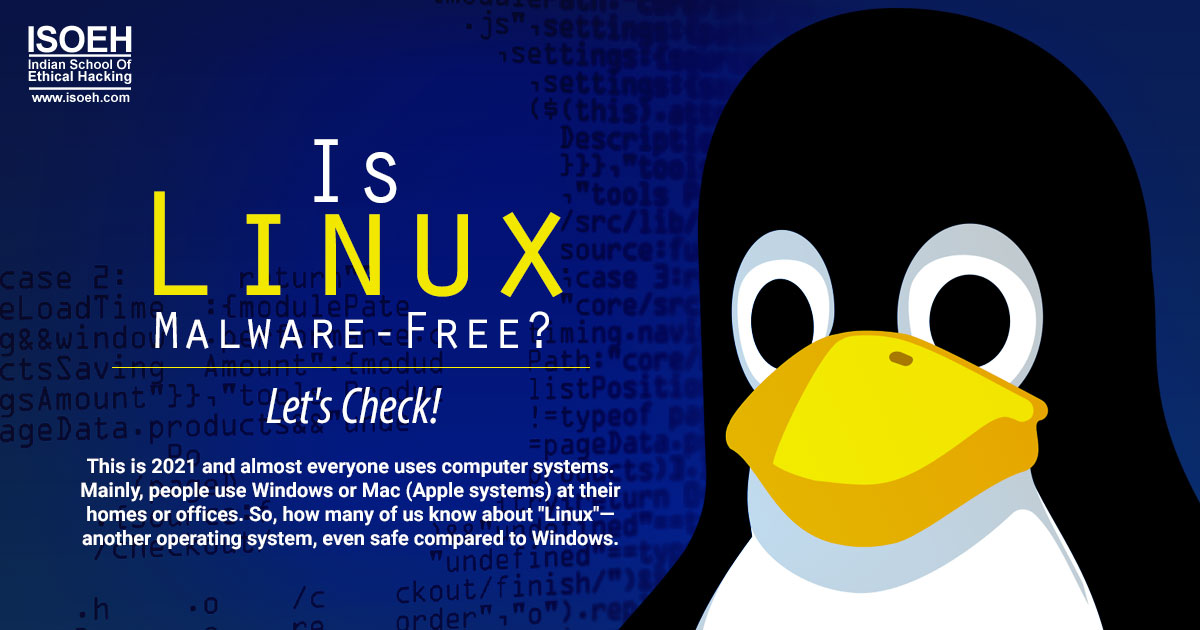 This is 2021 and almost everyone uses computer systems. Mainly, people use Windows or Mac (Apple systems) at their homes or offices. So, how many of us know about "Linux"— another operating system, even safe compared to Windows.
Besides, IT professionals do know the features and security benefits, and effectively use it for their work. Moreover, the developers are working on the platform to make it more user friendly— so it can be used widely.
With the growing popularity, the operating system got under the list of cybercriminals too. These illegal activists need limited vulnerabilities to get into any system. Hence, evil hackers are spreading "Linux Malware" to exploit Linux.
So, is it possible to spread Malware in Linux?
Linux never had been so much prone to viruses and malware compared to Windows.
Positively, the cyber security groups have not encountered any major attack exploiting the Linux systems yet. A notion runs among individuals that Linux is immune from malware and viruses. However, this is incorrect. There is no operating system that is fully malware-free.
The illegal activists are in the process of targeting the operating system. Some known black hat hackers such as Cloud Snooper, DarkHotel, TheDukes, TheLamberts, and others, have already got the tools required to conduct a mischief attack.
How can we prevent malware from Linux OS?
If you use Linux and are looking to keep cybercriminals away from your system, we have some tips for you. Let's check it below:
1: The software update should be done at a regular interval, this could be done automatically. Once the update is done, the features get upgraded along with various security and firewall components.
2: We need to be selective with the software and applications that we use. For instance, download the apps from trusted websites. Many times, third party software contains malware!
3: Firewall should be configured and active to keep logs and block the unused ports.
4: Periodic audits should be done. Yes, we know that Linux is less prone to malware, however, precaution is better than cure.
The architecture of LINUX is strong which makes it less prone to cyber attack, still, it is never 100 percent safe. If we follow basic checkpoints, LINUX can be made free from malware.
Protect the bootloader
Encrypt disk
Implement SELinux
Go behind a firewall
Use two-factor authentication and hardware token
Provide appropriate permission to files
Provide proper rules to users
INDIAN SCHOOL OF ETHICAL HACKING (ISOEH) provides cyber security training to students belonging to technical as well as non-technical background. Cybercrime is a major threat in today's IT environment, and every corporation is looking for skillful experts. Cyber security is the need of the hour!
Stay connected for more useful cyber security tips.