24 Aug, 2020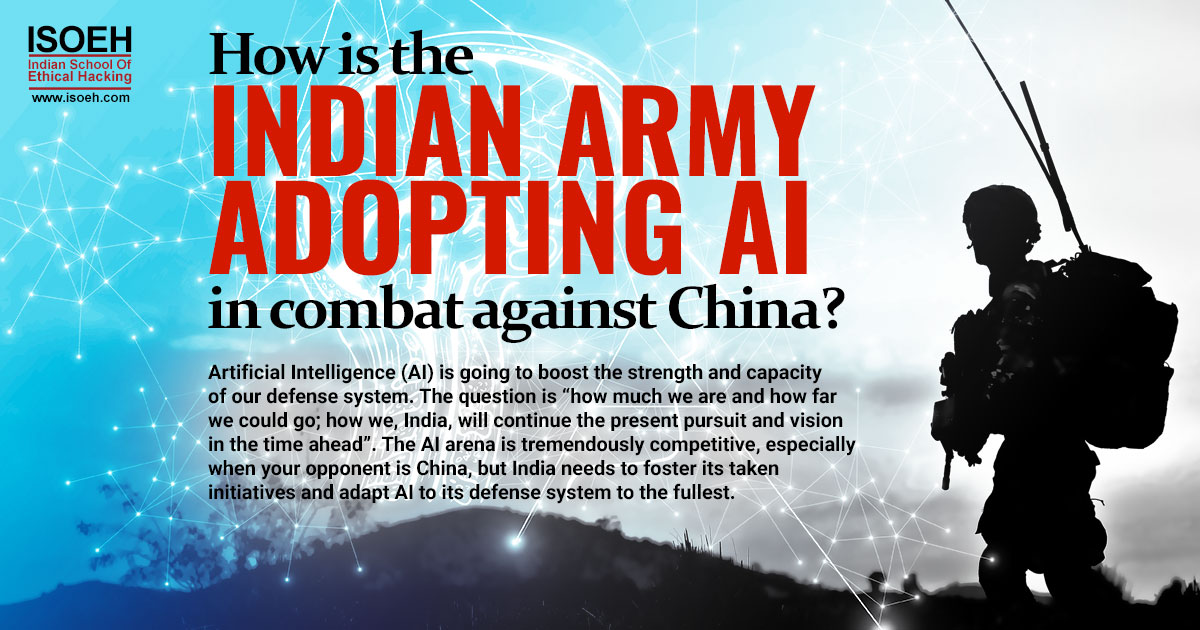 The invention of gunpowder, tanks, and in the very last century, the use of "Little Boy" and "Fat Man" (atom bombs), which were secretly created under the guise of "the Manhattan Project" during WWII, revolutionized the global perspective of the national defense and security. If we look into history — at every age, the definitions of defense and national securities get redefined. Likely, in our lifetime, we're experiencing the same paradigm evolution, and this time, it's AI (Artificial Intelligence).
However, at this moment, the opinions with regard to the effectiveness of AI, in the military perspective, are mixed (positive as well as negative) in nature. Having said, nobody can overlook it or wish to miss the bus to the next-generation defense and military world. Vladimir Putin (the President of Russia) publicly said "[W]hoever becomes the leader in this field will rule the world." In 2018, the U.S. National Defense Strategy stated artificial intelligence as one of the pivotal technologies that will "ensure [the United States] will be able to fight and win the wars of the future."
AI renders a myriad of advantages, be it facilitating autonomous operations, prompt decision making, in expanding the scale and speed of any military action. On the flip side, many analysts doubt its functioning in manipulation or a unique environment. They opine that the impact of AI, in terms of defense security, would be minimal (evolutionary — if not revolutionary).
Before discussing the outlooks of various countries on AI, including India, let's comprehend briefly about AI (Artificial Intelligence), and how it can add more values to our military might.
With the help of machine learning, cognitive architectures, and neural networks, AI performs various tasks like humans, following human-like cognition, reasoning, comprehension, planning, communication, and action.
In the Syria and Iraq wars, the US Army leveraged AI to tackle hostile situations aptly. AI, with the help of aerial footage and hostility identifying algorithms (tracking the movement of heavy vehicles or certain patterns on the land, played an immense role to exterminate ISIL.).
The dawn of AI in the military field is not recent, it commenced in the 1940s, during the second war. However, the interest in AI boomed around 2010 due to the combination of three crucial components viz., big data, machine learning, and computer processing power.
If we talk about our neighbour China, it considers the USA its fierce competitor in this field and vice-versa.
In the field of AI, China has made many advancements. According to China's Next Generation AI Development Plan (2017), China recognizes it as a "strategic technology" that has become a focus of international competition. The very same document says "China will seek to develop a core AI industry worth over 150 billion RMB132—or approximately $21.7 billion—by 2020 and will "firmly seize the strategic initiative" and reach "world leading levels" of AI investment by 2030."
When it comes to AI, China excelled greatly in language and visual recognition. They use these for their domestic surveillance and local credit system. It helps them to monitor the social behaviours of every citizen and "grade" them accordingly.
They're striving their utmost and moving headlong at a neck-breaking speed to make AI operational in a full-fledged manner. Chinese AI R&D experts are conducting multiple research programs to build different sorts of autonomous vehicles that can operate on land, in air, and at sea. In 2017, in collaboration with a civilian university, the Chinese military displayed 1000 uninhabited (autonomous) aerial vehicles at an airshow event.
Needless to say, the world knows China's interest in cyber espionage and obsession with other countries' data.
According to one estimation, China is on the way to procure 20% of the world's data by 2020 and has the potential to obtain 30% of the same by 2030.
In the near future, these advancements may raise many adversaries for India. India is completely aware of the advancements and repercussions. To combat these adversaries, India is steadfast and rendering great attention towards AI, in the field of military and national security.
According to Lieutenant General Alok Kler (South-Western Army Commander) in an interview with Economic Times 2019 — The army has planned to induct artificial intelligence technologies in the next two years with the first users being the mechanised formations such as tanks and infantry combat vehicles.
These formations will safeguard our western border with Pakistan and the northern border, mainly in Ladakh and North Sikkim. India's south-western command itself has many mechanised formations, active or operational, against Pakistan.
He further stated — "In the next two to three years, we will induct constructive and destructive artificial intelligence into the Indian Army, and the first people to use it will be the mechanised forces. Artificial intelligence is a necessity. From information to decision making to direct destruction of military capabilities, artificial intelligence will be used. In the beginning, it will be for constructive use such as helping a commander in making his decision and making sure information is converted into intelligence. But soon we will have to take into account disruptive use of AI.".
In 2018, the Indian Defence Ministry formed a multi-stakeholder task force for the strategic implementation of AI and defense and likewise set some guidelines with this regard. It established DAIC, Defence AI Council, to guide AI development in Indian defense system and provide strategic direction in its implementation. The ministry wants to create an institutional framework for AI-related implementation. The core focus of this initiative is to focus on and advance in capacity-building.
Last year, Rajnath Singh (Union Defence Minister of India) announced that India will develop 25 defense-specific AI products by 2024.
In comparison to China and the US, India has some budget constraints; having said, India is prompt in tackling any sort of upcoming threats in the form of AI from China.
If we look into the last decade, India lagged in terms of research and advancement in AI; however, recent government initiatives in this context give us great hope and confidence. Adding, recent funding of NITI Aayog for Artificial Intelligence (AI research) strengthened the vision further.
After the deadly confrontation in Galwan valley, where our 20 brave soldiers sacrificed their lives and many got wounded. Many Chinese soldiers lost their lives too and many got injured, the Indian army is preparing its men for hybrid or fully technological warfare. Amidst the pandemic, 13 lakhs Indian army personnel, protecting the Ladakh border, are performing "holistic study" on conventional, non-kinetic, and non-combat warfares. The aim is to get more agile to confront any adversaries imposed on India by China.
Besides, Bipin Rawat (our Army Chief) insisted on leveraging AI for our national security (be it cyber or border security).
Artificial Intelligence can boost our national security in many ways:
Intelligence & Surveillance: AI, with the help of computer vision and machine learning algorithms, can help to identify hostile situations and act rapidly. The round-the-clock surveillance work (the tasks which presently get performed by humans) can be integrated into AI to make it more precise and easy.
Logistic: the advancement in robotics and anonymous vehicles will immensely help BRO (Border Road Organisations) to build roads and logistic routes. It will also help our army to move logistics from one place to another swiftly.
Cyberspace Operations: AI-enabled tools can be programmed to detect various sorts of anomalies in our defense cybersecurity; it will be difficult for hackers to hack our defense network and cybersecurity system. It will present a more dynamic and comprehensive barrier to any attack.
Decode Deceptions: During the wartime or any crisis, the biggest trick any enemy can play is "the war of deception". AI helps to identify any information forgeries, be it audio, phone, and video — "deep fakes". It helps to decode any propaganda and misinformation.
Command & Control: AI will help in creating a "Common Operating System" for the arm force, air force, and navy to access any common data, during any joint mission, by fusing the same, from sensors to various respective domains.
Patrolling: Be it aerial or border surveillance, semi-automatic, automatic vehicles and drones can work greatly to collect sensory data and process it at a lightning speed. Further, AI can help us strengthen our patrolling, avoid ambush, and minimize casualties. Our army can conduct limited attacks via these drones and vehicles.
Kevin Kelley, the founder of Wired magazine states — "[AI] will enliven inert objects, much as electricity did more than a century ago. Everything that we formerly electrified we will now cognitize."
His statement is so true, undeniable, and resonating in this day and age. Like electricity, AI is indeed going to change the dimension of future warfare and national security.
There is no doubt that Artificial Intelligence (AI) is going to boost the strength and capacity of our defense system. The question is "how much we are and how far we could go; how we, India, will continue the present pursuit and vision in the time ahead. The AI arena is tremendously competitive, especially when your opponent is China, but India needs to foster its taken initiatives and adapt AI to its defense system to the fullest.
Our present and next generations need to take it as their "career path or profession", be it by doing a diploma in cyber and digital security, becoming a computer forensics analyst and so on.
ISOEH makes the entire AI learning process easy and possible for you. We have a team of experienced professional hackers who provide in-depth training on every front of "Cyber Security", be it ethical hacking, testing, penetration, forensic investigation or python programming basics. Now, "cyber security distant course learning" is one click away from you.