26 Jun, 2020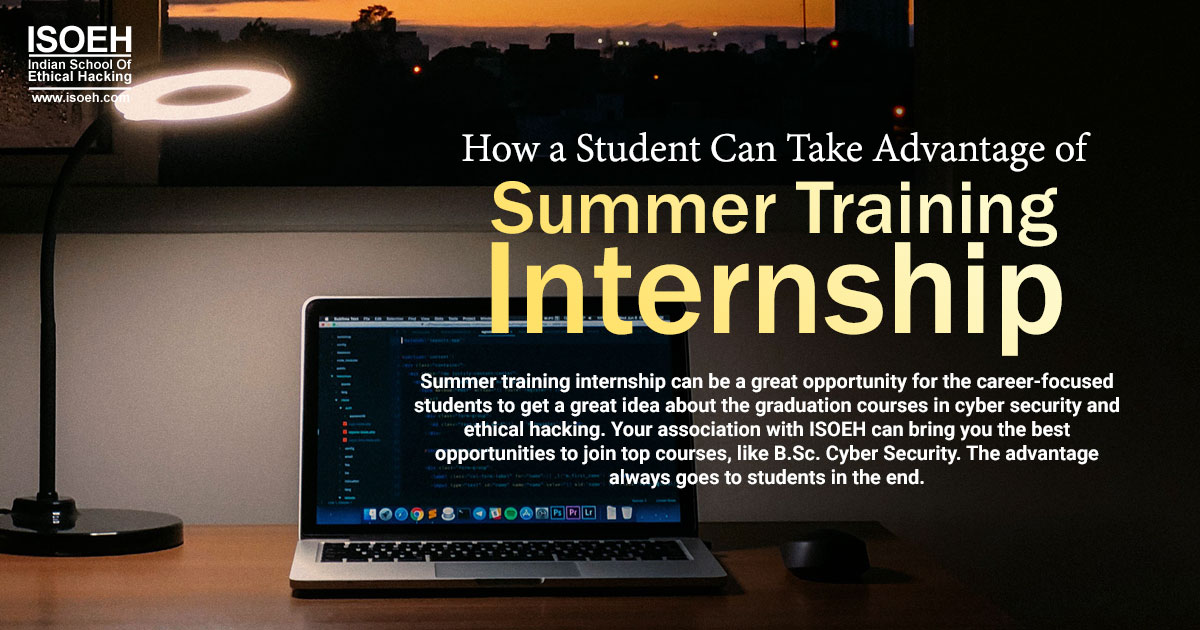 Career opportunities are getting increasingly wider these days as the leading institutions are coming up with very innovative as well as career-oriented courses. Knowing about these new courses is often not easy for the students who are still getting themselves ready to begin their professional careers. The prevailing situations of lockdown have already put men confined within the four walls. However, many institutions have even declared the present phase of the lockdown as summer vacation. This is a great time for the students who are already undergoing some career-oriented courses.
It is time for aspiring students to make productive use of their summer vacation by joining the Summer Training Internship Program at the Indian School of Ethical Hacking (ISOEH). The institute offers quite a few great courses in cyber security and ethical hacking. As a student, you must be very cautious about finding out the benefits of joining the internship program in Cyber Security. The following are a few potential benefits that may inspire them to join the professional course later on:
1. Industry-Best Faculty:
ISOEH imparts education through industry-best professionals. Remember, most of them are skilled ethical hackers who have been working in leading roles in renowned companies across India. Learning the technique from the experts can make you learn things even better. Do you agree?
2. Opportunity TO Learn Things Well:
Though you are encouraged to join the summer internship program, you should get all the necessary facilities so that you could learn things rather easily. Apart from theoretical classes, you would also get plenty of opportunities to work on dummy projects. It can certainly help you to understand the real challenges in this domain. The more you will learn, the sharper your interests would be.
3. Personalized Care/Attention:
ISOEH understands the need for personalized care in specific career courses, even if you are undergoing a summer internship program. The members of the faculty pay individual attention to every student in the class. The size of the class strictly remains within 20 students per batch.
4. Assignments And Projects:
At ISOEH, training is always extensive; even it is a summer internship program. As a student, you would need to concentrate well on the class content so that you could complete the additional load of assignments. You are sure to get home assignments at the end of the day. The more you work, the better the understanding would be. It will lead you towards joining full career courses, like Diploma in Cyber Security (Ethical Hacking).
5. Testing Tools:
Learning ethical hacking or cyber security is very interesting when you learn things with the help of specialized testing tools. You may get some of the best tools to learn things well. You would feel more positive about making a career in ethical hacking and cyber security.
6. Huge Demand of Skilled Professionals:
You are probably unaware of the fact the demand for skilled professionals in these domains is likely to increase quite a few times in the next few years. The experts expect that the industry would need more than 500 thousand professionals by this time. At present, we only have 50 thousand professionals ready to take the challenges as well as the responsibilities. You can be one of the remaining professionals in demand.
7. Highly-Paid Jobs:
If you are concerned about the remuneration part of the job, then also you should get something worthwhile here as a career in cyber security and ethical hacking can bring you highly-paid jobs in all the levels. You can think about earning big even as a fresher.
8. All The World Is A Classroom:
Since the classes are available on online mode as well, therefore you can join them from your location only. Truly, this concept makes the whole world a classroom. You do not need to step out of your home even for a minute.
9. Get the Lab Setup In Your Personal Systems:
No matter if you use a desktop or a laptop, ISOEH would assist you to set up all the necessary tools and software in your system, using Team Viewer, so that you can get things done with the right tools. It is a great benefit that may inspire you to undergo the summer internship program in cyber security and ethical hacking at ISOEH.
Indeed, graduate or diploma courses in Cyber Security can shape your career in a great way. So, to get the real picture of the course and its productivity as a career, you must join the internship program at ISOEH.