05 Jan, 2021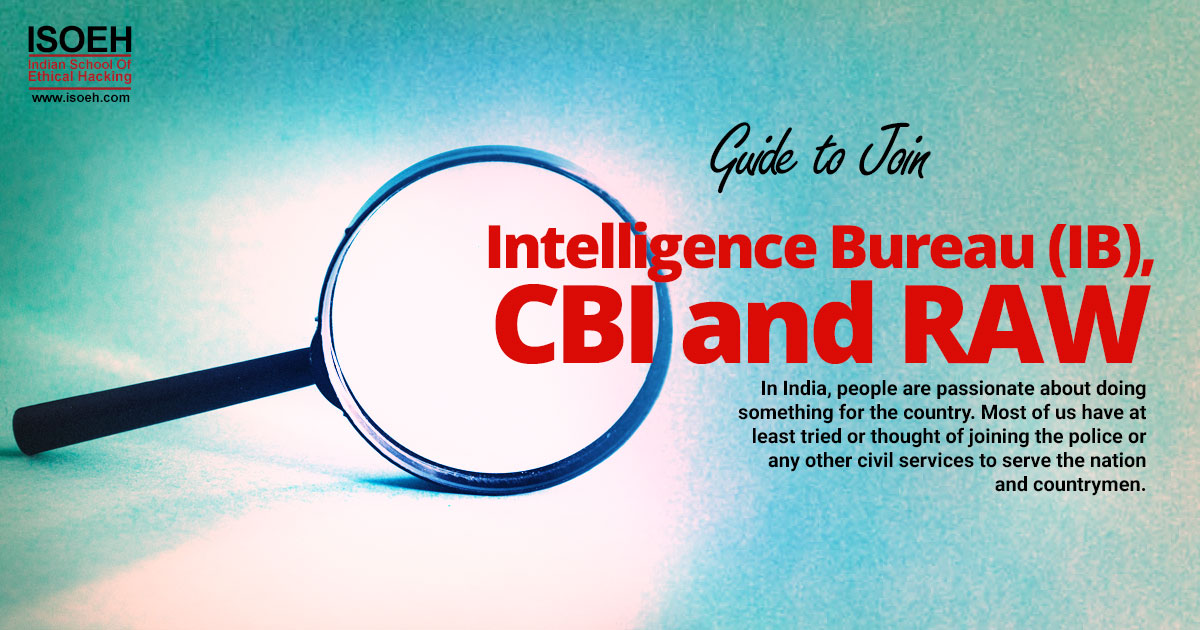 In India, people are passionate about doing something for the country. Most of us have at least tried or thought of joining the police or any other civil services to serve the nation and countrymen.
ISOEH (Indian School of Ethical Hacking) is a trusted and renowned cyber security institute in India. We help students with various resources to support them in having a bright future. In this article, we would be sharing the road map to join the favourite civil service departments i.e. Intelligence Bureau (IB), CBI and RAW.
If you have ever visioned to be an intelligence officer, then the below information will be useful for you.
How to become a member of IB, CBI or RAW:
We can follow several routes to serve as a Grade an officer in IB, CBI or RAW. One needs to certainly pass the respective government exams and go through other processes. Let's understand the process of each department below:
Intelligence Bureau:
The first step to join IB is to clear the ACIO exam (Assistant Central Intelligence Officer), conducted by the Home Ministry of India. Once you get selected, you need to work hard to get subsequent promotions and appraisals. The goal is to become a DCIO i.e. Deputy Central Intelligence Officer in IB, Grade An officer.
The second method to work in IB is UPSC- Civil services examination. Pass the examination with a good score and become an IPS officer. Serve your duty for a certain period in the allocated cadre and then apply for IB. You need to clear the probation to get into IB. If you fail to prove yourself in the probation, you will be sent back to the state cadre.
*DIB (Director of IB) is the utmost designation that an IPS officer can achieve. The post is higher than the post of a DGP.
Central Bureau of Investigation (CBI):
To work in the CBI department, students need to sit for the SSC-CGL exam. At the initial level, you need to serve as a Sub Inspector (SI) and then obtain several promotions to reach the post of Superintendent of Police (Grade A).
Second way to join CBI is to sit for the UPSC-CSE exam. After the positive result, choose DySP in CBI which is a Grade B post. After serving the Grade B post, you only need one promotion to join as an SP (Grade A).
*The post of DySP is limited and not available every year.
Third way to enter into CBI is to clear the UPSC-CSE exam with a good rank and become an IPS officer. Then serve your duty in the respective cadre and apply for probation (CBI). The process is the same as IB.
The Research and Analysis Wing (RAW):
There is a service named Research and Analysis Service (RAS) created for RAW which is responsible for Group an officers. As per sources, a person needs to complete the foundation course first and then RAW conducts the respective interviews. After that, as per their performances, the students directly join RAS as cadre officers (Group A).
There is nothing much revealed or known about RAW induction programs. However, it is said that the organization appoints people from central services, AIS and defense.
Found this helpful?
Keep following ISOEH for career useful tips and resources. Wish you all the best for your future endeavours, good luck!