18 Aug, 2020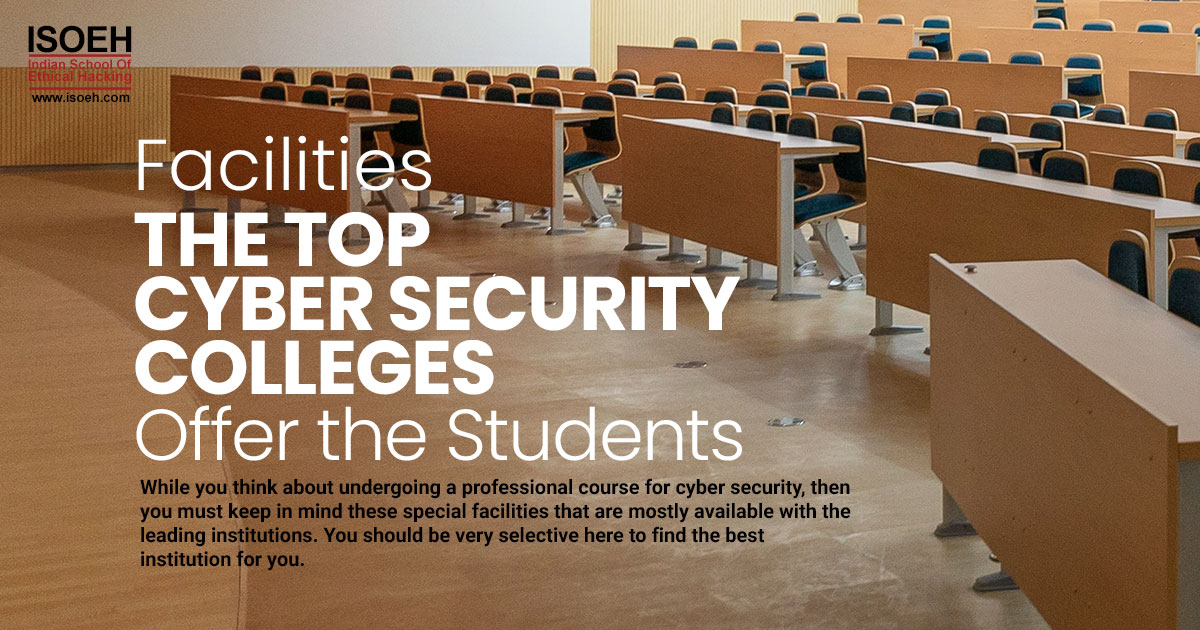 When it comes to getting into a dream career, educational institutions play a major role. These institutions may include colleges or private institutions where the students undergo professional courses. The institutions for Cyber Security are no exceptions as they play a very important role in getting the students prepared for the best careers. Actually, these institutions shape the future of the students who spend a lot of money to get a professional degree.
If you are planning a career in ethical hacking or cyber security, then you need to bank upon the colleges or other institutions that offer these courses. They understand the needs of their students well, and that makes them provide the right facilities that can make the students get ready for the professional challenges ahead. The following are a few facilities that you can expect from the institution:
Superior Courses:
Courses are the most attractive services that the best Cyber Security colleges or institutions offer. Remember, all courses are not similar and are not applicable to every student as well. You should think about talking to the counselors there before deciding on one. It is good to remember, a few of these courses are affiliated to the universities that add more weight to these courses.
Superior Faculty Members:
This is yet another attractive feature that often the best institutions bring to their students. They have a panel of experts that often includes working cyber security professionals who possess huge working experience under their belt. Some of these faculty members work for larger IT companies and therefore they have superb knowledge in their domain. Some of the leading colleges even have top faculty members that possess a distinction in terms of knowledge and experience. ISOEH appoints top professionals who have 20 years of experience, GATE qualified, Master degree holder from Jadavpur University. It also has experts in Offensive Security Certified Professionals (OSC). They share their knowledge and professional skills to make you understand everything rather easily. The presence of these professionals is nothing less than a boon for the students.
Educational Atmosphere:
Far away from unruly and noisy atmospheres at common career courses, the colleges with the best courses in cyber security allow the students the best educational environment. Certainly, this adds a different touch to the learning procedure of the students. They feel better and easy to understand difficult course content.
Excellent Library and Laboratories:
A course in cyber security may involve both theoretical and practical classes that every student needs to attend on a regular basis. To help the students, the institutions often have rich libraries with textbooks and audio-visual support for every student. Besides, they have well-equipped laboratories that have all the necessary infrastructure for the students to avail of. Remember, the institutions keep on adding more to these amenities so that the students can get maximum benefits that they certainly deserve.
Fee:
Monetary matters always play a major role when it comes to getting a professional career course. Many students fail to attend these courses because they are often too expensive to afford. Here, the best institutions for cyber security come to their rescue. They have an affordable fee structure with varying payment options so that the students can find it easier for them to pay off.