22 May, 2020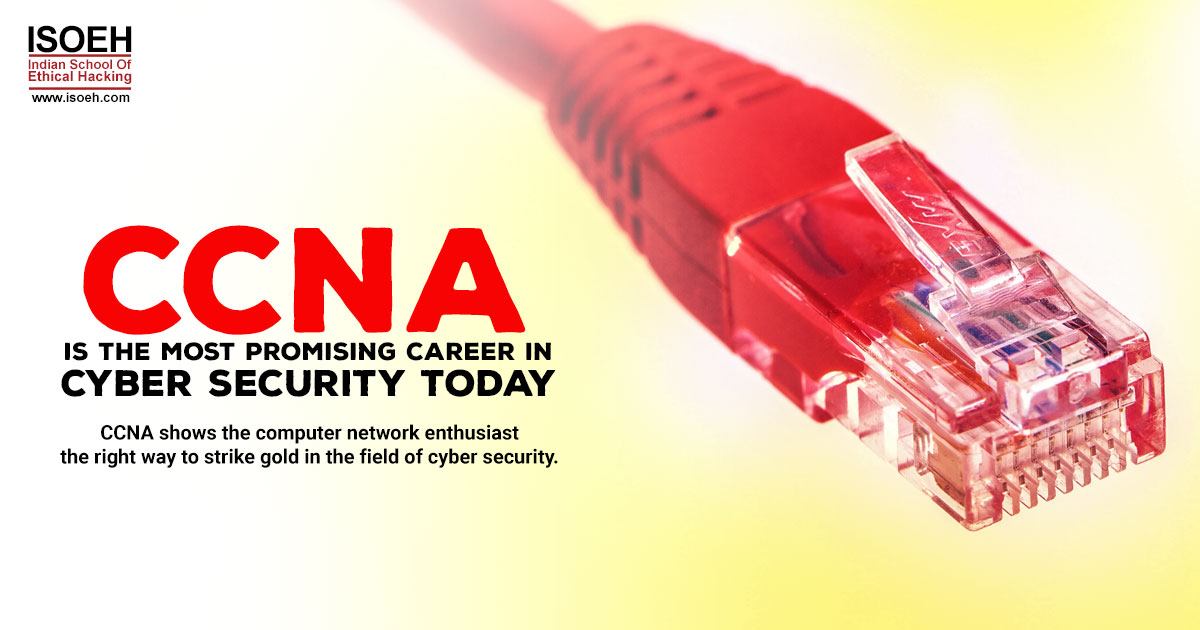 CCNA shows the computer network enthusiast the right way to strike gold in the field of cyber security.
There are many career options in the field of Information Technology and Cyber Security today. One if which is CCNA, or Cisco Certified Network Associate. Lapped up unanimously by the Data Security and Information Technology experts, it is being looked forward to by the cyber wiz kids of India as the way to ensure a safe virtual climate and promising future in technology.
What is CCNA?
CCNA or Cisco Certified Network Associate is an Information Technology certification from CISCO, the American multinational and leader in IT, networking and cyber security solutions. CCNA certification is an associate level Cisco Career Certification.
The subjects covered under CCNA include connecting to a WAN, implementing network security, network types, network media, routing and switching fundamentals, the TCP/IP and OSI models, IP addressing, WAN technologies, operating and configuring IOS devices, extending switched networks with VLANs, determining IP routes, managing IP traffic with access lists, and establishing point-to-point connections.
It is intended at making one well versed in network and handling all problems related to computer networking systems.
The perks of doing CCNA
CCNA's scope in India is immense. Every economic sector demands a NetworkEngineer to look after its networking infrastructure. CCNA certification plays an important role by providing candidates with the basic level skills and knowledge of networking.
The different jobs one can choose from after completing CCNA are
Network Engineer
Sr. Network Engineer
Network Administrator
Information Technology (IT) Manager
System's Administrator
Information Technology (IT) Director
System Engineer
The following is a detailed analysis of the lucrative compensation package offered to CCNA experts in India.
Salary based on designation
Related certifications by salary
Salary based on cities
Gender breakdown
Job satisfaction
Companies offering CCNA jobs
Increment based on years of experience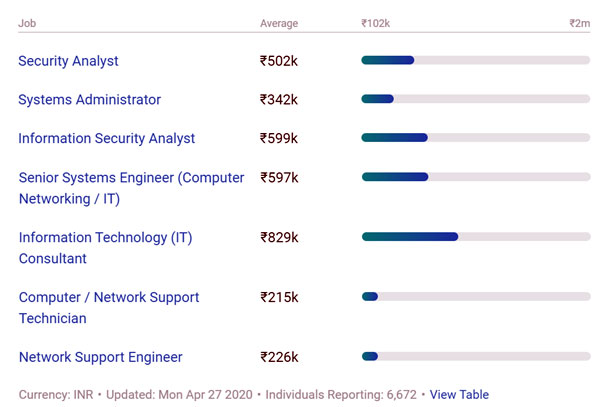 CCNA has extensive career scope in India given a mismatched man power of network engineers as compared to the industrial need. The certification makes one a networking expert who can be relied on to trouble shoot and solve computer complications besides charting a secure and happy professional pathway for life.
CCNA job offers on popular job site naukri.com: https://www.naukri.com/ccna-jobs-in-india
ISOEH is the ultimate organization which imparts world class education in cyber security.
Read on for stories on data security: https://www.isoeh.com/exclusive-blog-details-google-offers-support-to-open-source-cyber-security.html