12 Jun, 2020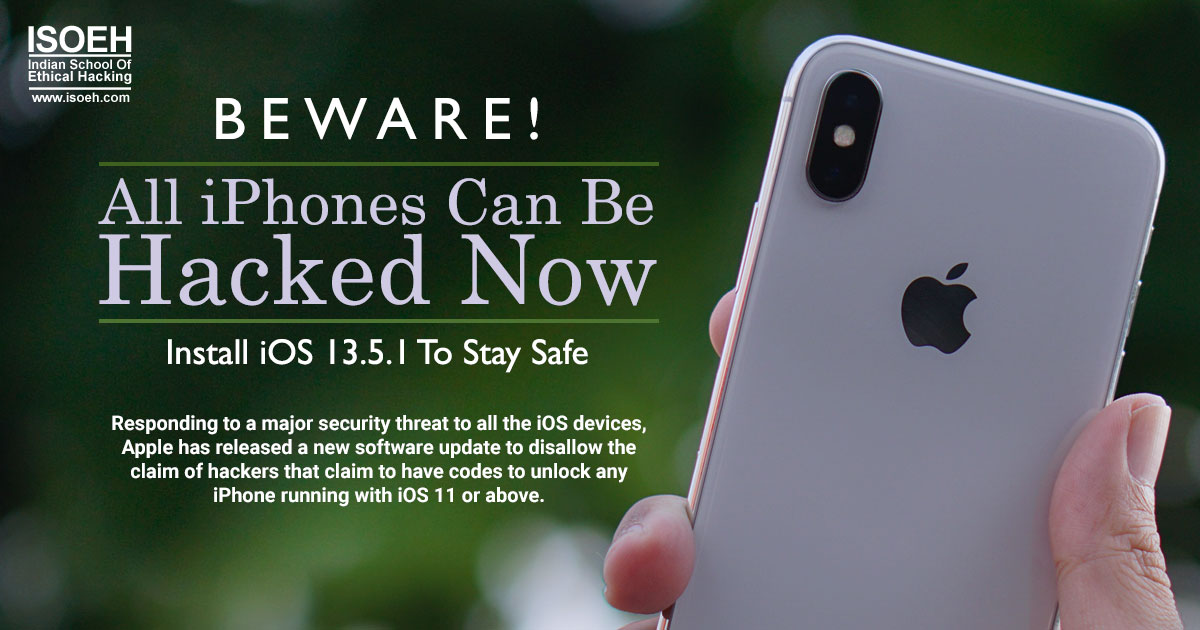 Responding to a major security threat to all the iOS devices, Apple has released a new software update to disallow the claim of hackers that claim to have codes to unlock any iPhone running with iOS 11 or above. The company reached a decision immediately after a popular team of hackers, named "uncOver," came up with their claim to have a 'jailbreak tool' that can unlock any iPhone with the above-mentioned OS version.
Apple insists all the customers using an iPhone with iOS 11 or above to download the version and install it on their devices to safeguard their devices from all hacking threats. This 75MB security update with iOS 13.5.1 can block the 'jailbreak' tool with immediate effect. The premium mobile manufacturers strongly recommend all its users to update their devices with this iOS version.
What Inspired 'uncOver' Launch The Hacking Hunt For iPhone?
It all started when the well-known group of hackers found older iOS devices that Apple had left unprotected. The hackers took the opportunity and decoded the process to unlock the iOS devices. This effort brought the hackers access to the core iOS software that powered most of the older iPhone versions and a few of the latest devices as well, including iOS 13.5.
The effort to decode the unlock code of iOS devices was continuing for quite some time. The hackers from different locations were working on the project. Once they succeeded to unlock one iPhone, the knowledge allowed them to unlock other versions of iOS devices as well.
Apple Is Cautious About Finding More Security Threats:
Apple cares! It takes care of the interests of the buyers. Recently, Apple felicitated Bhavuk Jain, an Indian security researcher from Delhi, with a cash prize of $100.000, which is equal to INR 75,00,000 as he discovered a critical security threat in the newly-included feature, named 'Sign In With Apple.' This feature was available with quite a few popular versions of iOS devices, including iOS 13, iPadOS13, WatchOS 6, and mcOS Catalina.
Apple accepts that the bug discovered by Mr. Jain was serious enough to cause havoc among the users. Intimating the news to the media fraternity, the spokesperson said, "Apple accepts the seriousness of this threat that Mr. Jain has discovered. As a result of this, the interests of the iPhone users would be strictly under some threats."
To have a glimpse of the tools and techniques used to find bugs in IOS, please have a look into iOS Penetration Testing. Reach us either online or visit the help desk at Kolkata, if you have queries!