28 Dec, 2020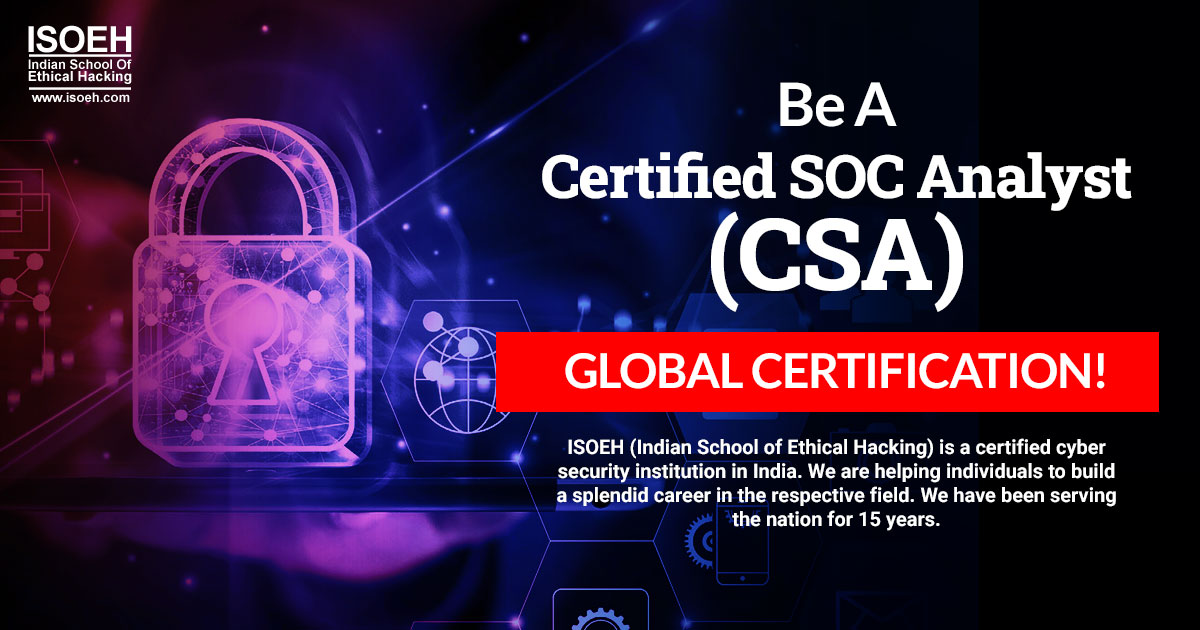 ISOEH (Indian School of Ethical Hacking) is a certified cyber security institution in India. We are helping individuals to build a splendid career in the respective field. We have been serving the nation for 15 years.
With the rapid growth of cyber attacks in the nation, cyber security is the topmost priority for every organization. Besides, technology and advancement come with various flaws and vulnerabilities. Cybercriminals are so clever to use these flaws and enter into anyone's system. Hence, a strong cyber security system is the need of every enterprise.
ISOEH precisely understands the cyber industry and keeps on adding beneficial courses to its catalog. The courses are not only helpful to the individual to get a push to their career but also help the community to fight against the new cybercriminals' activities.
Likewise, we are delighted to announce our new CSA course (global certification).
So, what is the CSA course, and how is it useful to society and for the students? Let's check below:
If you are looking to join the security operations center (SOC), certification in CSA is the program where you will start from. The program is designed for Tier I and Tier II analysts. The training will efficiently help individuals to handle operations for the beginning and intermediate levels.
What will people learn from this course?
The course duration is 24 hours. The course is an add-on for cyber professionals. Hence, one can gain knowledge in less time.
The training will help people to acquire advanced and in-demand IT-security skills.
Other course benefits:
SOC process and workflow knowledge
Core understanding of cyber threats, attacks, vulnerabilities, etc.
Recognize cyber-attack tools and tactics
Track and analyze logs and alerts
CLM (Centralized Log Management) process knowledge
SIEM solutions
Many others…
Who can join the program:
SOC Analyst (Tier I and II)
Cyber security Analyst
Cyber security professional (beginner level too)
Network and Security (Administrator, Engineers, Operator, Technician, Analyst)
Any network security professional
In general, you should have higher secondary education (12th board examination) with basic networking knowledge or CCNA.
As an estimate, the average salary of a SOC analyst in India is 4 lakhs per annum.
Get the detailed information on our course page, Certified SOC Analyst (CSA).
Have queries?
Feel free to send your doubts and course queries via email at [email protected] or give us a call at +91 9007392360 or +91 9903767814.
Our professionals will be happy to assist you!