Are you a Chrome browser user?
Do you deal with confidential data?
Then this piece of news will surely scare the hell out of you.
A cyber security researcher Matthew Bryant has released a Chrome extension called 'CursedChrome' that can turn the Chrome browser into a hacker's proxy bot. Though, there is another tool to avoid active attacks through such extensions.
The researcher explains it as follows…
A (cursed) Chrome-extension implant that turns victim Chrome browsers into fully-functional HTTP proxies. By using the proxies this tool creates you can browse the web authenticated as your victim for all of their websites.
CursedChrome apparently appears as a simple browser extension. But it has two different components to work. One works on the client-side that is where the victim installs the tool considering it an extension. And the other is at the hacker's end, from where he can manage all the bots. The two components communicate over a Web Socket connection that works as HTTP reverse proxy. The attack begins after a few victims install the CursedChrome extension. The hacker can then log in to the tool's control panel at his end to manage all infected browsers.
The hacker would know of all the infected browsers and can then execute various activities including hijacking active logged-in sessions, navigating through the hijacked browsers, and access restricted sites and apps.
This is the picture of the mechanism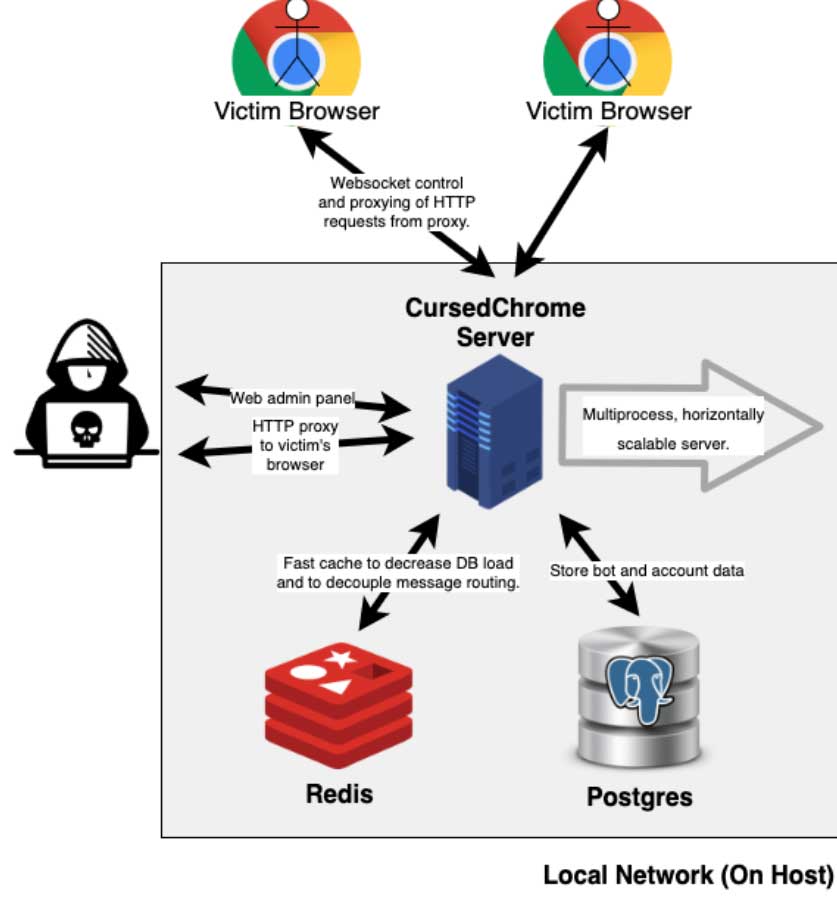 But there is a ray of hope.
Following the release of the tool the cyber security community fears aggravated malicious activity by threat actors in the wild. On the contrary Bryant claims that it would be useful for the professional red teams. Moreover, he has also developed another tool to prevent attacks by such extensions – the Chrome Galvanizer – also available on GitHub. As described,
Chrome Galvanizer is a tool to generate Chrome enterprise policies to help users harden their browser security… This protects from hijacked extensions with backdoored updates and against extensions that have been exploited due to security vulnerability in their code.
Bryant claims that Chrome Galvanizer can be the tool for blue teams. The hosted version of Chrome Galvanizer is also available for swift installation.
ISOEH is the organization that makes ethical hacking easy for cyber enthusiasts.
Read on to know more about cyber crime: https://www.isoeh.com/exclusive-blog-details-What-if-you-lose-your-phone.html