A season of gloom for us.
But a time for sinister celebration for them.
Yes, we were talking about the bad actors of the world who are out in the wild to capitalize the corona crisis.
If all the malware attacks, phishing campaigns, scam sites and malicious tracker apps were not enough Android Apps in Google Play Store have started adding fuel to the fire in their own way.
Third party Android App developers are using Corona virus related keywords in their app names, descriptions, or in the package names in order to delete malware, perpetrate financial theft and rank higher in Google Store searches related to the topic.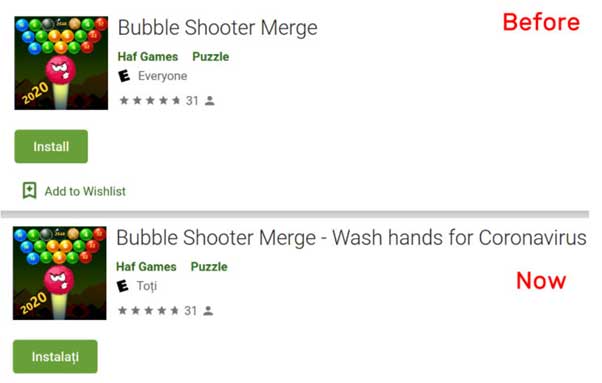 "Most malicious apps found are bundle threats that range from ransomware to SMS-sending malware, and even spyware designed to clean out the contents of victims' devices for personal or financial data," Bit defender researchers said.
With a considerable increase in internet traffic related to information on corona remedies, malware authors have sneaked in adware, banking Trojans and information stealers in the garb of live tracker apps and those that help users identify common symptoms of the illness.
"As of January 1, 2020, we found 579 applications that contain corona virus-related keywords in their manifest (package name, activities, receivers, etc.)," the researchers observed.
"This means that a major component of the application was named in a way – or the application contains strings – that relates it to the recent outbreak. Out of the total, 560 are clean, 9 are Trojans, and 10 are Risk ware."
Apps such as Bubble Shooter Merge and Galaxy Shooter - Falcon Squad have even changed their name and description to accommodate typical virus related keywords irrelevantly to syphon search ranks towards themselves.
All this despite Google's stringent policies on abstaining from digital gimmicks to take advantage of emergency situations and Google Play search results omitting malicious apps when searching for keywords like "corona" or "coronavirus."
To avoid such scams users must always install apps only from legitimate stores and use data from official sources besides being beware of phishing emails.
ISOAH is the organization that guards you against cyber crimes and digital malpractices.
Read more for corona and cyber security.