Tips to Become an Ethical Hacker with CEH v9 Bootcamp!
1 Jan, 2018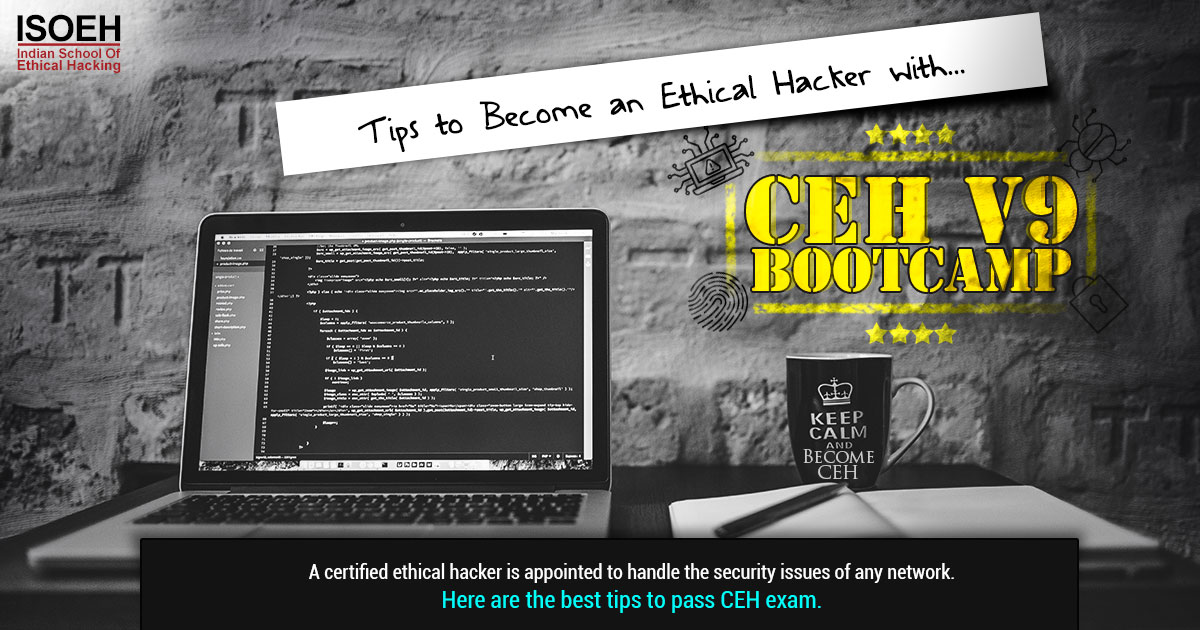 Security threat for networks in companies is continuous because of malicious hackers, making the network security fragile. A certified ethical hacker is appointed to handle the security issues of any network. To become one, candidates can take the CEH v9 bootcamp.
Know more about CEH »
Few Tips to Pass the Exam
For quick learning, Bootcamps can help you. Here are the best tips to pass CEH exam through this quick but detailed Ethical Hacking Course:
1. Get to know the course content and study properly thereafter
During the Bootcamp, EC-council provides all details related to study material, practice questions, exam topics, and official training providers. Keep an eye on the weightage of every particular section and take notes of all the sessions of training. Here is the exam structure for your reference:
Ethics (2%)
Policy / Regulation (4%)
Background (4%)
Assessment/Analysis (13%)
Procedures/Methodology (20%)
Security (25%)
Programs/ Systems /Tools (32%)
2. Prepare a study plan accordingly
Manage books and online resources which you can consume for your benefit. You can consult the other members and trainers in Bootcamp to confirm the same.
3. Don't miss virtual lab environment
Now that you are done with theoretical learning it's time to implement it. Utilize the real-world environment around you. For proper guidance, training institutes and Bootcamps are some best places to join.
4. Collect all details related to exam
Check prerequisites, the time allotted for CEH exam, type and number of questions and the passing marks. For any queries, do not hesitate to ask at all.
5. Study as per the blueprint
The EC-council has provided the blueprint for CEH Exam which includes details regarding the topics and the percentage, given to each section. Bootcamp's sessions are also designed according to that. This will help you to construct your study plan.
6. Join Ethical Hacking course
If you think you can't manage books or you have unsolved doubts, then nothing can help you better than a training course from a reliable institute. If you have attended a Bootcamp long back, the training can help you brush up the course content.
7. Solve Practice Paper
Practice makes a man perfect, the more you encounter problems the faster and better you will learn. Hence, practice well before the exam. If you will not practice, you may forget whatever is taught.
8. Keep calm during Lab assessment
Most of the students fail during Lab test. So, do not miss lab sessions. Try to enrich your practical experience and stay calm while giving the exam.
9. Increase your Circle
The CEH certification, laid by EC-Council, is extremely valued. It is specially meant for those, who have interest in a network's defenses. You will meet several CEH professionals at a bootcamp who are the IT specialists. Since similar interests are already established, you should widen your network to include these professionals. You can discuss your problems or learn new tricks to perform better in the exam.
Systems Administrator
Systems Engineer
Network Administrator
Systems Architect
Network Security Specialist
The Scope of CEH
Systems Administrator
Systems Engineer
Network Administrator
Systems Architect
Network Security Specialist
Course details related to CEH Certification
A CEH certification exam ensures that you have the capability to help safeguard a network against malicious intent. For this, the exam is designed to check your understanding of security concepts like Penetration Testing, Physical Security Controls and Incident Management, Threat Modeling, Hacking Concepts, Dynamic Host Control Protocol, Penetration Testing and so on. To work as CEH, you should know the essential terminologies to secure information.
CEH v9 Exam also includes the testing of your knowledge, related to Information Security Laws and Standards and Policies and ability to carry out Vulnerability Research. Additionally, you should be aware of the topics like Types and Phases of security, Types of Attacks and Information Security Controls including EISA, Interrupts, and Security Zoning.
Exam detail
The exam pattern of CEH v9 Exam consists of 125 MCQ's that are to be done within a span of 4 hours and you have to get 70% correct answer to get passing score.
The certification is valid for 3 years.
How to attain CEH certification?
To gain CEH designation, you have two ways:
You need to go through a 40-hour course; it usually takes five days.
After this course, you need to take a CEH exam.
CEH training Bootcamps
CEH training lasts for five days and requires basic knowledge of networking, network components, and server.
Who should go for the CEH certification training?
CEH certification will benefit all those you want to safeguard the integrity of network infrastructure.
Firewall administrators
Network administrators
Security officers
Site administrators
Security professionals
Auditors
Author: Priya Jatoliya