How C|EH v12 Empowers You

Unique
Learn, Certify, Engage and Compete Methodology
for Aspiring Cyber Professionals. Learn Ethical Hacking in a Structured Setting Across 20 Domains.
Course Syllabus »

Build Skills With over
220 Challenge-Based, Hands-On Labs with CyberQ™ Labs.
Gain Experience With over 500 Unique Attack Techniques.

Learn
Commercial-Grade Hacking Tools and Techniques.<
Engage: "Hack" a Real Organization With C|EH Elite to Get Experience.

Compete With Hackers Around the World
as Part of the C|EH Elite Program. Attain the Most Recognized Credential in the Cybersecurity Industry :C|EH.
Jobs »
What's New in the C|EH v12?
Our exclusive Learn | Practice | Certify | Compete framework covers not only a comprehensive training program to prepare you for the certification exam, but also the industry's most robust, in-depth, hands-on lab experience of any cybersecurity program available. C|EH v12 will teach you the latest commercial-grade hacking tools, techniques, and methodologies used by hackers and information security professionals to lawfully hack an organizations.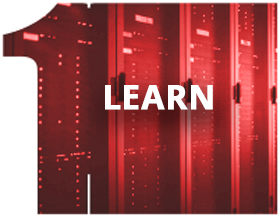 Gain Skills
5 days of training
20 modules
Over 220 hands-on-labs with competition flags
Over 3,500 hacking tools
Learn how to hack multiple operating systems
(Windows 11, Windows Servers, Linux, Ubuntu, Android)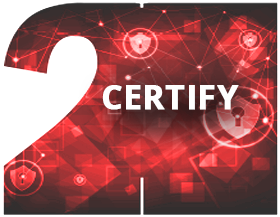 Gain Experience
C|EH Knowledge Exam
125 multiple-choice questions
4 hours
C|EH Practical Exam
6 hours practical exam
20 scenario based questions
Prove your skills and abilities
ANSI 17024 accredited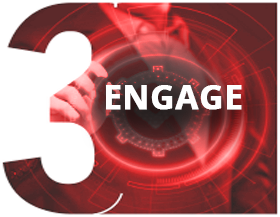 Gain Recognition
Conduct a real-world ethical hacking assignment
Apply the 5 phases

Reconnaissance
Scanning
Gaining Access
Maintaining Access
Covering Your Tracks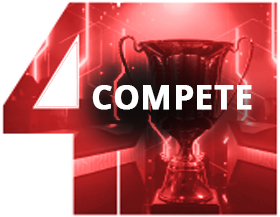 Gain Respect
New challenges every month
4 hour competition
Compete with your peers all over the world
Hack your way to the top of the Leaderboard
Gain recognition
Challenges
Enter the Hackerverse™ With the C|EH v12 Enhance Your Ethical Hacking Career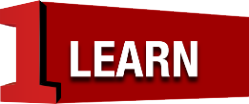 What You Will Learn
C|EH is divided into 20 modules and delivered through a carefully curated training plan that typically spans across 5 days. As you progress through your training, each module offers extensive hands-on lab components that allow you to practice the techniques and procedures taught in the program in real-time on live machines.
Ethical Hacking Labs
With over 220 hands-on labs, conducted in our cyber range environment, you will have the opportunity to practice every learning objective in the course on live machines and vulnerable targets. Pre-loaded with over 3,500 hacking tools and a variety of operating systems, you will gain unprecedented exposure to and hands-on experience with the most common security tools, latest vulnerabilities, and widely used operating systems on the market. Our range is web accessible, allowing you to study and practice from anywhere with a connection.

How You Will Get Certified
Prove Your Skills and Abilities With Online, Practical Examinations

C|EH Certification
Certified Ethical Hacker Certification
The C|EH exam is a 4-hour exam with 125 multiple-choice questions. This knowledge-based exam will test your skills in Information Security Threats and Attack Vectors, Attack Detection, Attack Prevention, Procedures, Methodologies and more!
C|EH Practical Certification
C|EH Practical is a 6-hour, rigorous exam that requires you to demonstrate the skills and abilities of ethical hacking techniques such as:
Port scanning tools (e.g., Nmap, Hping)
Vulnerability detection
Attacks on a system (e.g., DoS, DDoS, session hijacking, webserver and web application attacks, SQL injection, wireless threats)
SQL injection methodology and evasion techniques
Web application security tools (e.g., Acunetix WVS)
SQL injection detection tools (e.g., IBM Security AppScan)
Communication protocols
This is the next step to becoming a C|EH Master after you have achieved your C|EH certification. Within C|EH Practical, you have a limited amount of time to complete 20 challenges that test your skills and proficiency in a performance-based cyber range. This exam is NOT a simulation and incorporates a live corporate network of VMs and applications with solutions to uncover vulnerabilities.
C|EH Master
Upon Completing the C|EH (Master) program, which consists of C|EH and C|EH (Practical), the C|EH (Master) designation is awarded. C|EH Masters have shown proficiency at a master level in the knowledge, skills, and abilities of ethical hacking with a total 6 hours of testing to prove their competency. Top top 10 performers in both C|EH and C|EH Practical exams are showcased on the C|EH Master Global Ethical Hacking Leaderboard.
The C|EH Exam at a Glance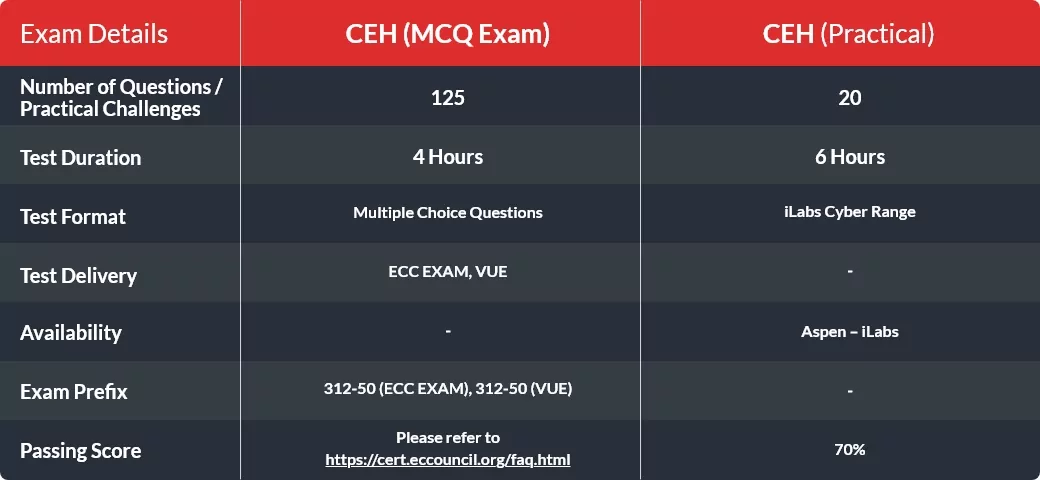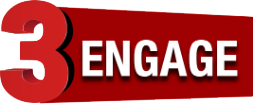 How You Will Engage
The C|EH v12 program helps you develop real-world experience in ethical hacking through the hands-on C|EH practice environment. C|EH Engage equips you with the skills to prove that you have what it takes to be a great ethical hacker.
Your security assessment objectives will be presented as a series of flags (questions you must answer in the Cyber Range by performing ethical hacking activities on the target organization).
New to C|EH v12, students will embark on their first emulated ethical hacking engagement. This 4-phase engagement requires students to think critically and test the knowledge and skills gained by capturing a series of flags in each phase, demonstrating the live application of skills and abilities in a consequence-free environment through EC-Council's new Cyber Range.
As you complete your training and hands-on labs, C|EH Engage lets you apply everything you have learned in a mock ethical hacking engagement. This 4-part security engagement gives you a real ethical hacking engagement experience from start to finish against an emulated organization. Using our capture-the-flag-style range, you will complete your engagement by answering "flag" questions as you progress.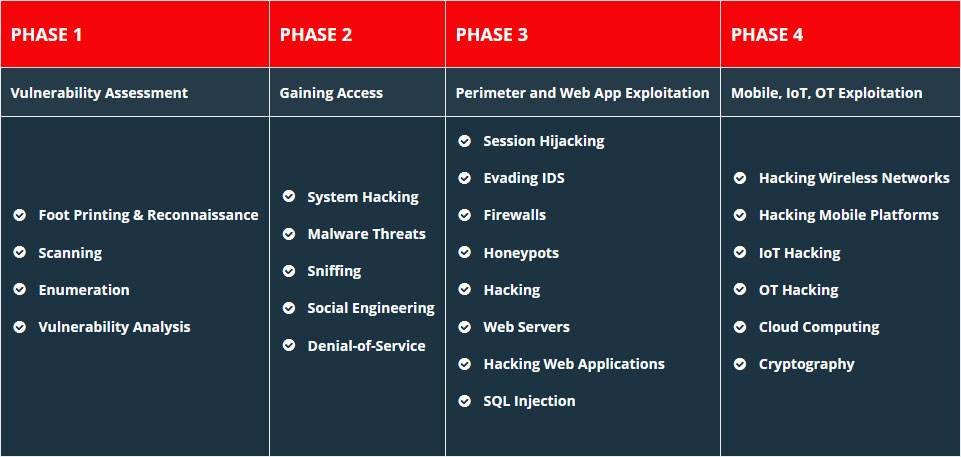 Where You Will Compete
The C|EH Global Challenges occur every month, providing capture-the-flag style competitions that expose students to various new technologies and platforms, from web applications, OT, IoT, SCADA, and ICS systems to cloud and hybrid environments. Our Compete structure lets ethical hackers fight their way to the top of the leaderboard each month in these 4-hour curated CTFs. Objective-based flags are designed around the ethical hacking process, keeping skills current, testing critical thinking abilities, and covering the latest vulnerabilities and exploits as they are discovered. Hosted 100% online in EC-Council's Cyber Range, candidates race the clock in scenario-based engagements against fully developed network and application environments with real operating systems, real networks, tools, and vulnerabilities to practice, engage, compete, build, and hone their cyber skills against various new target organizations.
New Challenges Every Month