Is your child a victim of cyber-bullying? Stop it now!
23 Nov, 2017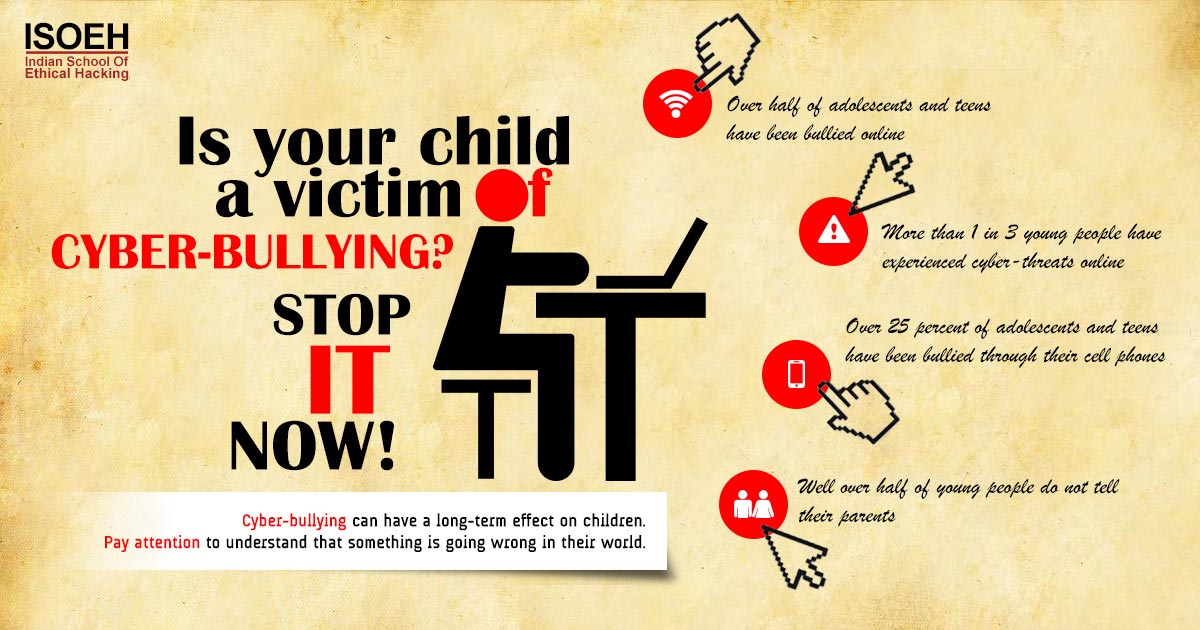 Cyber-bullying is more dangerous than traditional bullying. In this case, the victim has no place to hide as the bullying takes place through communication tools including social media platforms, text messages, chat, and websites. When a child gets bullied at school or somewhere else, at least he/she knows who the bully is. But an anonymous cyber-bully can relentlessly prevent the child to escape from it. The assault can happen 24x7 and not restricted to specific location. This can cause great emotional turmoil for the victim. Worse than physical assault, cyber-bullying can affect and damage a child's self-esteem.
This year, 2017 witnessed the nasty consequences of cyber-bullying through the infamous 'Blue Whale' game. So, it's not hard to realize how deep the root of cyber-bullying is. The victim can be targeted through Facebook and other social media websites. For kids and teenagers, the internet is the medium for socialization. Social interaction is supposed to be positive and encouraging but increasing numbers of kids are intimidated and harassed through social media. Private group chat, forums, online gaming sites are the platforms where users can remain almost anonymous and this allows cyber-bullies to continually attack their victims.
Cyber-bullying includes emotional abuse, stalking, harassment, sharing personal information or photos, videos, spreading the rumor, defaming, impersonating etc.
According to Cyber-bullying statistics (http://www.bullyingstatistics.org) from the i-SAFE foundation:
Over half of adolescents and teens have been bullied online, and about the same number have engaged in cyber-bullying.
More than 1 in 3 young people have experienced cyber-threats online.
Over 25 percent of adolescents and teens have been bullied repeatedly through their cell phones or the Internet.
Well over half of young people do not tell their parents when cyber-bullying occurs.
So, how to know if your child is being bullied online?
Kids and teens are susceptible because they tend to hide it from their parents as being warned by the bullies. 58% victims are scared to confess the incident to their parents (http://resources.uknowkids.com). So, it is an important part of parenting to recognize the signs of cyber-bullying. Pay attention to these signs:
Unexplained anger or depression, especially after going online
Nervousness after receiving a text, instant message or email
Unwillingness to share information about online activities
Withdrawal attitude- shutting down social interaction with friends and family
Change in eating habits- skipping meals or binge eating
Trouble sleeping at night
Lack of concentration, anxiety and low self-esteem
Unexplained weight loss/gain
Suicidal thoughts or suicide attempts
Cyber-bullying can have a long-term effect on children. Their grades may suffer, confidence may damage, depression can set in, health issues can increase and many more negative effects can step in. Pay attention to understand that something is going wrong in their world. If you notice the above-mentioned signs in your child, time to talk to them.
What to do if your child is being bullied online?
Talk to them. Make them realize that they are not alone. Encourage the kid to confess if he is being harassed and it is not at all their fault.
Save all the evidence. Never delete harassing emails, text messages, videos etc. These are the proofs to take further actions.
Ask your child not to forward such messages which spread rumors against him/her or some other person.
Ask your child to never share their password with anyone else or write it down where it can be easily found and keep a check on online privacy.
Make the kids realize that they should never share text messages or photo, a video that might cause public embarrassment, even with their close friends.
Ask them to never share personal information like address, email id, phone number etc with someone they just met online.
Cyber-bullies who are sending nasty messages should be blocked right away.
Warn them to post carefully on social media. Victims are mostly targeted on social media and tracked continuously.
Since most of the cyber-bullying is inflicted upon a child without the presence of adult supervision, the consequences are far-reaching. Never hesitate to report and offer your support if you notice anything such is taking place. Cyber-bullying is often brushed aside by the parents as "regular children behavior". But parents must take note of every single behavior of the child to make sure he/she is not being a victim.