Union cabinet clears Personal Data Protection Bill
19 Dec, 2019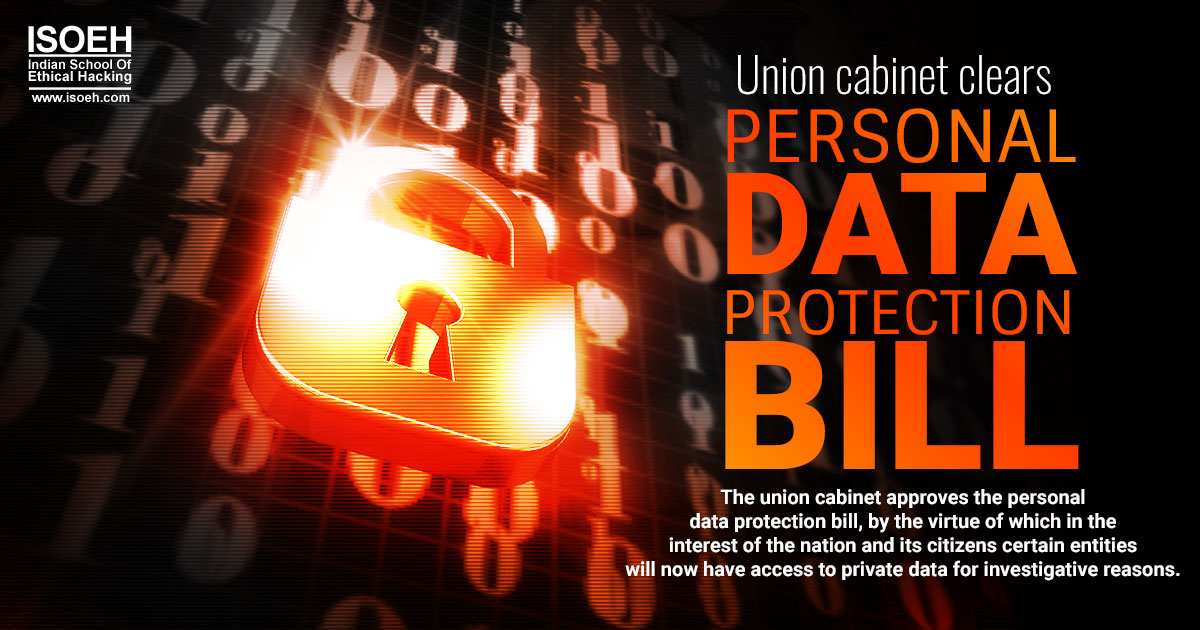 The union cabinet approves the personal data protection bill, by the virtue of which in the interest of the nation and its citizens certain entities will now have access to private data for investigative reasons.
India, till some time ago could be called a hackers paradise.
Personal data was by no means protected by any law and hence information, specially of the virtual variety was insecure, tampered and often misused causing mayhem in the life of the nation.Till some time ago there were no legal bindings on use or misuse of data of any kind in India, although the Supreme Court had passed a judgement that right to protection of personal data was a fundamental right in the year 2017.
But not any more.
Happier days are here as the Union Cabinet lead by Prime Minister Narendra Modi has just approved the Personal Data Protection Bill.
What is that?
The personal data protection bill rules out any unauthorized handling of private information and its subsequent severity by
Making data processed or shared only after the required consent by any entity
Introducing penalties on misuse of personal data
Categorizing data under three essential heads namely sensitive (financial, health, sexual orientation, biometrics, transgender status, religious or political beliefs and affiliation, stored only in India and processed outside India with authorized consent), general (non-critical and non-sensitive data with no binding on storing or processing) and critical (to be defined by the government from time to time and is stored and processed in India)
However, as per the bill
The government will have the right to avail any one's non-personal data from companies
All financial and critical data will have to stored in India
Sensitive data has to be stored in India but can be processed outside India with consent
Social media organizations will have to run a voluntary verification for users
Using data without being authorized to do so will mean a financial penalty of Rs 15 crore or 4% of global turnover
Data breach or privacy violation will mean a fine of Rs. 5 crore or 2% of global turnover
The Union Cabinet has, on Wednesday, 4th of December 2019, given its approval to the Personal Data Protection Bill that is intended to uphold the significance of permission in data processing operations and punish those who manhandle private information with vested interests to grave consequences.
As according to a senior government officer "every user who registers their service from India or uses their service from India, a voluntary verifiable account mechanism has to be made". The official also said the government can direct a fiduciary-any person or entity owning an information bank is liable to avail non-personal data for serving the citizens better.
The bill is good intentioned to put a stop on social media trolling.
The Indian government last year placed a draft personal data protection bill to monitor how to handle private data by the government and private companies. The Personal Data Protection Bill, 2018, was prepared by a high-level expert panel headed by former Supreme Court judge B.N. Srikrishna. However, interministerial differences came in the way of its materialization.
The bill intends to concentrate data processing in India leading the nation to become one of the biggest hubs of information operations.
Why are the companies worried?
The Personal Data Protection bill gives out directives to companies like Amazon, Facebook, Alphabet's Google and others on how to process, store and transfer Indian consumers' data.
The bill after it becomes a law may have an on affect MNCs operating in India in more ways than expected because of its data localisation requirements and data transfer rules.
With India gearing up to fight international hacking rackets, be prepared to be a part of national anti hacking human force by training yourself in one of the best ethical hacking institutes.
Click here to know more about ISOEH or the Indian School of Ethical Hacking.